Da Nang City, Vietnam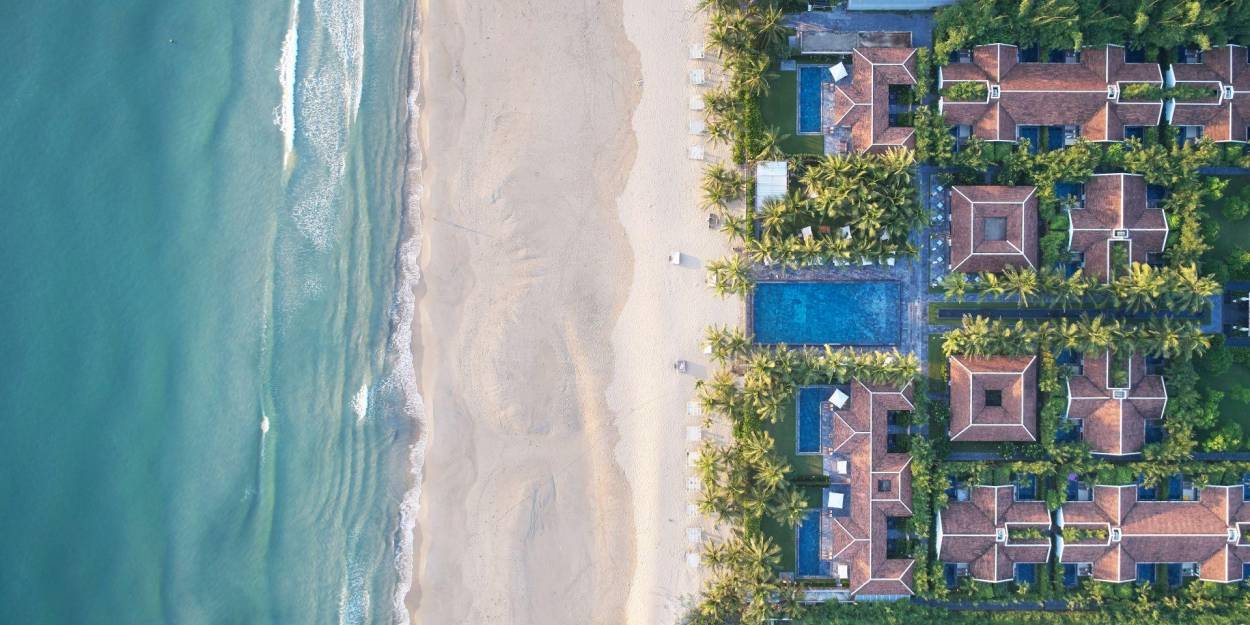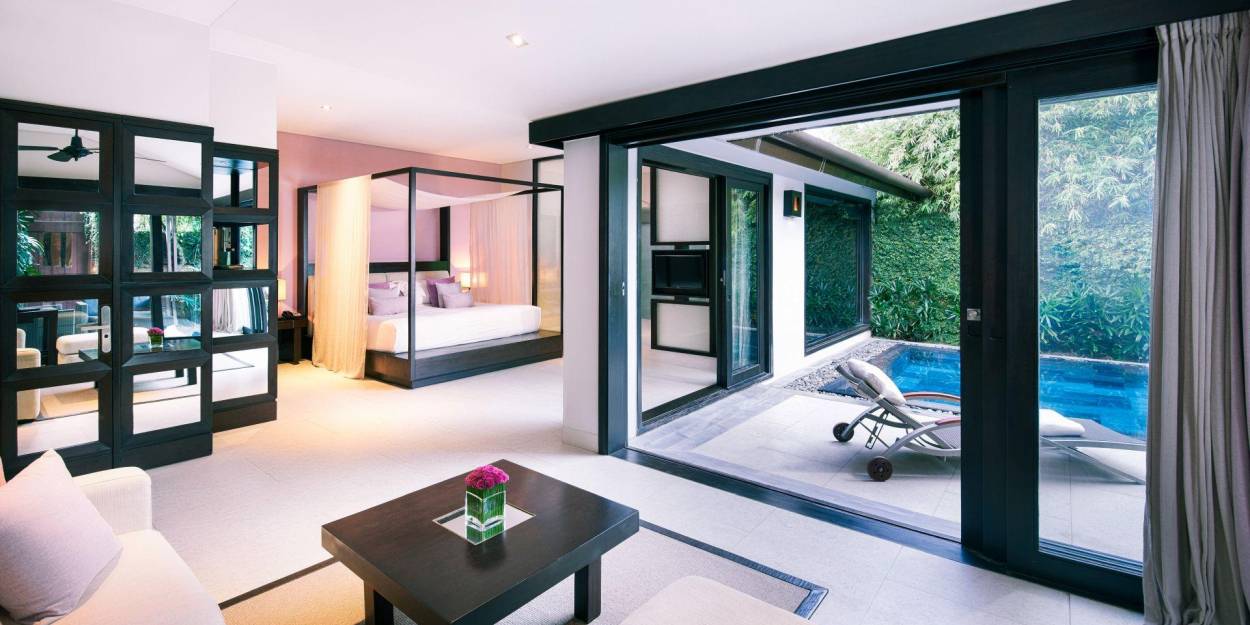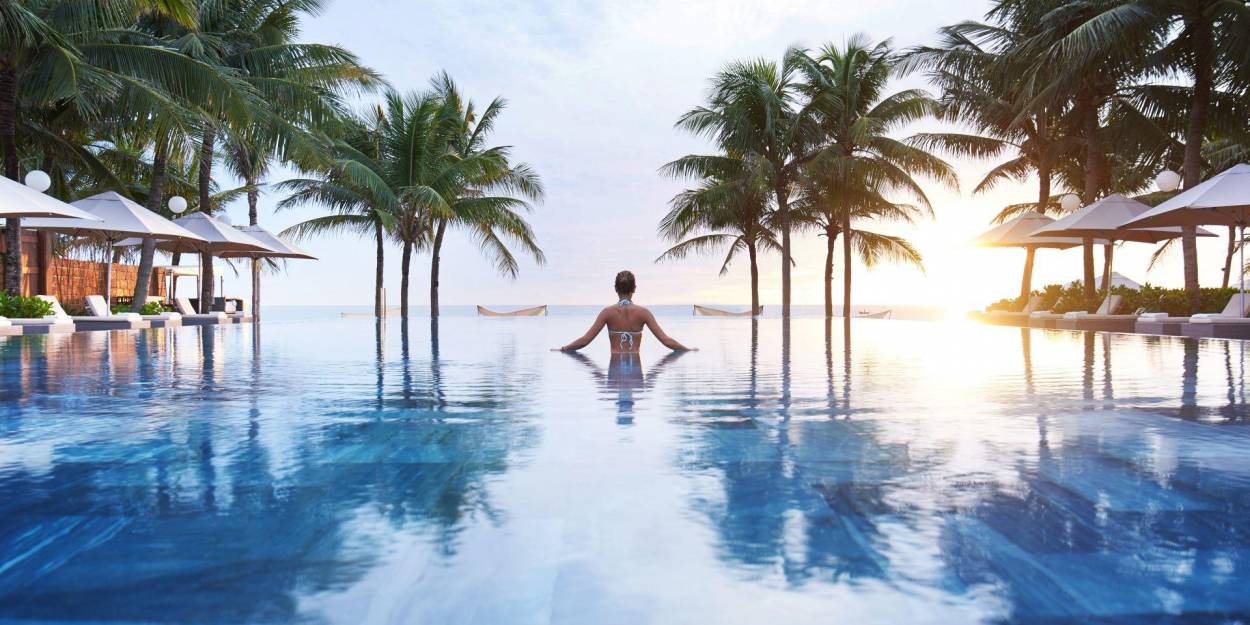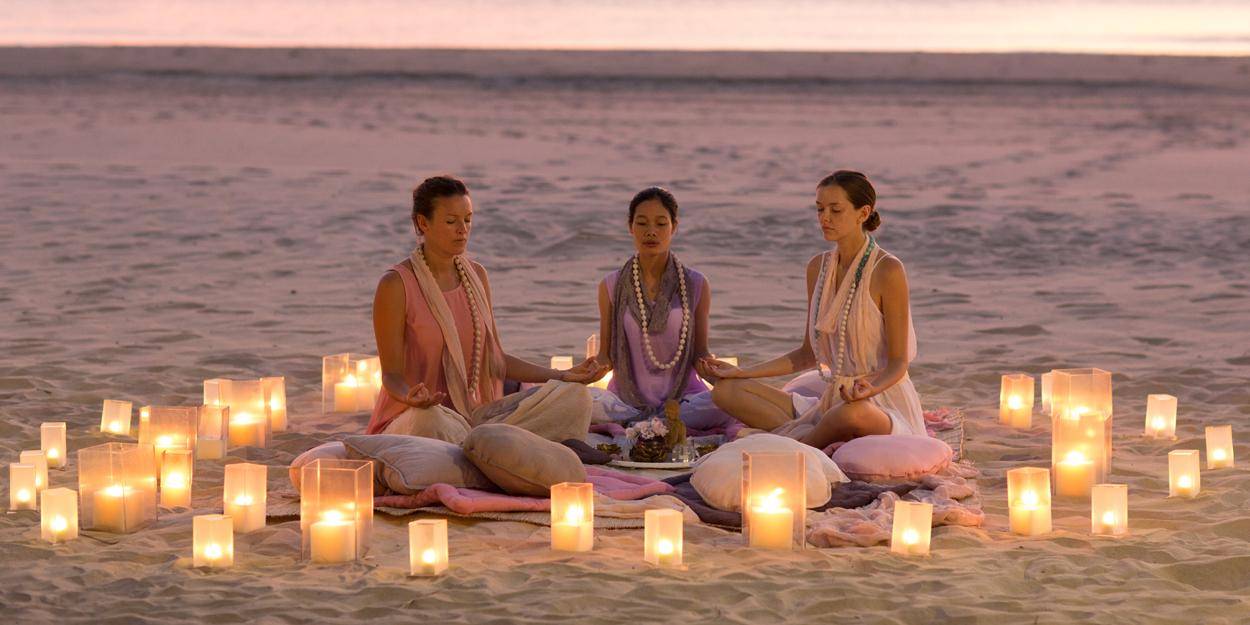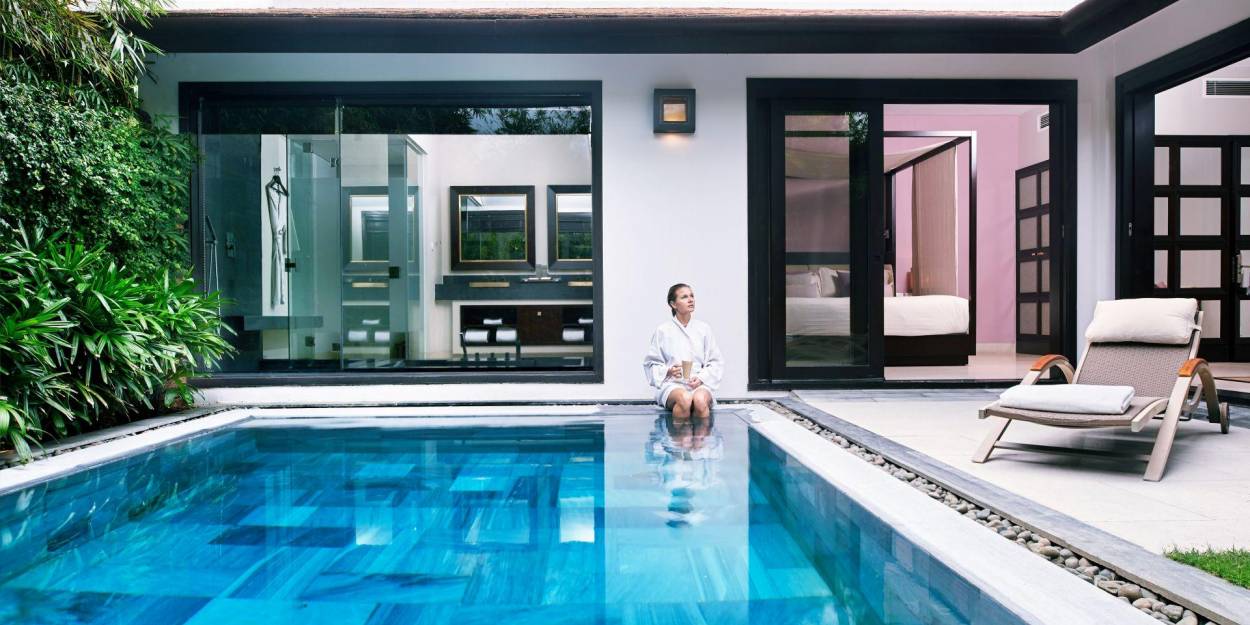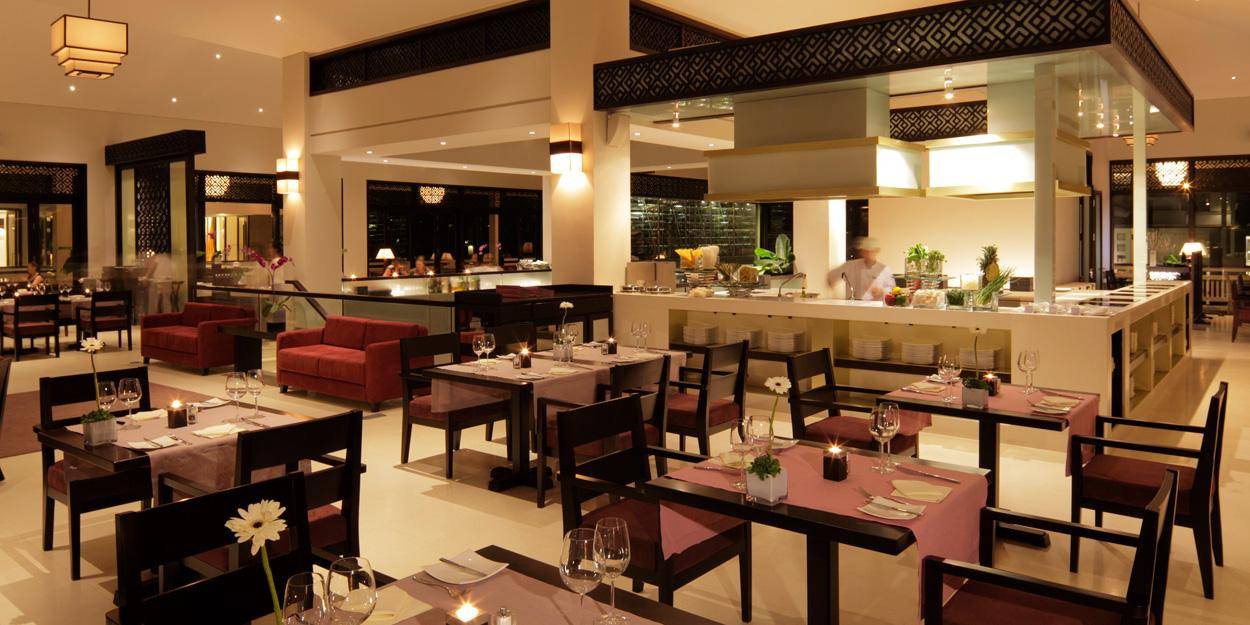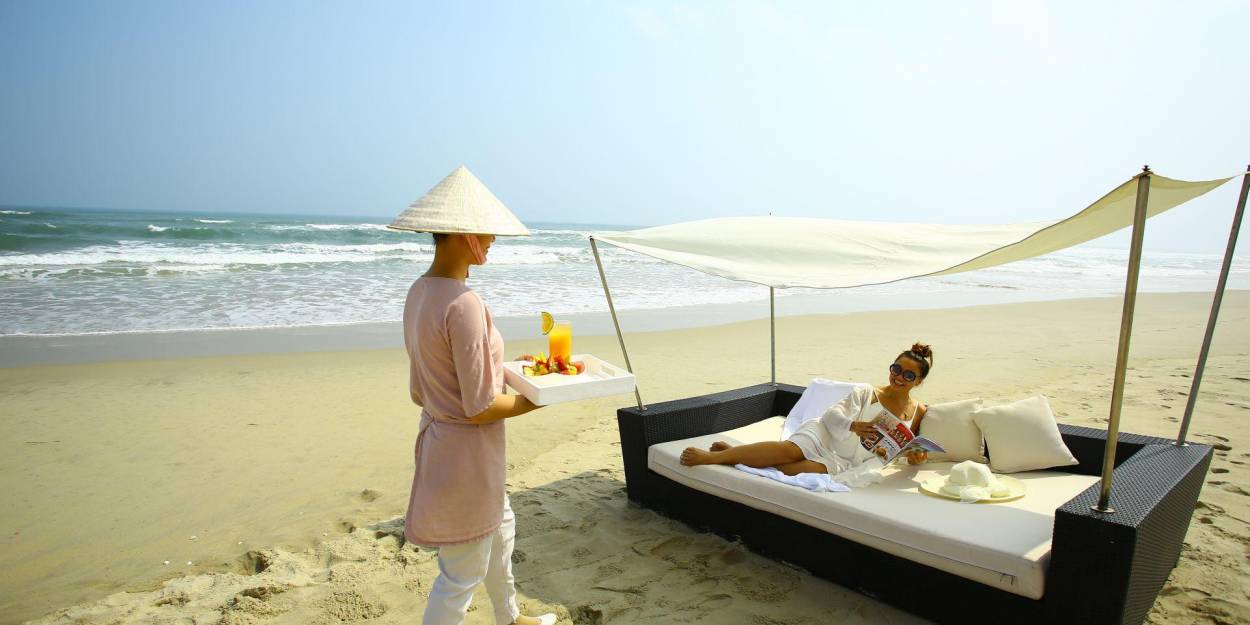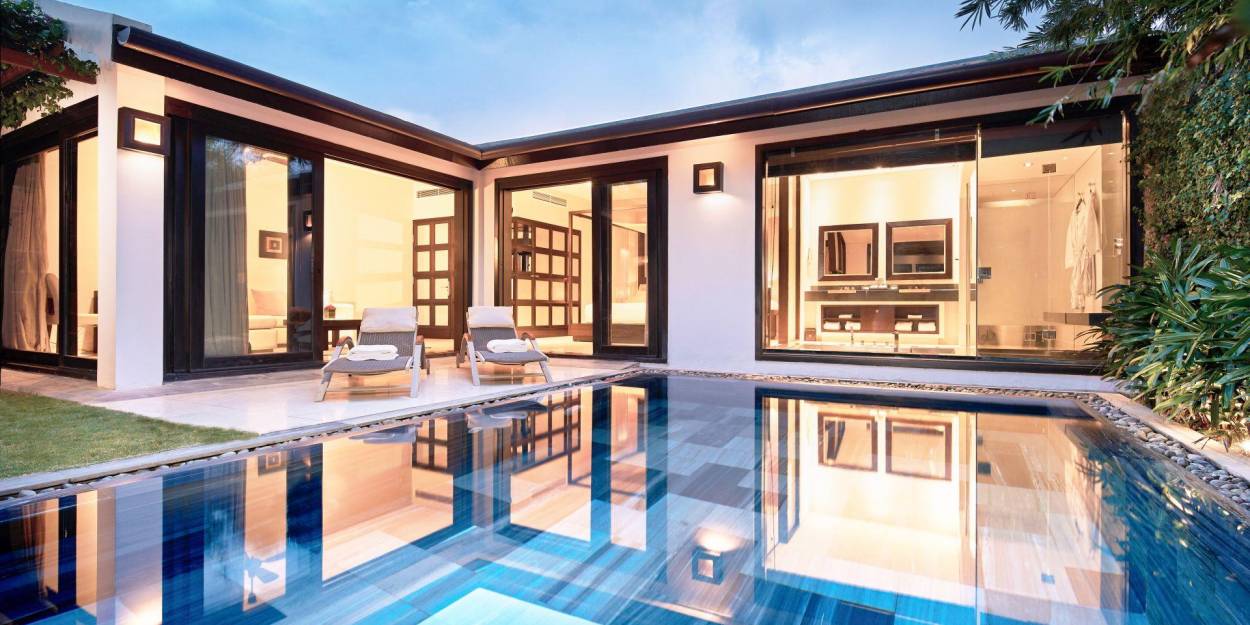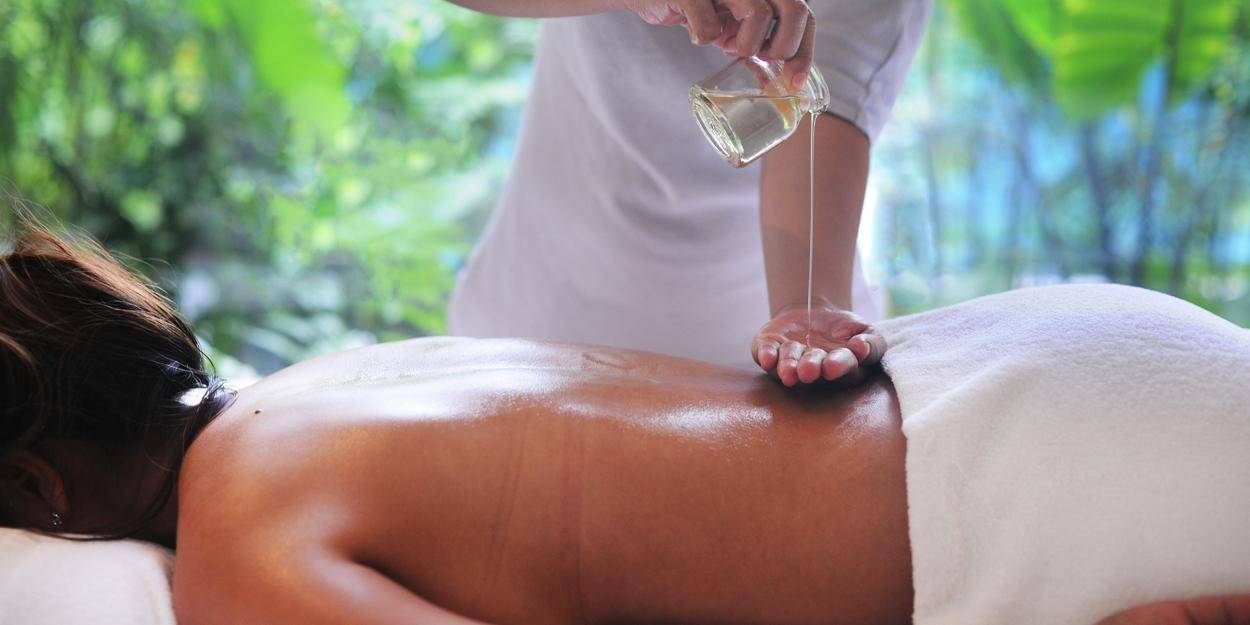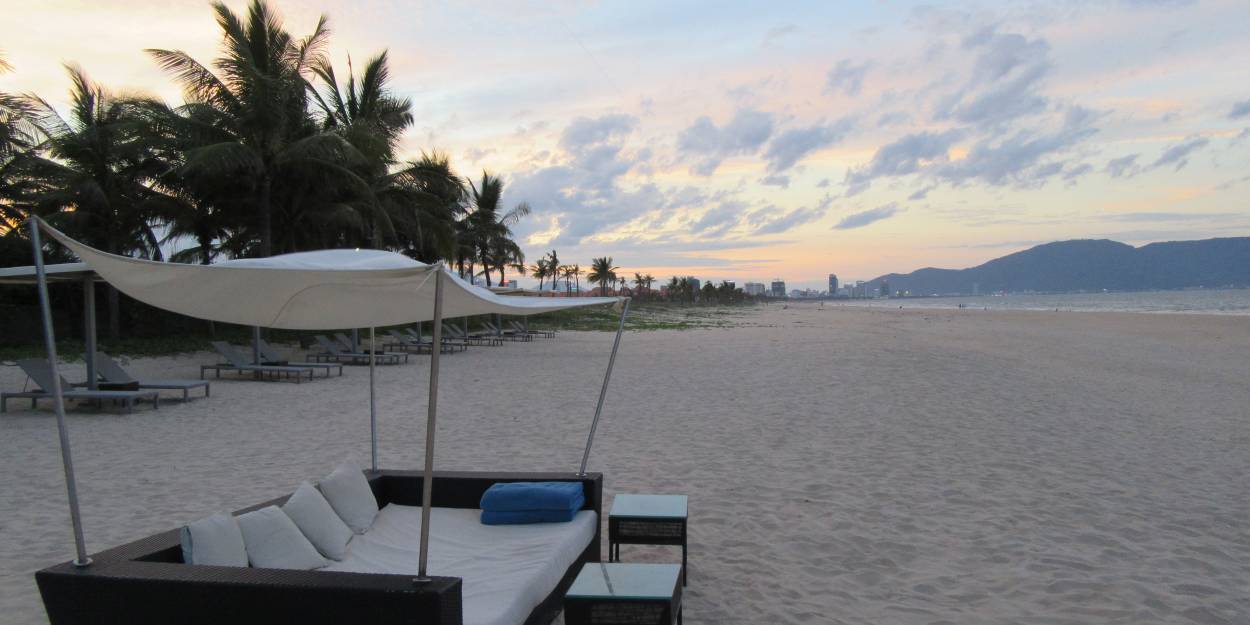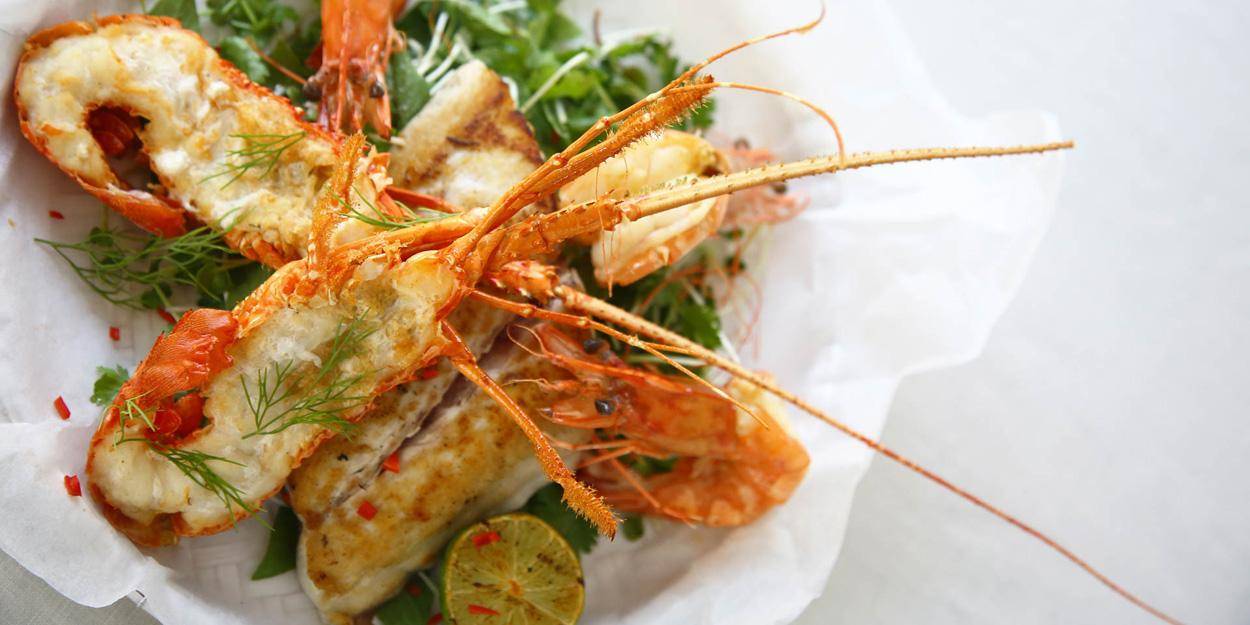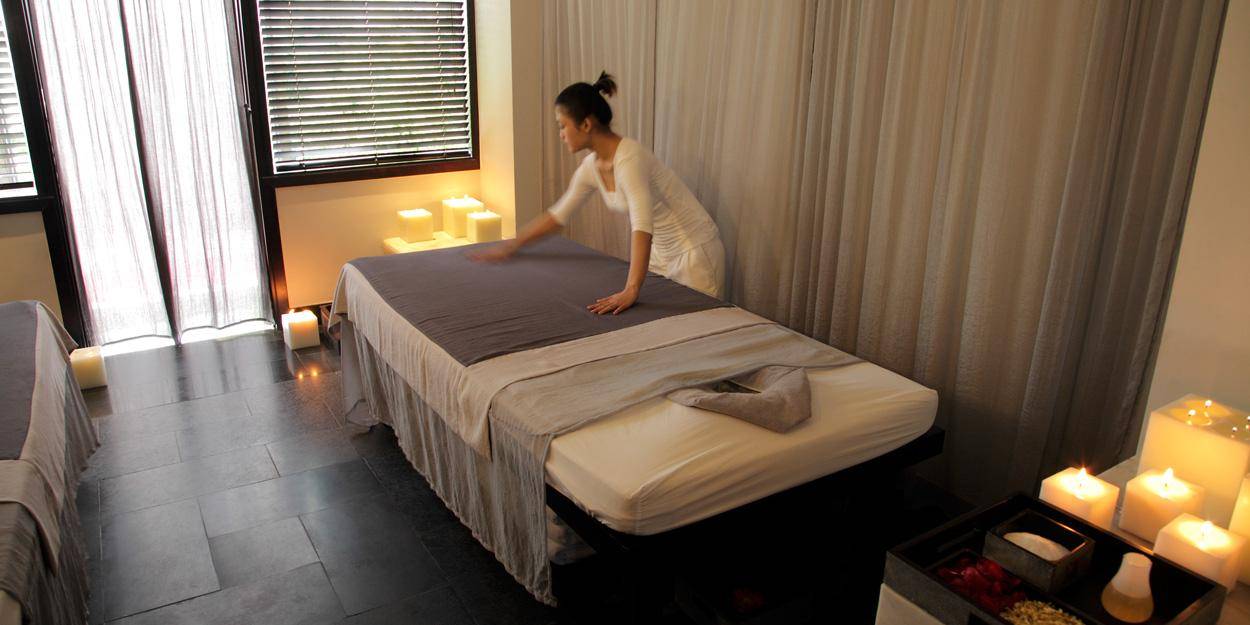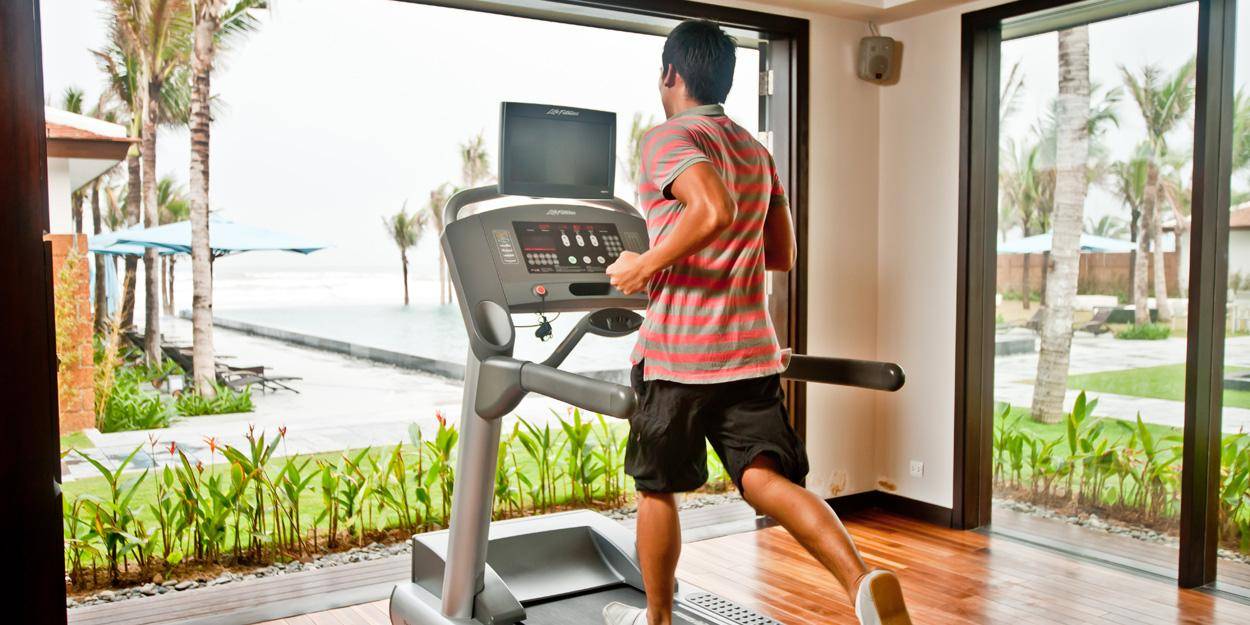 Overview
Fusion Maia Da Nang is a chic yet low-key spa resort set amongst well-groomed tropical gardens and bamboo-lined stone paths. The resort has an atmosphere of contemporary seclusion and privacy. It won 'Vietnam's Leading Resort in the 2017 World Travel Awards. It's also home to a largest spa in Vietnam and offers daily yoga, tai chi or mindfulness classes. With daily spa treatments and villas with private pools, Fusion Maia should be on a bucket list of every wellness traveller.
**Please note: there is ongoing construction work in the resort next door. There is a 10% discount during this time as there might be more noise than usual**
**The hotel is closed until 18 December 2020**
When to go
Best time to visit is February to May. Hottest months are from June to September with average 35 degrees. The wettest time is from mid-September to December. Try to avoid June to August which is a popular time for locals to travel so it's extra busy.
What we love
A fusionista: a personal butler who will make sure your stay flows seamlessly

Make your own body scrubs in the spa workshops and bring this knowledge home

Travel over a full moon when the moon is at its biggest and brightest and Hoi An turns off all their electric lights so only the light of the moon and candle-lit lanterns abound. If you miss this, every Sundays the resort has its own lantern ceremony.

Who should go
Single travellers who need some quality time on their own in an undisturbed environment
All those who look for a luxury exotic beach escape with daily massages
It's the ideal setting for a romantic holiday by the beach

Offers
Single traveller discount of 10%




Free return airport transfers from Da Nang airport (min stay 5 nights)

*25% discount on stays until 30 June 21 (except 31 December 20 - 03 January 21; 12-15 February 21; 3-5 April 21 and 29 April - 04 May 21)

*10% discount due to construction works

*Free nights: stay 5 /pay 4 nights, stay 10 /pay 8 nights. Valid for stays until 31 December 2021
*Early booking discounts:
- 15% discount if booked 90 days prior
- 10% discount if booked 60 days prior
- 8% discount if booked 45 days prior
- 5% discount if booked 30 days prior
*Offers are not combinable
Discover and Unwind
Explore the local area with 5 private excursions and activities including a trip to a market, visiting an orphanage or Lady Buddha statue. Don't forget that you have your 2 daily spa treatments included! Minimum stay is 5 nights.
Room price
Nights
Price per night
Programme price pp
Total
£2,740
5
£548
+
£0
= £2,740 for 2 adults
Yoga and Meditation
Enjoy your daily spa treatments as well as 5 private yoga or meditation session and take your practice to the next level. Minimum stay is 5 nights.
Room price
Nights
Price per night
Programme price pp
Total
£2,740
5
£548
+
£0
= £2,740 for 2 adults
Balance & Connect
Balance & Reconnect programme is a wonderful package for those who need to reconnect with themselves. Enjoy 5 re-balancing sessions such as reiki, reflexology or tai-chi. You will still have your daily massage treatments included. Minimum stay is 5 nights.
Room price
Nights
Price per night
Programme price pp
Total
£2,740
5
£548
+
£0
= £2,740 for 2 adults
Wellness
Boasting the largest spa in Vietnam with over 80 therapists, The Maia Spa really is the jewel in the resort's crown. The spa's philosophy of Natural Living Practices. A seven-principle guideline on how to achieve a balanced lifestyle is encompassed in every aspect of the resort from the massage oils to the food, making it an absolute triumph for wellness travellers. If you're curious about the local region, the staff will be more than happy to chat about their Vietnamese heritage.
Facilities include swimming pool, waterfall (heated in cool months), 16 treatment rooms, relaxation pavilion, steam room, sauna, beauty salon and yoga shala.
Example treatments at Fusion Maia Da Nang
Mindful energy massage
Deluxe hand cure
Meridian tension release
Lotus root body scrub

Activities
Activities available at resort
Indoor cinema
Beach walks
Swimming
Tropical garden
Natural living workshops
Library
---
Activities available at the surrounding area
Take a free shuttle bus to Hoi An and explore UNESCO world heritage site
Visit Da Nang's Han market to shop
Marble Mountain
Lady Buddha statue on Son Tra Peninsula
Typical Group Classes
Yoga (flow and restorative)
Meditation
Martial arts
Tai chi

Sample Weekly Class Schedule
Please note - Classes are subject to change and seasonal adjustments
---
Rooms
There are 87 spacious villas arranged in clusters. Each villa has a private pool and intimate garden. These elegant rooms are ideal for couples or a private retreat for a solo traveller.
**Please note: there is ongoing construction work in the resort next door. There is a 10% discount during this time as there might be more noise than usual.**
Pool Villa
The spacious one-bedroom pool villas are 106m2.
They each have their own private plunge pools and private garden.
They either have a king-size or twin beds with an open-plan living room and kitchenette.
The en-suites have both a shower and bathtub.
Facilities include complimentary Wi-Fi, flat screen TV, DVD player, mini bar, tea/coffee making facility, i-pod dock station and safe.
What's on the menu
The food here is a real highlight with healthy menus alongside fine dining. There are fusion dishes combining light and fresh Vietnamese ingredients into healthy and delicious dishes, salads and tapas as well as international options. The resort offers deliciously healthy breakfast 'anytime, anyplace' so there's no need to set an alarm. There are two restaurants, a cafe, a pool bar and a lounge bar so you have plenty of choices. You can also use the concept of Destination Dining and have some fine dining delivered to your room (eating in the pool is allowed and encouraged).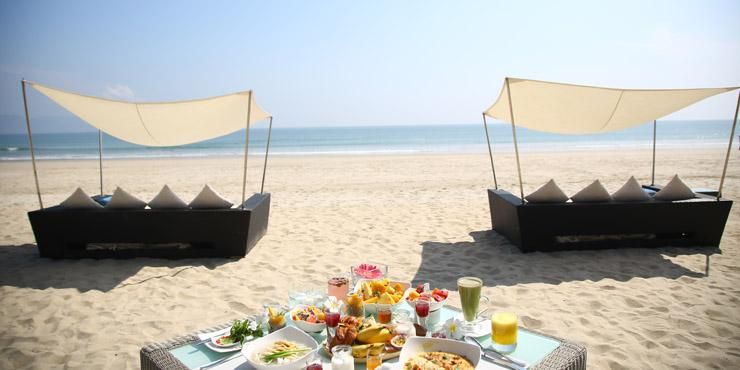 Breakfast 'Anywhere, Anytime'
Enjoy an extensive buffet selection in the restaurant or eat in the privacy of your room, by the pool or even down on the beach anytime of the day or night.
Fresh Restaurant
Informal pool side restaurant offering fresh and healthy dishes and supports clean eating lifestyle. Menu consist of salads or seafood as well as pizza, sandwiches or pasta.
Location
It's located on the stunning China Beach (rated as one of the best beaches in the world by Forbes magazine) only 15 minutes from Da Nang.
Nearest airport
The transfer time is only 15 minutes from Da Nang airport. There are no direct flights to Da Nang. We suggested stopping over in Hanoi or fly via Hong Kong or Singapore.
Watch the video on Fusion Maia Da Nang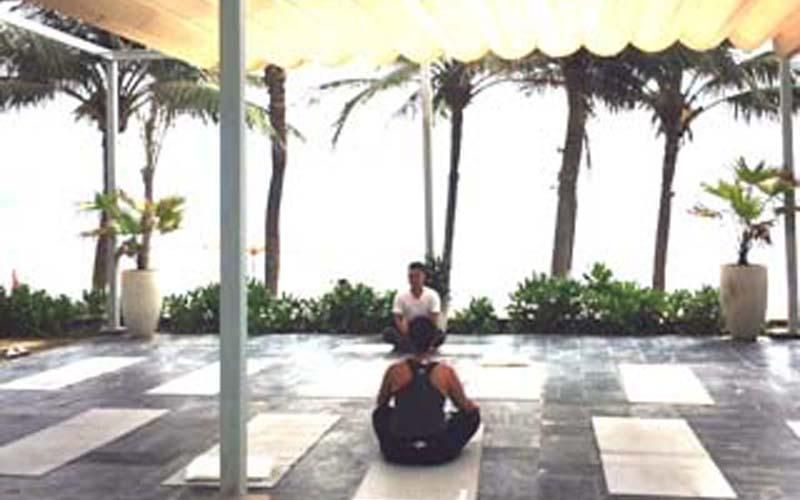 Our Travel Review of Fusion Maia in Vietnam
Read inside track on Stella's visit to Fusion Maia in Vietnam
Families, Children & Infants
Children of all ages are welcome to stay in Fusion Maia. Hotel has 'Mini Maia' kids club with a dedicated play area with supervised activities. Little ones can even have a child-friendly foot massage and mani or pedi!


Reviews
Accommodation is fantastic! My room was beautiful and provided a relaxing space. Food was excellent and I particularly enjoyed the Fresh restaurant. Staff are all very helpful and delivered great service. I booked a yoga package and while I did enjoy the daily classes, I do think the yoga teachers need a little more experience. I often had to advise that i didn't have the same range of movement as the teachers and ask to adapt the poses. I also found the classes a little repetitive and think they need more variation, which would come through more experienced teachers. Overall I really enjoyed my stay and would return. Perhaps just not on a yoga holiday.
Anonymous
Great advice and service throughout
Arleen Arnott
Wonderfully relaxing resort. The activities and spa is blissful
Juliette Lee
---
Why Wellbeing Escapes?