Imi Ouaddar, Agadir, Morocco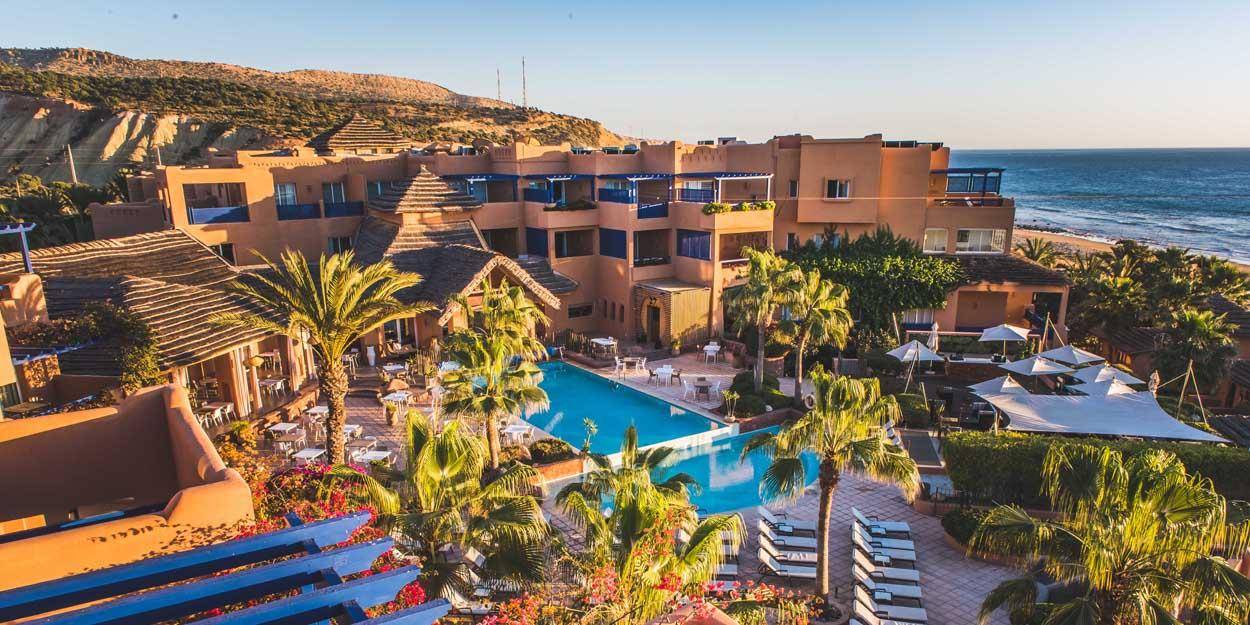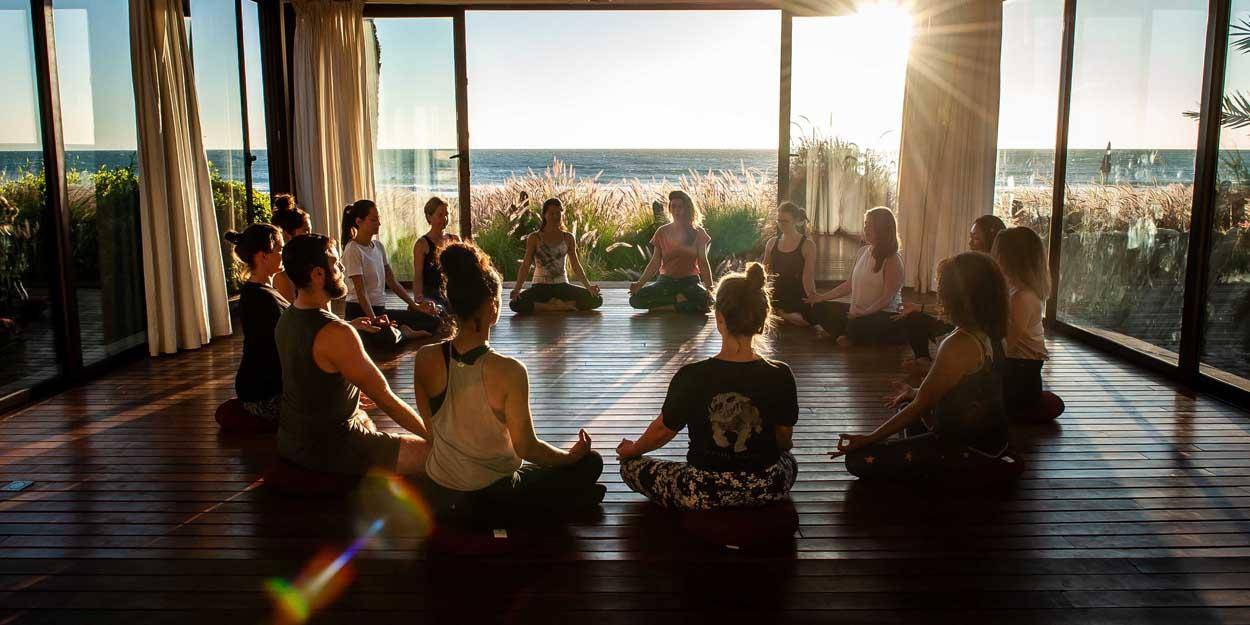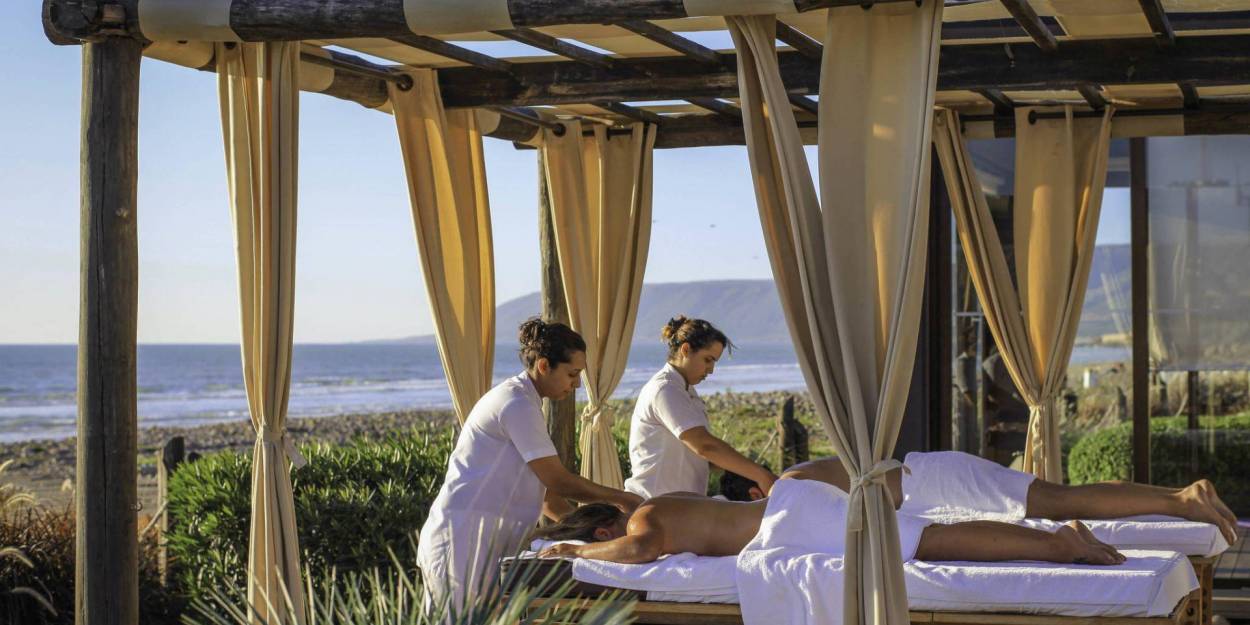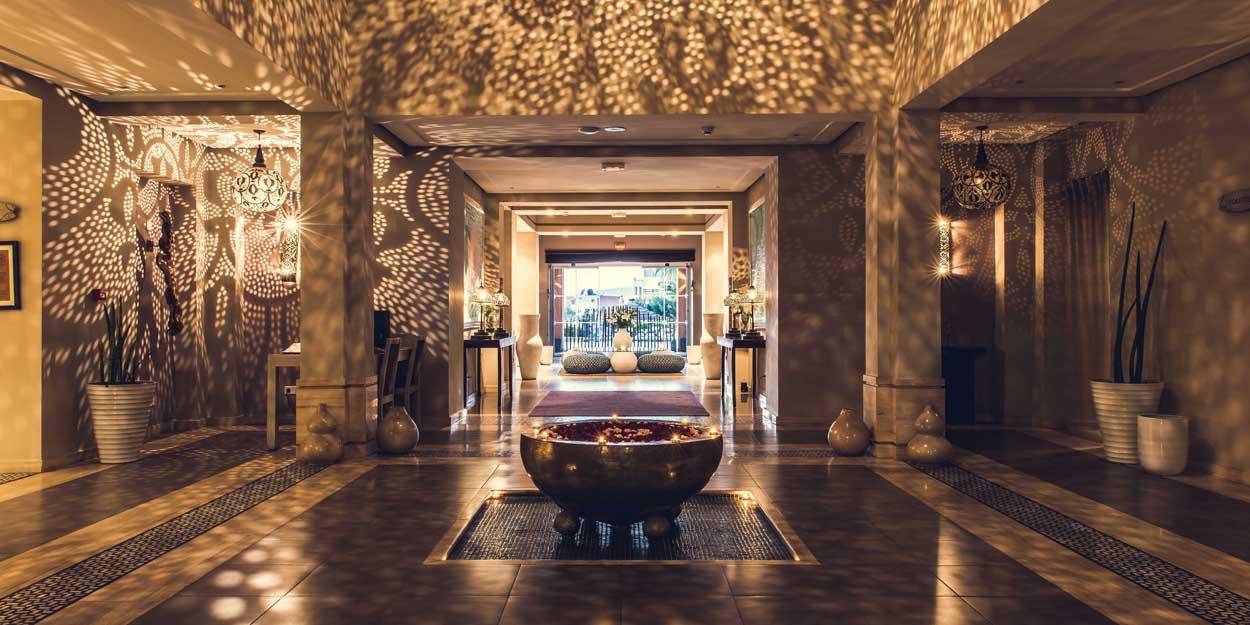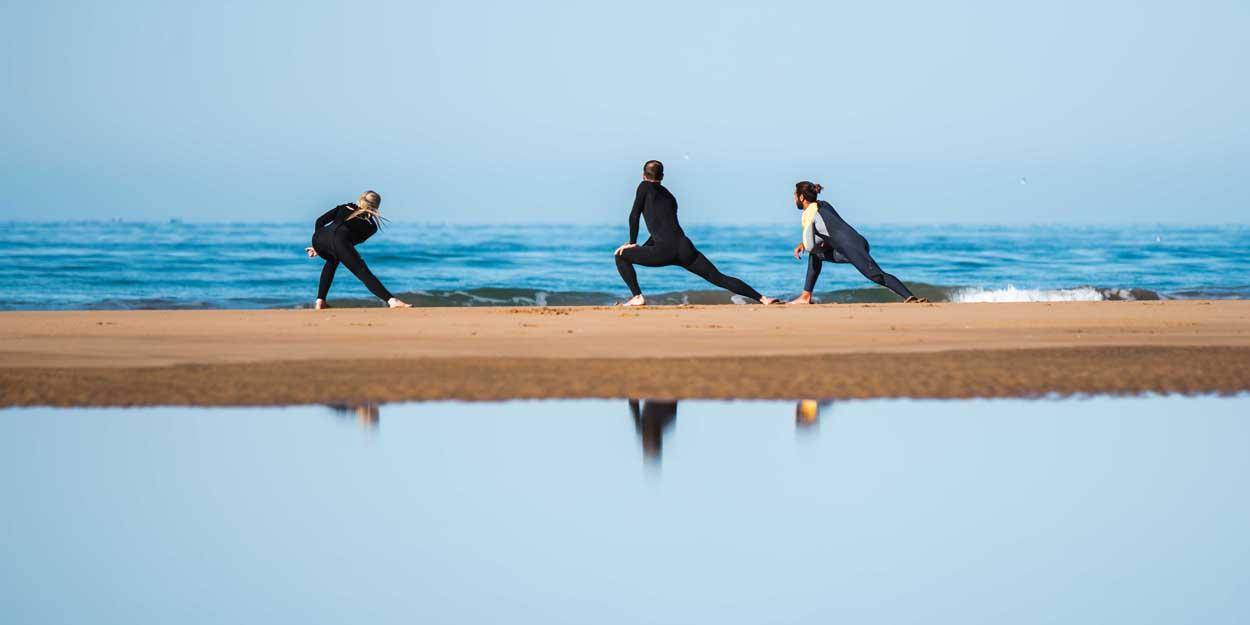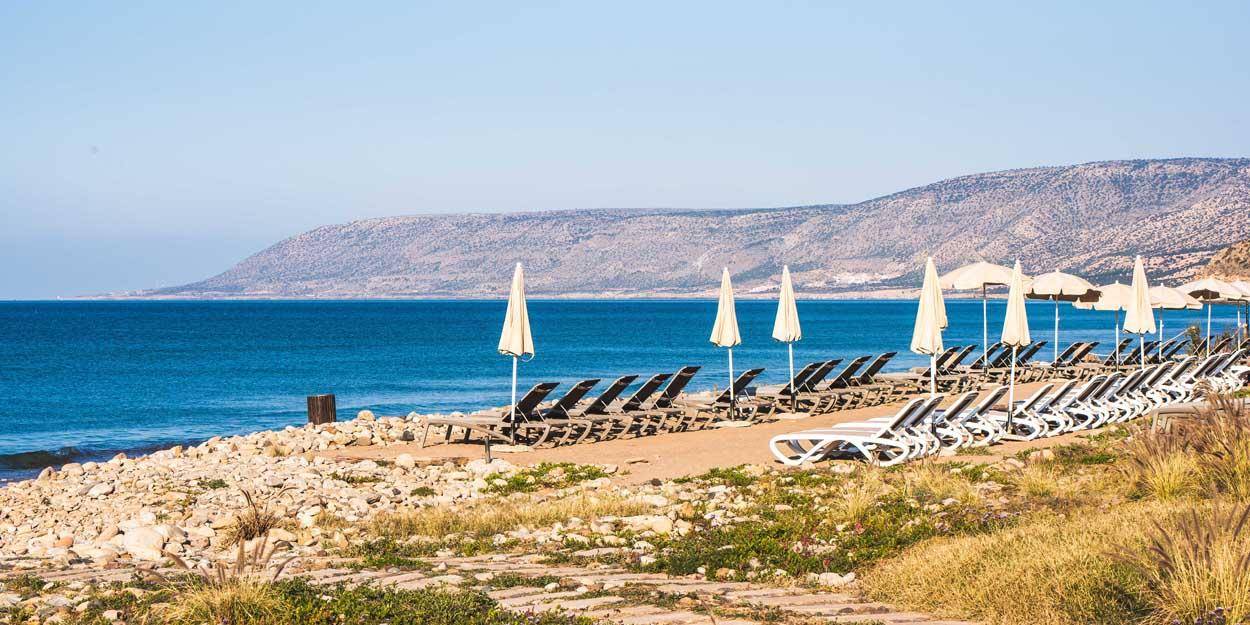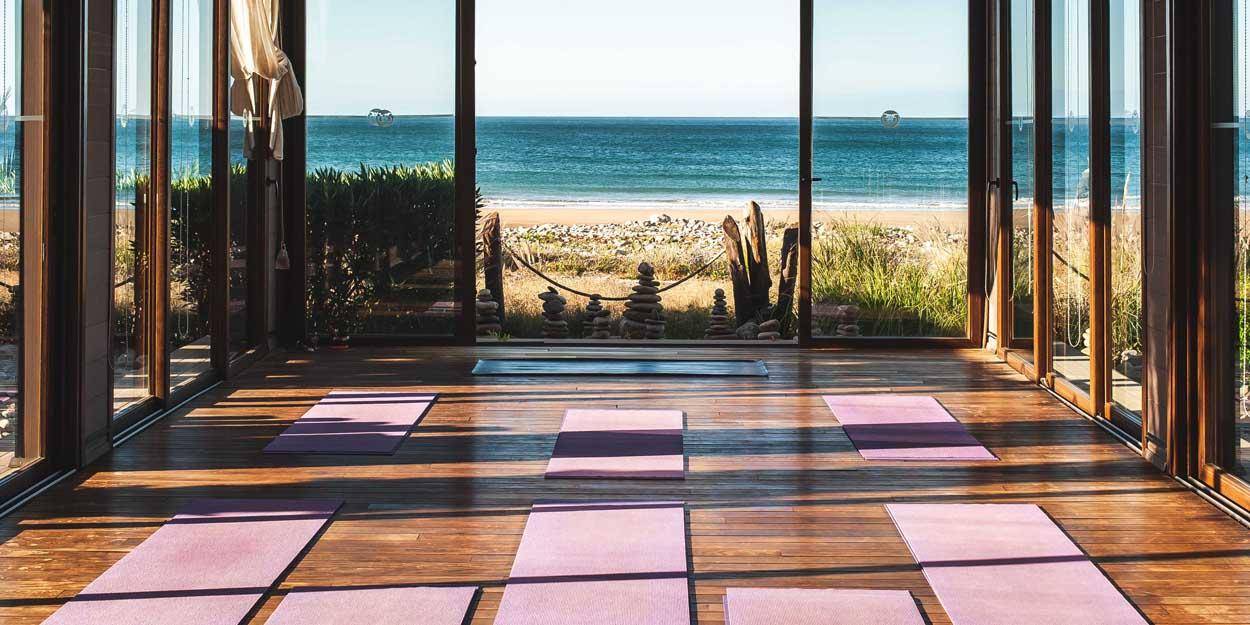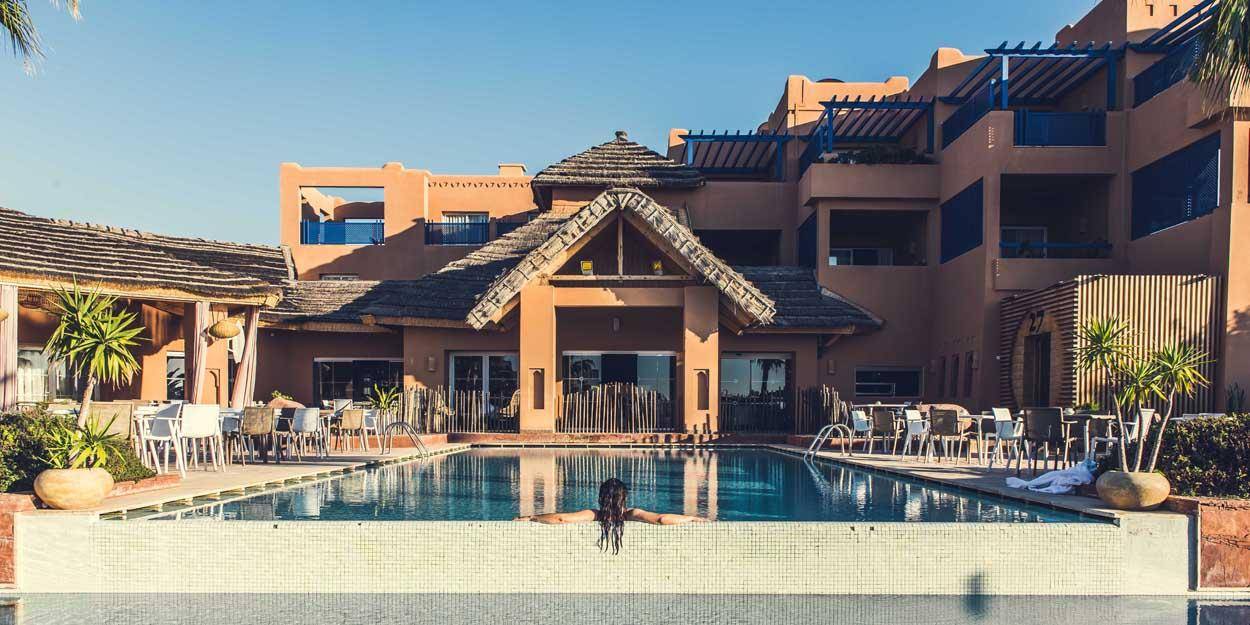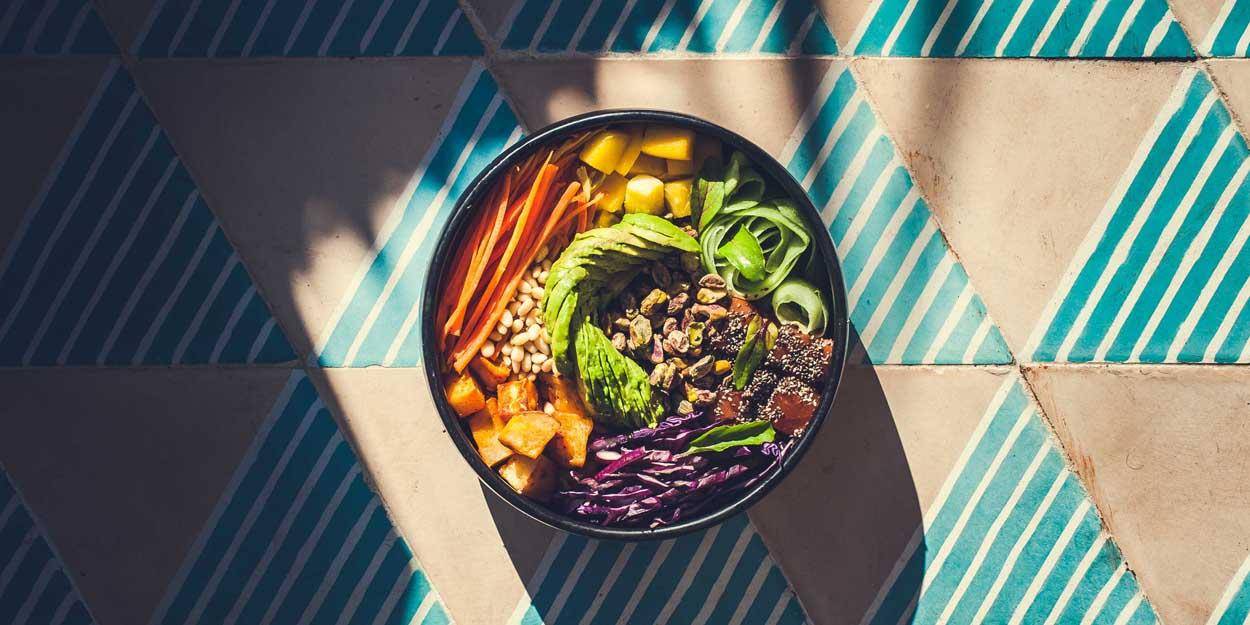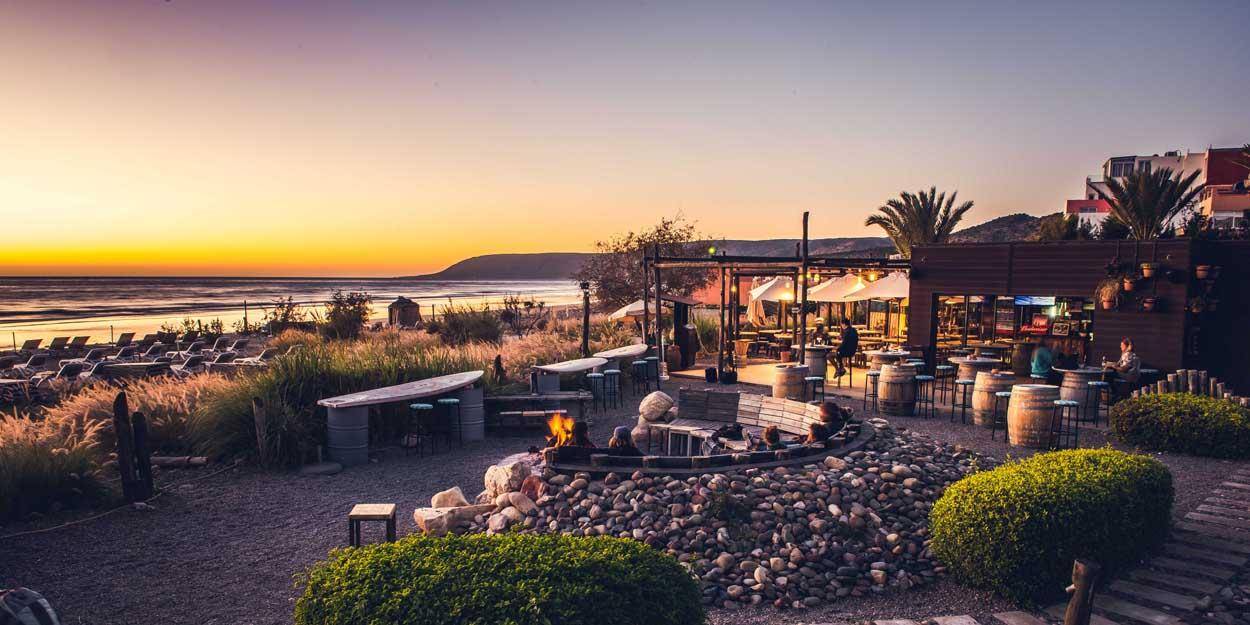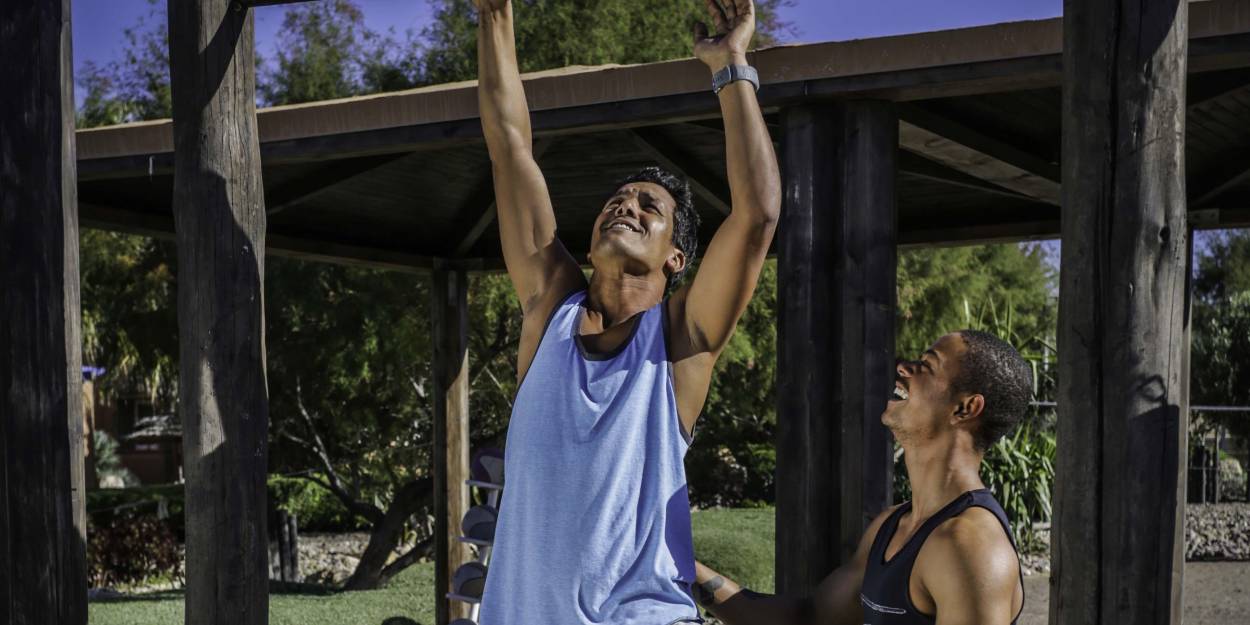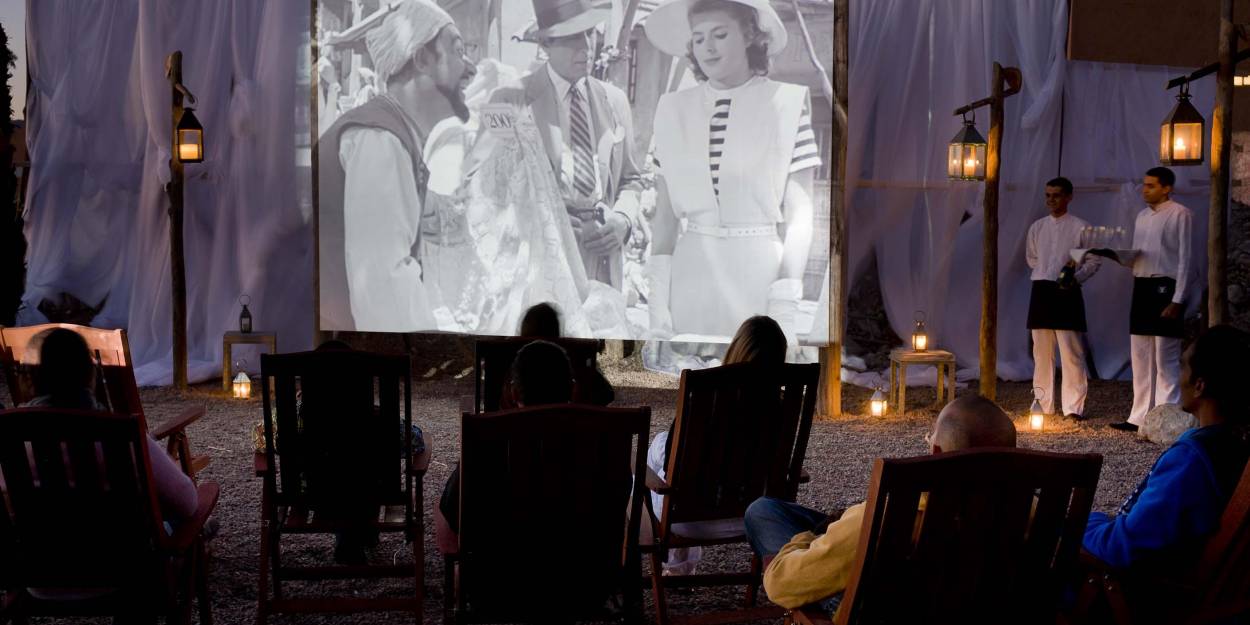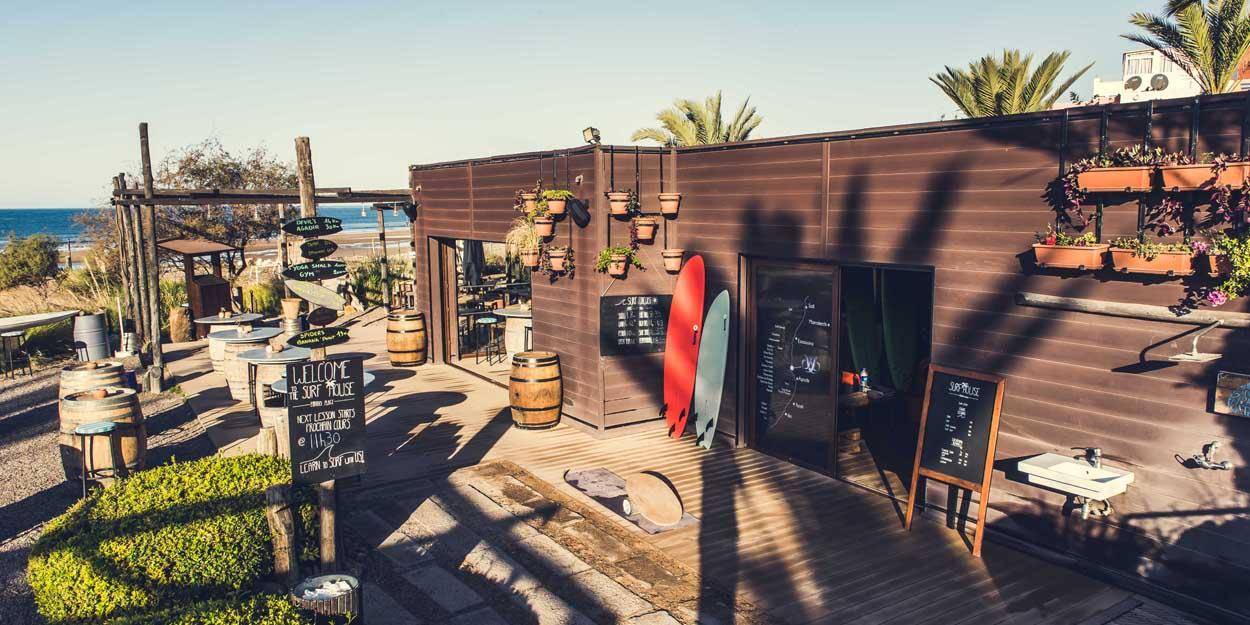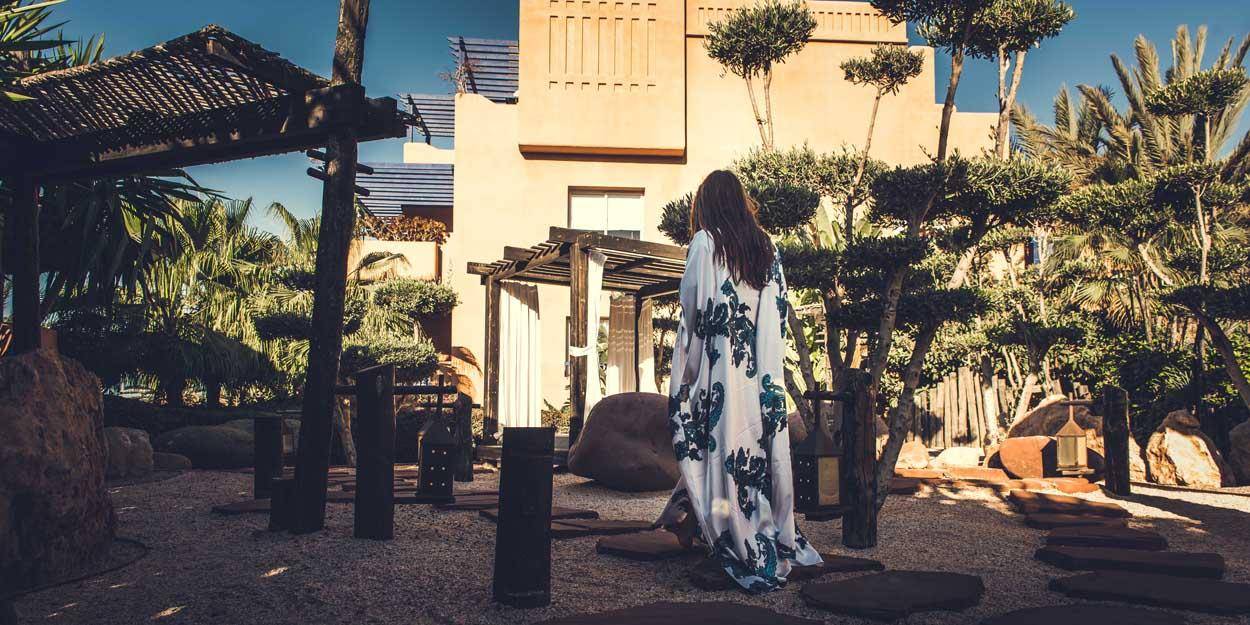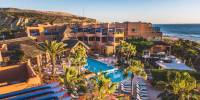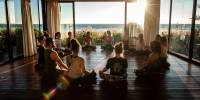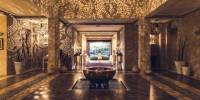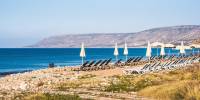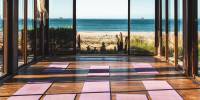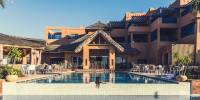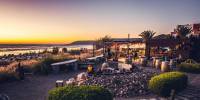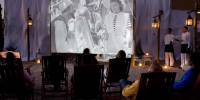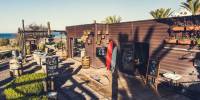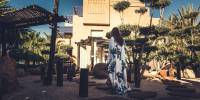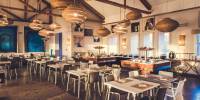 Overview
Paradis Plage Resort was the first surf, yoga and spa eco-resort in Morocco. It's located right on the beach near the village of Taghazout facing onto the Atlantic Ocean and enjoys space, peace and quiet just 25 minutes from Agadir. Participate in daily hatha, vinyasa or yin yoga classes in the beach front yoga shala, take a surfing lesson at the 'Ripcurl' surf school or relax with spa treatments. The great thing about this resort is that it enjoys 340 days of sunshine each year so it's an all-year-round choice. If you're looking for a chilled-out, beach-front holiday combined with yoga and surfing then book a stay at Paradis Plage.
When to go
This region of Morocco has a mild climate all year round and 340 days of sunshine a year.
What we love
The beach-front yoga shala: enjoy sunrise and sunset yoga whilst gazing straight onto the beach

The cool and chilled-out vibe here: surf plus yoga makes this place totally relaxed

Go to Paradise Valley: this natural rock pool is a must see and it's only 45 minutes away.
Who should go
Yogis will love the revitalizing yoga classes here 6 days a week, 3 times a day
Independent solo travellers who want to get away from it all and relax
It's great for couples as there's lots to do; surf, yoga, fitness, spa – the list goes on.

Offers
Summer 22 offer:*

-Save up to 28% on rooms until 31 October 22 (except 09 July - 27 August 22), if booked by 30 June 22

Early Booking offer:*
-10% on accommodation between 01 November-23 December 22 & 05 January - 19 April 23 if booked by 31 October 22
-15% on accommodation between 03 May - 26 June 23 & 02 July - 31 October 23 if booked by 15 March 23
Long stay offers:*
-15% on accommodation with min 3 night stay between 15 January - 01 February 23; 11 - 25 May 23; 04-22 June 23 & 03-27 September 23
-20% on accommodation with min 5 night stay between 13 November - 21 December 22 & 04-13 January 23
Exclusive offers:

-Reduced rates for single travellers



-For twin/double room sharers: free room upgrade (subject to availability at time of arrival) & 1 free SUP rental per person (1/2 day, min stay 7 nights)
-2 Free group yoga classes per person (min. 3 nights)
-3 Free group yoga classes per person (min. 7 nights)
-Loyalty offer - repeat clients that have travelled to the hotel before with us will receive an extra 50 minute massage
*Offers are not combinable
Spa 2 day package
This light package is designed for those wishing to relax and discover the oriental treatments but don't want to be too busy with treatments. Minimum stay 3 nights.
Room price
Nights
Price per night
Programme price pp
Total
£390
3
£130
+
£96
= £582 for 2 adults
Yoga Holidays 2 day package
Simple package for those who don't want to do much but wish to add some yoga. Programme includes 2 group lessons per day for 2 days in total. Each class is 75 minutes, morning and evening.
Room price
Nights
Price per night
Programme price pp
Total
£520
4
£130
+
£46
= £612 for 2 adults
Exclusive Wellbeing Booster
Minimum 3 nights stay. Our signature wellbeing booster programme promises to relax your body and soothe your soul. Enjoy 2 spa treatments and 1 private activity of your choice.
Room price
Nights
Price per night
Programme price pp
Total
£390
3
£130
+
£116
= £622 for 2 adults
Exclusive Intensive Fitness 4 day package
This programme is designed for those who are serious about being fit and active. Package includes a personal consultation and 4 fitness activities of your choice. Bootcamp style!
Room price
Nights
Price per night
Programme price pp
Total
£520
4
£130
+
£101
= £722 for 2 adults
Yoga Holidays 5 day package
If you are a yoga fun this programme is for you. Enjoy 2 group yoga classes for 5 days and take your practice to the next level. Minimum stay 5 nights.
Room price
Nights
Price per night
Programme price pp
Total
£650
5
£130
+
£107
= £864 for 2 adults
Exclusive Yoga, Surfing and Relaxation
Fantastic combination of what Paradis Plage is about - surfing, yoga and spa! Great for those who cannot decide what to do and wish to try it all! Minimum stay 4 nights.
Room price
Nights
Price per night
Programme price pp
Total
£520
4
£130
+
£178
= £876 for 2 adults
Surfing for Beginners 5 day programme
5 day package that is perfect for a beginner. Lear how to surf in a group environment with 5 classes. Each class is 90 minutes and you will receive a full guidance from an experience surf coach. Equipment is included.
Room price
Nights
Price per night
Programme price pp
Total
£650
5
£130
+
£132
= £914 for 2 adults
Yoga & Spa 5 day package
The most popular programme! Sweet combination of 1 daily group yoga class and relaxing spa treatments. Stretch and pamper. Minimum stay 5 nights.
Room price
Nights
Price per night
Programme price pp
Total
£650
5
£130
+
£172
= £994 for 2 adults
Spa 5 day package
This comprehensive package is for those guest who preferred to get pampered at the spa during their holiday. Minimum stay 5 nights.
Room price
Nights
Price per night
Programme price pp
Total
£650
5
£130
+
£183
= £1,016 for 2 adults
Exclusive Flexible Yoga
If you are into your yoga, this is a right programme for you. Perfect your downward dog and other asanas with 5 classes offering different yoga styles or Pranayama (breathing) class. Classes are one-on-one so take advantage of your yoga teacher expertise.
Room price
Nights
Price per night
Programme price pp
Total
£650
5
£130
+
£210
= £1,070 for 2 adults
Exclusive Flexible Fitness
Our signature flexible fitness programme gives you a choice of one daily private fitness activity for 5 day. Each class is 50 - 55 minutes long and you can mix and match the way you like. Increase your overall fitness, try something new or simply have fun! Minimum stay is 5 nights.
Room price
Nights
Price per night
Programme price pp
Total
£650
5
£130
+
£214
= £1,078 for 2 adults
Exclusive Intensive Fitness 7 day package
This programme is designed for those who are serious about being fit and active. Package includes a personal consultation and 7 fitness activities of your choice. Bootcamp style!
Room price
Nights
Price per night
Programme price pp
Total
£910
7
£130
+
£176
= £1,262 for 2 adults
Exclusive Comprehensive Spa Rejuvenation
This comprehensive programme is for those who wish to maximise their spa experience. Programme includes 6 spa treatments and as well as access to all group activities. Minimum stay is 7 nights.
Room price
Nights
Price per night
Programme price pp
Total
£910
7
£130
+
£239
= £1,388 for 2 adults
Wellness
The main wellness concept here focuses on surf and yoga. Fitness fanatics will also love the beach-front fitness centre with indoor and outdoor spaces to train. This is complemented by the small spa which uses natural, responsibly farmed ingredients such as Moroccan orange blossom and argan oil.
Facilities include hammam, zen garden, Jacuzzi, manicure and pedicure salon, outdoor massage area, indoor treatment rooms, swimming pool, kid's pool, gym, 2 yoga shalas and a waterfront surf house.
Example treatments at Paradis Plage
Traditional Morrocan hammam
Hammam steam bath
Massage with Agadir pebbles
Relaxing massage with candle oils

Activities
Activities available at resort
Kayaking
Stand up paddle
Beach volleyball
Beach football

Swimming
Outdoor cinema
Fire pit

---
Activities available at the surrounding area
Take a trip to Paradise Valley and cool off in the natural waters
Head to a bustling city of Agadir (free shuttle during the day)
Marrakesh is 3.5hr drive where you can soak up the Moroccan culture
Golf
Visit a historic port city of Essaouira and explore an UNESCO World Heritage Site

Typical Group Classes
Yoga
Surfing
Body Combat
Cross fit
Circuit training

Sample Weekly Class Schedule
Please note - Classes are subject to change and seasonal adjustments
---
Rooms
There are 106 suites at the resort, including 25 Junior Suites and 40 Premium Suites. The rooms have private balconies overlooking the swimming pool, gardens or the Atlantic Ocean. All suites are spacious with comfortable furnishings. Enjoy spreading out. These room are big enough to get comfortable, about 40% larger than an average hotel room.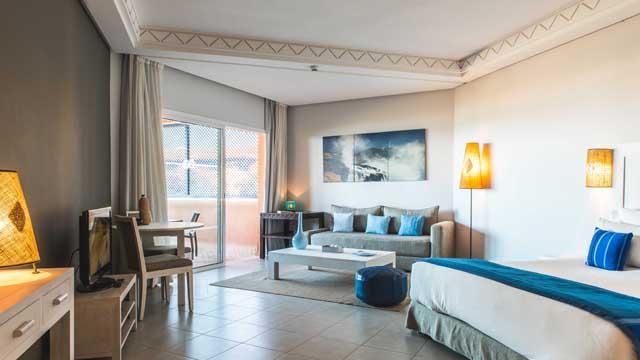 Junior Suite
The Junior Suites are 62 m2, have an open-plan bedroom/living room, kitchenette, bathroom with a shower and a furnished, private terrace. There is a king bed and separate seating area. This room cannot be turned into twin beds. The rooms have ocean and pool views.
Facilities include: Satellite TV, DVD player, complimentary Wi-Fi, air-conditioning, hairdryer, telephone, fridge, mini bar, microwave and safe.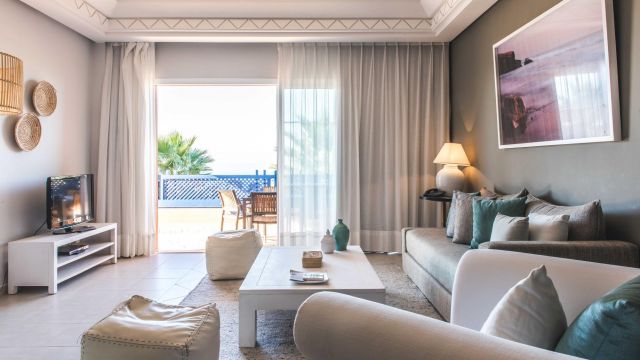 Premium Suite
The Premium Suites are 72 m2, and contain a bedroom with king or twin beds, separate living area with a kitchenette, bathroom with a shower, plus a furnished private terrace, facing either the sea, pool or gardens.
Facilities include:

Satellite TV, DVD player, complimentary Wi-Fi, ahirdryer, air-conditioning, telephone, fridge, mini bar, microwave and safe.
What's on the menu
Paradis Plage has a very simple philosophy; to serve organic and locally sourced food as much as possible. Deliciously fresh fish is sourced from the fisherman's village adjacent to the resort. There are healthy as well as not so healthy options on the menu so this isn't the place to detox or lose weight. Alcohol is served if you fancy a cocktail too. It takes a long time to prepare these authentic recipes, so be sure to place your order for these Moroccan slow-cook dishes at least three hours in advance.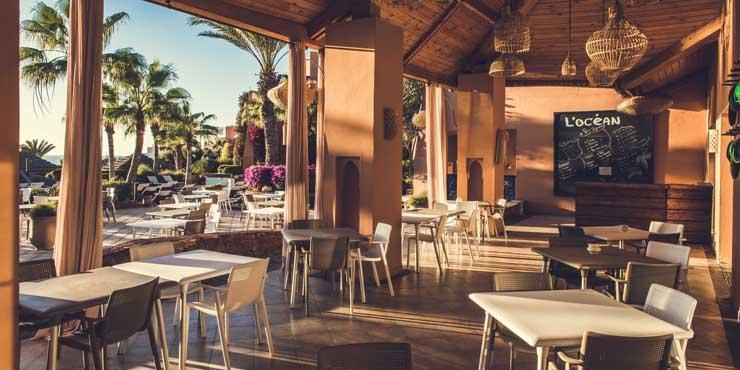 The Ocean
The buffet restaurant serving breakfast all year round and evening buffet (in high season only). The breakfast has hot and cold options and even an omelette making station.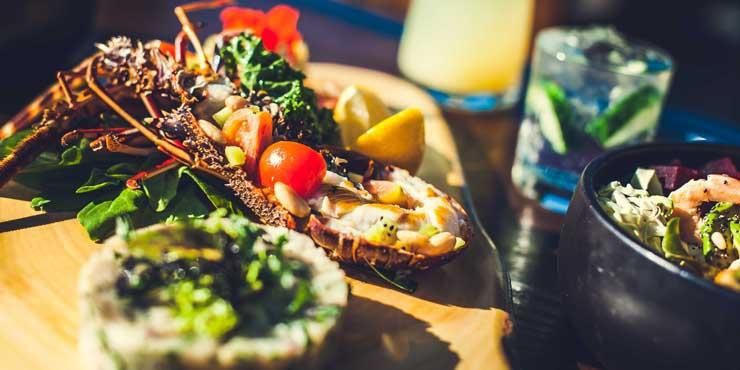 The 27
A la carte restaurant serving a Mediterranean cuisine is open for dinner. The chef uses local and seasonal produce to create delicious evening meals.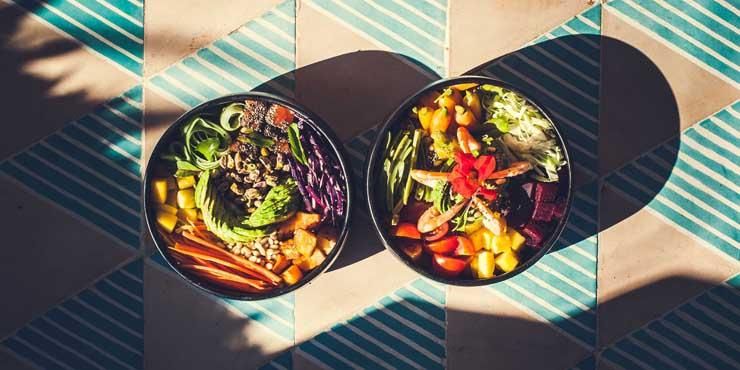 Chiringuito Bar & Restaurant – Surf House
The super chilled-out surf house is open for lunch. Choose from the bar menu including salads, fresh fish or burgers. In the evening, grab a cocktail and relax on the comfy cushions to watch the sunset.
Location
Paradis Plage Resort is located directly on 5 km of sandy beach in Taghazout away from the main tourist traps. For shopping head to Agadir (20 min away) as there are only a few small local shops within walking distance.
Nearest airport
The transfer time from Agadir Airport is approx. 1 hour by car. Flight from London takes about 3hr 40 min. Flights are not daily, especially during winter months.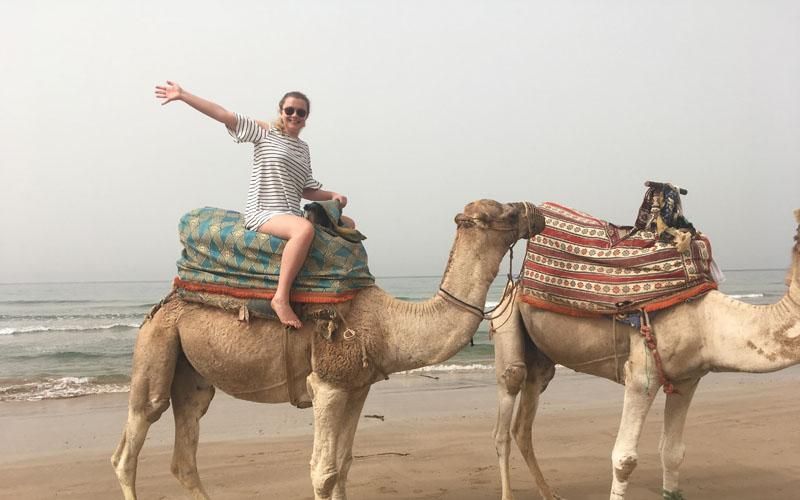 Our Travel Review of Paradis Plage in Morocco
Read inside track on Lisa's visit to Paradis Plage in Morocco
Families, Children & Infants
Everyone is welcome at Paradis Plage. The 'Kidz Club' welcomes children from 4 to 12 years and arranges daily games and outdoor activities. A babysitting service is available on request for children under 4 years.


Reviews
Paradis Plage is a beautiful hotel right on a stunning beach. We wanted a yoga holiday and it offered that and much more. The yoga teacher Karsten was amazing and inspirational, the yoga studio right on the stunning beach, with the sound of waves and birds to accompany our practice. The hotel also had lots of other facilities and the staff were very friendly and helpful. The only downside for us was that they have very little single accommodation and few twin beds - and as two mature single women we didn't want to share a bed! But thankfully the hotel was able to rectify this by upgrading us to a premium suite.
Linda Temple-harris
Great place amazing treatments sea view suite
Anonymous
Incredible hotel with excellent staff and facilities.
Anonymous
Slightly let down by the resort where the small details were overlooked - waiting a long time for the transfer, very stuffy stale smelling car on return transfer, inconsistent meals and service in the restaurant, some facilities not well maintained, inconsistent quality of treatments, yoga class too advanced for the inexperienced. They have become more busy and likely because of this are missing the little details that have previously made this place stand out. The staff are very lovely, warm and helpful, however, it's just the little things that need improving before I personally consider returning.
Anonymous
Slightly overpriced but perfect location and resort. Would recommend this place as an ideal holiday resort
David Mitchell
I went for relaxation, yoga and fitness - and that's exactly what I got. I was picked up from the airport and transferred in a lovely air conditioned car to the hotel. I was immediately greeted with smiles and complete friendliness and given a welcome juice. After a quick tour I was shown to my upgraded suite which was out of this world. I almost felt guilty for staying in a suite so big all on my own! The place is so homey and comfortable and spotlessly clean, the staff are the perfect amount of friendly and the food is exceptional - so fresh and tasty and so much variety and choice. The Yoga was a real highlight - Karsen the Instructor was the best instructor I've ever met through doing yoga in different countries for many years. The gym is ideal and the classes tough going but in a good way. Everything ran so smoothly from the moment I first made contact to the time I got home and I will definitely be going back again.
Ash Hearn
Excellent resort but just not as exclusive in terms of detail in comparison to previous Wellbeing trip!
Mark Watson
I adored Atmantan - it's a seriously impressive 'health' destination. Beautiful setting, highly professional staff and fitness classes galore. I had the best spa treatments ever there too and really was loathe to leave...I'm planning to go back later this year already.
Helena Jones
Lovely resort great spa and yoga
Vicky Ballantyne
All good....................
Nicola Carrington
Like a home from home, well looked after and spoily rotten! Thanks for another incredible stay to all at Paradis Plage 😁
Anonymous
I spent a few days at Paradis Plage in Agadir, Morocco and it as simply wonderful. I had never been to Morocco before so I was slightly nervous, especially as I was travelling alone. The lady at Wellbeing Escapes put me at ease by saying that almost all their customers were single travellers so all their resorts are perfect for single travellers. The resort itself was just what I was looking for. It was chilled-out and relaxed and the location right on the beach was perfect. Being a surf and yoga resort, I really enjoyed getting involved in the daily yoga classes. The teachers were incredible. I did also try out the surfing (which I had never done before) which was good fun. I enjoyed a traditional Moroccan hammam which was amazing... my skin felt so smooth and revitalised. I went on an excursion to Paradis Valley which is only a short drive from the resort. Here I trekked through the hills and took a dip in the fresh-water. I also had a morocco tagine for lunch which was delicious! I would highly recommend this trip! Overall, Paradis Plage was amazing and I will most definitely be returning next year. I also love how close it is to the UK, it is only a 4 hour flight from London to Agadir so great for a quick trip for some sunshine!!
Lisa Taylor
Overall a great stay reception staff great, food generally above expectation the salads being particularly good. Yoga fantastic. Rooms spacious and very clean. Only real complaint would be the duration of treatments, 3 out of six were Much shorter than the published length of time for the treatment . Little was able to be done about this as the schedule in the spa was full.
Anonymous
The spa at Paradis Plage was amazing. I had 6 days of treatments and enjoyed every one. All the staff were very friendly and knew what they were doing. The resort itself was good but the pool is small and always had screaming children around it so I spent most days at the beach. The food was mostly good but limited.
Sara
I LOVED IT. The Spa at Paradise Plage was excellent. Very clean and professional nothing was ever too much and so relaxing...... I could not believe 9 days had passed so quickly. I could have done with one more week for sure.
Natascha Corn
This spacious series of apartments and houses , set within tranquil, flower filled grounds, is a charming and restful place to be. We each had a Junior Suite, with interconnecting doors, opening onto the pool area. It was early March and there were relatively few guests... which was lovely for us as we wanted peace and quiet and a total collapse after a heavy period of hard work. We paid half board and also in advance paid for daily massages. The open plan buffet dining room, where you serve yourself, was a bit canteen like to sit in, but the food choices were utterly delicious: a huge variety of food, both at breakfast and in the evening... at breakfast we tended to sit at tables around the pool. All tastes were catered for... my friend likes cereals and milk or yoghurt, fresh fruit , etc. I had various types of bread, toasted, cheese, cold meats, and often had an omelette, made in front of me, with a choice of fillings... delicious! In the evenings there is a choice of three tagines.... meat, or fish, or vegetarian; plus dozens of starters and many other main courses including saffron rice/ paella with fish / plates of various fish/ chicken/ lamb... and delicious puds...slices of mille feuille, various chocolate things, fruit pies, fresh fruit... . Our rooms were huge, with sofa, tv, air conditioning, and large beds... really comfy. There was a mini-kitchen too so if you had wanted to buy food elsewhere you could cook a meal for yourself. The beach is beautiful and deserted... golden sand and wonderful surf .... too cold to swim in, in March anyway. Yoga lessons were great, so was the keep fit class we went to; and the body treatments were wonderful.... lying in the steamy hamman, covered in mud, and then hosed down , followed by a full body exfoliation. I've never felt so clean! The staff are charming, gentle, helpful. My only complaint is that there are cats roaming the site and begging for food. They walk into the restaurant too. And the only other thing that bothered me was the lack of decent coffee. There is a Nescafe machine at breakfast and frankly it tastes disgusting. Had I known, I'd have brought some bags of real coffee and made my own in my room. If you want lunch you can either wander down to where the surfing folk get into their wet suits and head off for the sea, beside which there is a lovely buffet at lunch time and again in the evening, right on the beach. Or there is a smarter restaurant within the hotel complex. Or you can sit on the terrace and order drinks and light salads etc. I highly recommend this place.
Anonymous
This is a nice hotel but definitely not five star. The food was a bit hit and miss, breakfast not great, but had a few good dinners. The staff are polite. My room had a great view of the pool and ocean, and was a really good size but the finishes are a bit sloppy, my wardrobe door fell off, luckily not causing me any injury. It was nice to have the kitchenette. I liked the spa but the Hamman was a bit disappointing I was expect hot and steamy, it was neither. The Zen space was okay but a bit too far away from the hotel so not close to the pool or ocean views or somewhere to get a drink or any assistance.
Anonymous
The hotel was extremely clean and tidy, inside and out. The suites were kept immaculately clean. Bottled water was provided daily. Crisp white bed linen and towels.
Sarah
The resort was perfect- just what we wanted and staff we really brilliant.
Anonymous
The surf and yoga was great. The surf teachers especially were very good and supportive. The fitness instructor could perhaps go for some training in how to teach people who are not on the same fitness level as him and to be a little bit more upbeat in the presentation of his classes, I often felt like he'd rather be somewhere else. It might also be good to mix the classes up a bit and hold some of them outside, using the lovely beach to do circuits etc.
Anonymous
---
Why Wellbeing Escapes?