Mystras, Greece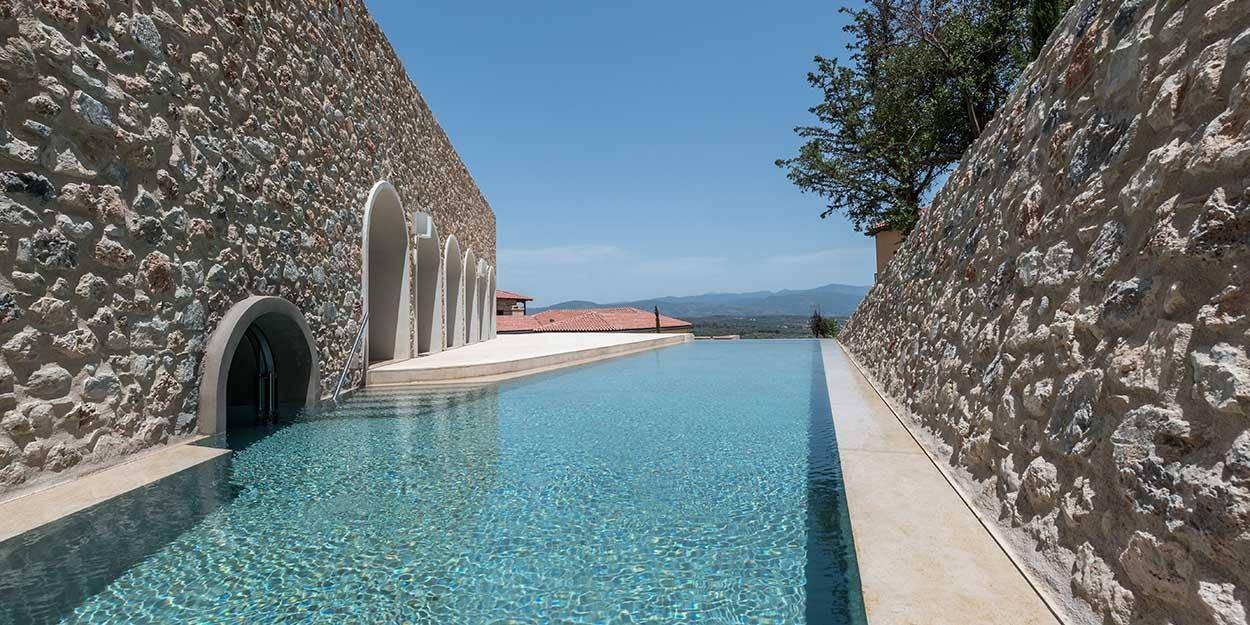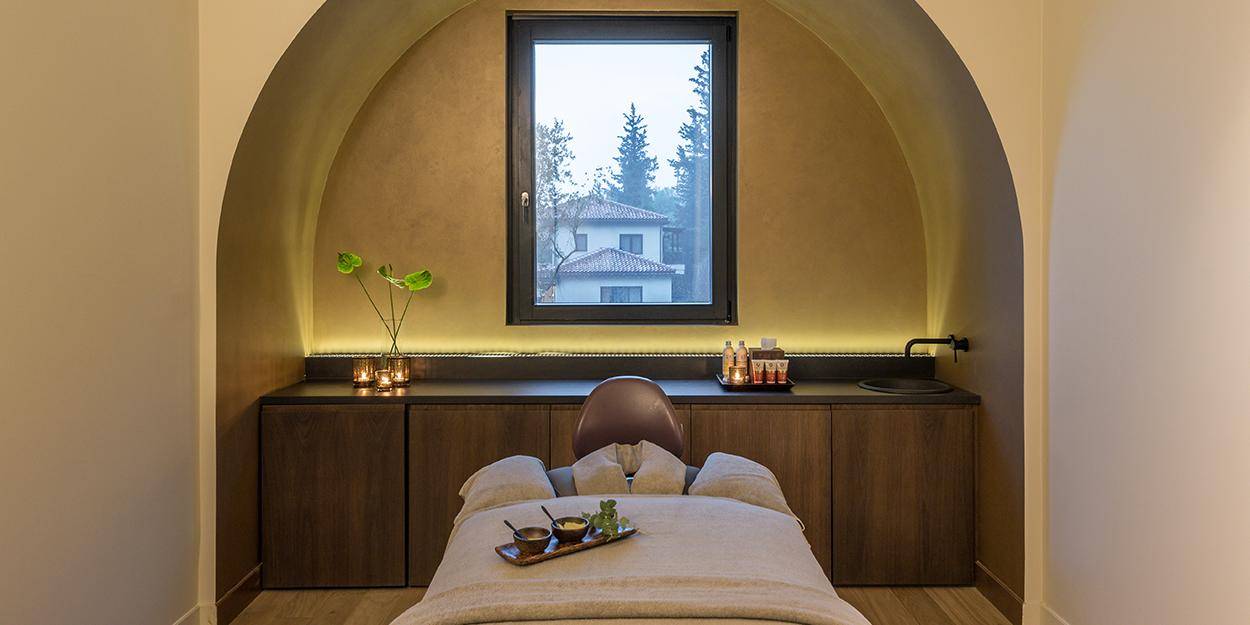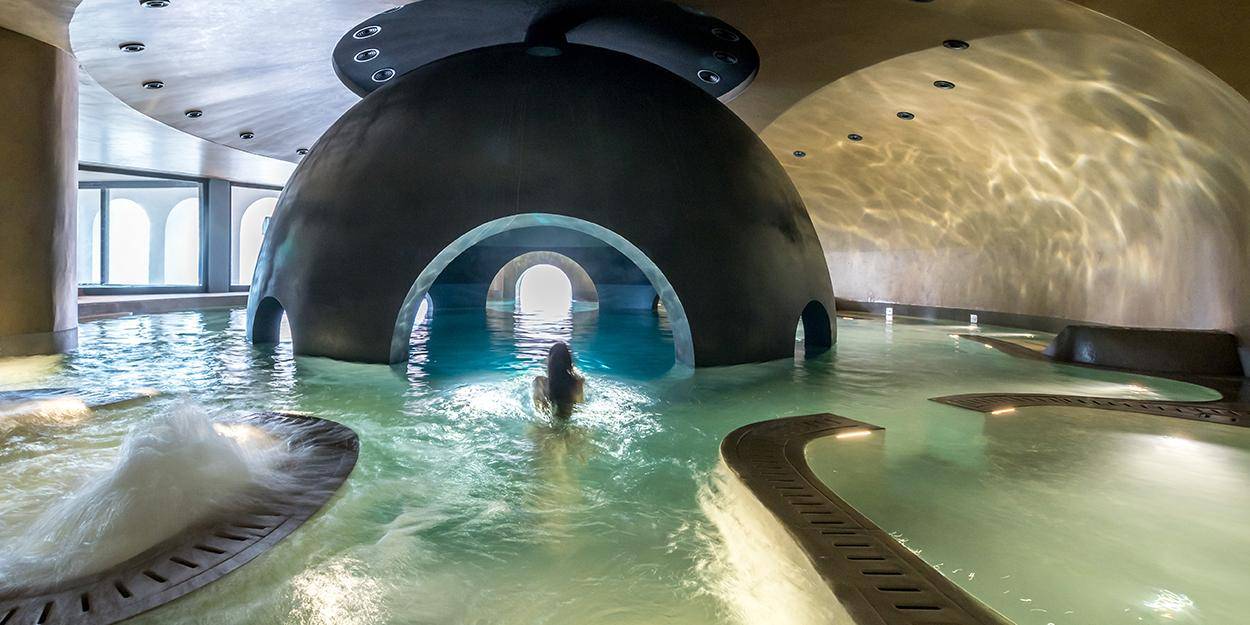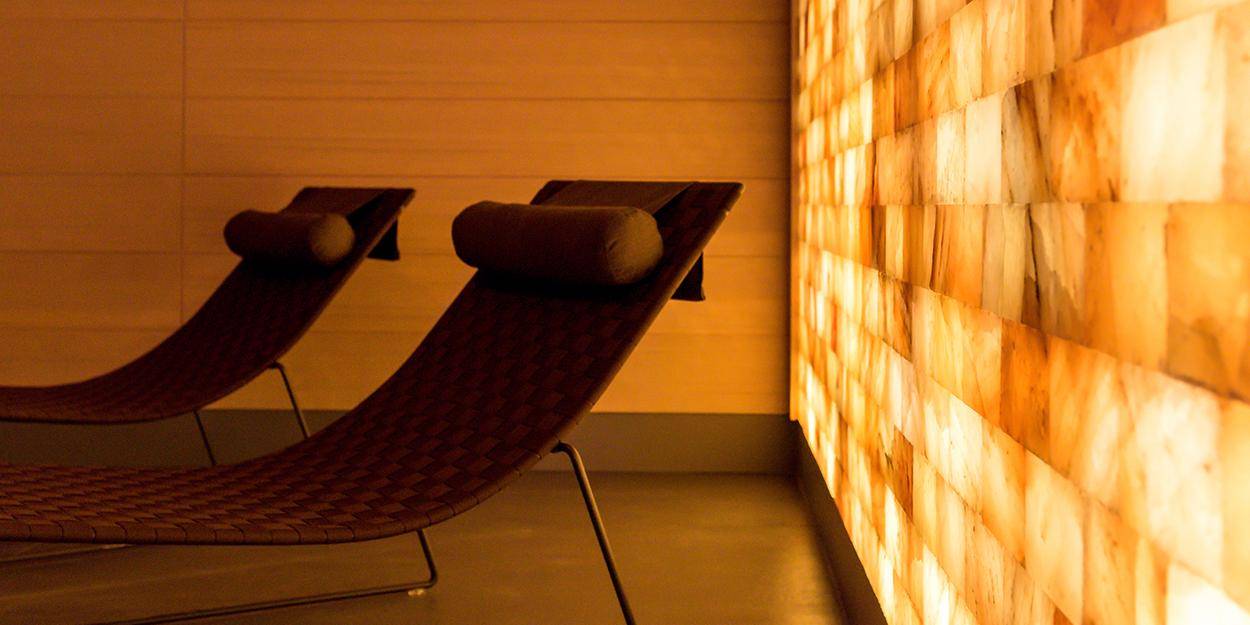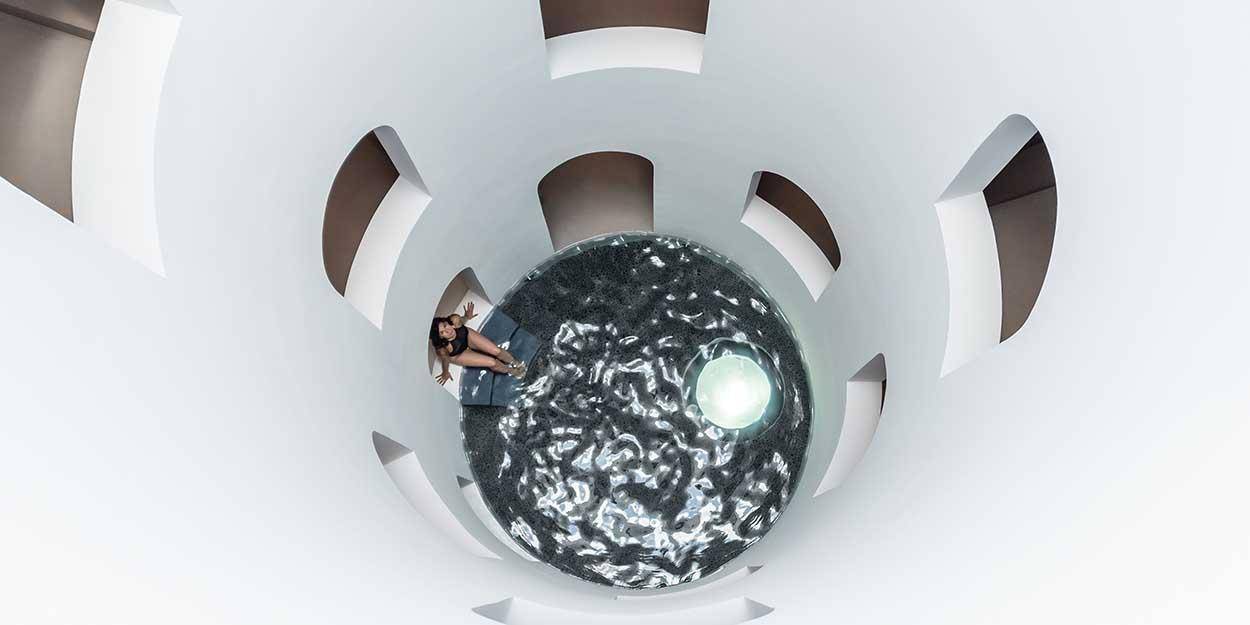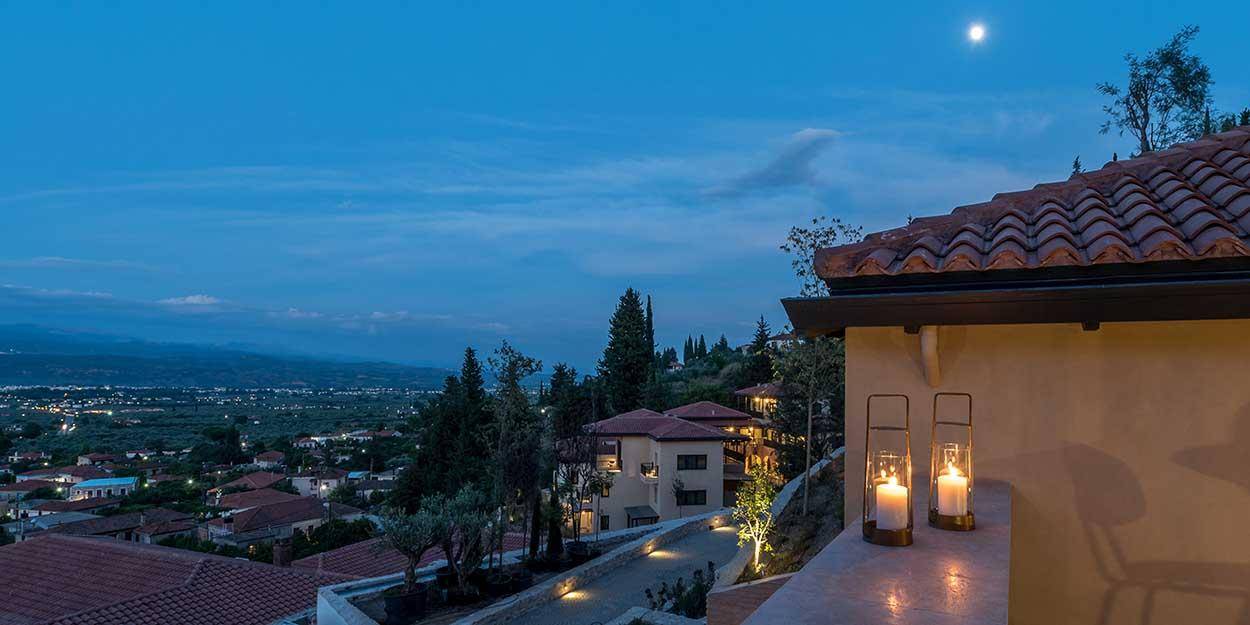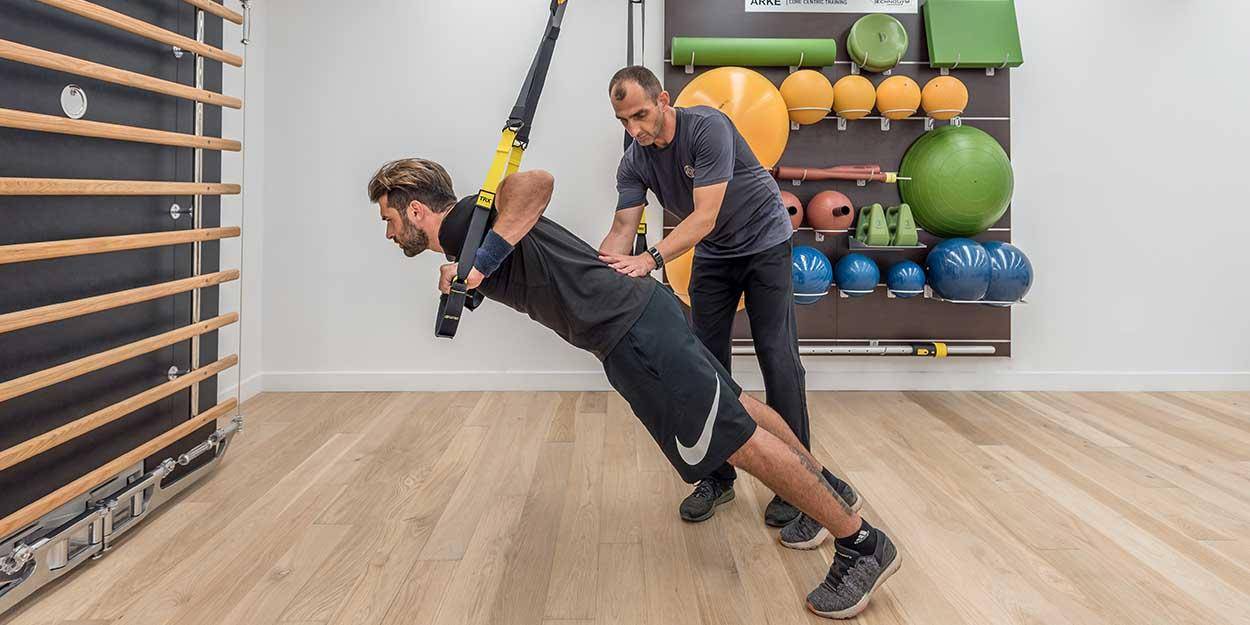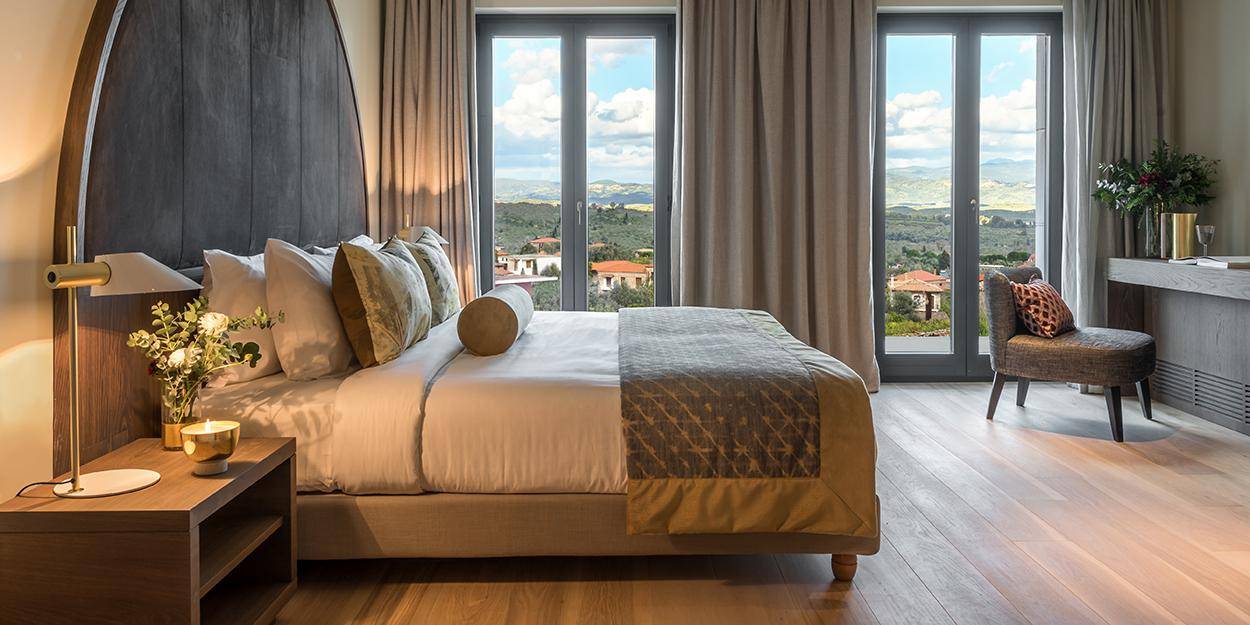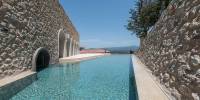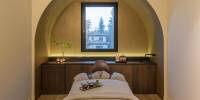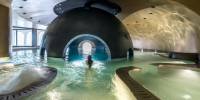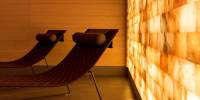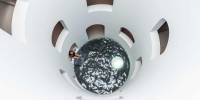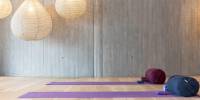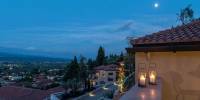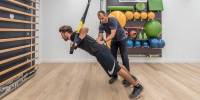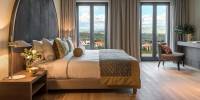 Overview
Euphoria Retreat is one of those 'wow' destinations that you will fall in love with. 'Euphoria' means a state of wellbeing with mind, body and soul balanced which reflects its ethos – to help you to transform and heal yourself and give you the necessary tools to live a happier and healthier life. The core concept draws inspiration from a number of sources - Taoist and Hellenic philosophy as well as Chinese and Hippocratic medicine. If you are serious about your health and wellbeing, this retreat should be on your list. So come and embark on your personal journey of transformation.
When to go
This is all year destination. The hottest months are usually June to August and the most pleasant time is spring and autumn. Average winter temperature is 10 degrees.
What we love
Sphere pool for a very unusual bathing experience - pool in this round-shape dome is 3.5m deep, dive in and you can hear dolphins!
Strong focus on physical and emotional transformation with expert guidance and support - the powerful path to self-discovery and change in safe and caring environment
Mobile phones are not allowed in the restaurant and the spa - digital detox it is!
Who should go
All wellness junkies - this place should be added to your list NOW!
Travellers who need a proper wellness fix but don't have time to go to a long-haul destination
Guests who want to a 'not-in-your-face' luxury environment.

Offers
5% discount on accommodation. Non-refundable, valid for stays until 31 December 21*

Discounted transfers from Athens and Kalamata airport



12% discount on accommodation for non-refundable price bookings if booked 45 days in advance. Valid for stays until 19 December 21*
*The offers are not combinable. Please contact us for personalised quote
Wellness
The holistic approach at Euphoria Retreat works as a process of transformation on all levels, restoring physical, emotional, mental and spiritual balance. With the personalised treatments, transformation consultations, dietary guidance, physical exercise or mental coaching you will be cleansed from environmental toxins and pollutants, your mental and emotional state will be harmonized so you can embrace your full life's potential. You will achieve the state of 'euphoria' - the concept of blissful life.
3GL test is done at the beginning of your stay (simple bloods test from your finger tip) to check your glycogen, glucose and glutathione.
Facilities include treatment rooms, outdoor pool, sphere pool, relaxation areas, tepidarium, byzantine hammam, waterwalk kneipp therapy, Finnish sauna, infrared sauna, ice fountain, steam room, experiential showers,speleotherapy-salt room, watsu pool, sanctuary deprivation pool, Californian hot tub, gym, Pilates studio and 2 yoga shalas.
Example treatments at Stay at Euphoria Retreat
Osteopathy
Theta Healing
Signature hammam ritual
Chakra balancing treatment
Watsu
Acupuncture
Quartz compress massage
Activities
Activities available at resort
Lectures on nutrition
Organised group trips to local areas of interest
Evening talk and workshops
Healing foods cooking workshop
---
Activities available at the surrounding area
Explore UNESCO site of Mystras
Head to the historical town of Sparta
If you are into archaeology, this is a right place for you with a plenty of locations nearby
Take a hike in the forest just behind the retreat
Typical Group Classes
Yoga (Vinyasa, Hatha, Hatha Kriya, Astanga Yoga and Aerial Yoga)
Pilates
TRX
Stretching
Yogilates
Circuit training
Total body workout
5 element yoga dance
Tai chi
Sample Weekly Class Schedule
Please note - Classes are subject to change and seasonal adjustments
---
Rooms
There are 45 rooms and suites which each have their own distinct character and enjoy views of the town of Mystras, the valley or a private forest. Rooms are zen and calming in design – minimalist yet comfortable with warm, earthy colours inspired by Byzantine iconography. Expect the latest technology in your room - subtle lighting, bioclimatization, underfloor heating and home automation systems. Disabled access rooms are also available. To promote tranquillity throughout the retreat, Wi-Fi is restricted to certain areas of the retreat such as the bedrooms, hotel reception and spa reception. Mobile phones are not allowed in the spa and restaurant.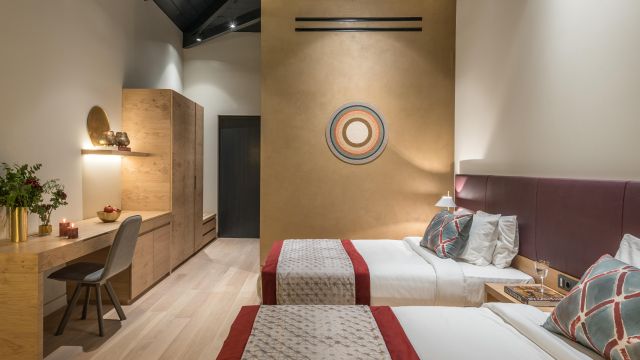 Superior Deluxe
The Superior Deluxe rooms are 35-39m2 and have a private veranda overlooking the village and Mystras or forest. They have king-size, twin beds or small double.
They each have an en-suite marble bathroom with either a bath or shower, bathrobes, slippers and hairdryer.
Facilities include flat screen TV, safe, mini bar, tea making facilities, hairdryer, pillow menu, bathrobe, slippers, yoga mat and signature bathroom amenities.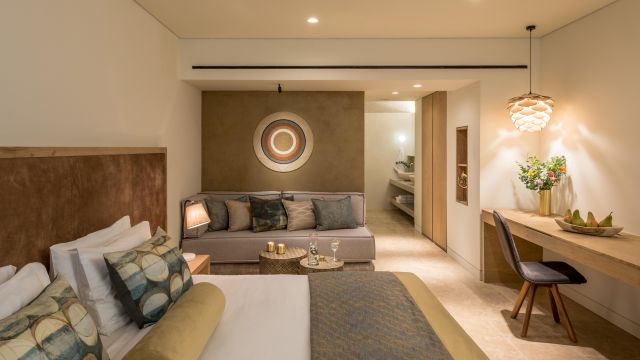 Executive Deluxe
The Superior Deluxe rooms are 42-49m2 and overlook the beautiful valley. They have king-size, twin beds or small double and a seperate small seating area.
They each have an en-suite marble bathroom with either a bath or shower, bathrobes, slippers and hairdryer.
Facilities include flat screen TV, safe, mini bar, tea making facilities, hairdryer, pillow menu, bathrobe, slippers, yoga mat and signature bathroom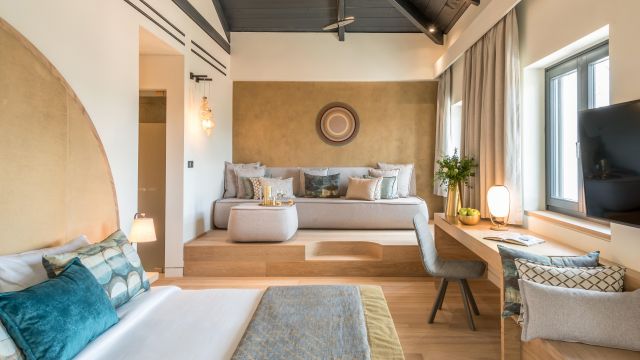 Euphoria Junior Suite
The Junior Suites are 53sqm and have private balconies with direct views of Mystas and an elevated seating area. They have king-size, twin beds or small double.
They each have an en-suite marble bathroom with either a bath or shower, bathrobes, slippers and hairdryer.
Facilities include flat screen TV, safe, mini bar, tea making facilities, hairdryer, pillow menu, bathrobe, slippers, yoga mat and signature bathroom
What's on the menu
Food is a real highlight with 3 daily meals and 2 snacks included in your programme. The idea is that the nourishing food supports anti-ageing and immune system. Meals are adjusted to your individual needs based on your initial consultation tests. Balanced dishes include healthy fats, seasonal ingredients which are locally grown, fresh herbs, anti-oxidants packed spices and take the best out of the Mediterranean cuisine. Vegan choices are available. All meals are served a la carte and there is also a bar serving fresh and healthy drinks. Alcohol is not encouraged but light options are available.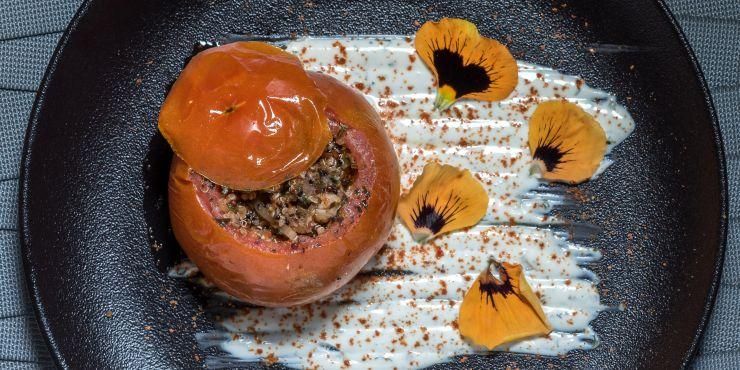 Gaia Restaurant
The Gaia Restaurant has sharing and well as private tables. There is a lovely outdoor terrace to enjoy wonderful views. Guests are encouraged to have an alcohol-free experience but there are 'light' choices available if you want to indulge.
Location
Euphoria Retreat is integrated into the surrounding valley of olive trees and the UNESCO heritage site. Euphoria Retreat is in a very historic area, just 2 minutes from Mystras town (where the property ends, the village starts) and overlooking the ancient town of Sparta. It's set in a valley and has the most amazing views from wherever you are in the retreat. There is a private forest just behind the retreat. Be sure you take a wander down to the quaint, cobble-lined streets of Mystras where you can explore this traditional Greek village, it is very charming.
Nearest airport
The transfer time is approximately 1 hour from Kalamata Airport and 3 hours from Athens International Airport. There are regular flights from London to Kalamata with EasyJet and BA in summer but no flights in winter months. Flights to Athens are operated all year long.
Families, Children & Infants
Due to the holistic nature of this wellness resort, kids are not allowed however mature 14 year olds may be consisered - please ask us for more information.


Reviews
Nothing to fault, suited perfectly
Anonymous
Stunning, luxurious, restful. A blissful week that I still carry with me everyday.
Chloe Fowler
You must go! Most amazing place.
Mark Howorth
Beautiful spa in a beautiful location.
Gail Youd
The place was beautiful, the weather not great (not their fault!) . I felt a bit frustrated with the lack of feedback from tests and consultation (as promised) perhaps this will come in the next few weeks ?
Vanessa Churchill-Davidson
They were on my side negotiating the best deal for me
Irina Levieva
Top class hotel hotel and setting, stunning view from the restaurant's terrace. Luxurious spa with lots of facilities and a huge variety of treatments. Delicious and healthy (although possibly not very Greek) food. Talented and helpful staff.
Anonymous
A beautiful experience, stunning location, so helpful, Great yoga and treatments, amazing food., lovely staff. Just need to tweak a few things to make it perfect- such as really clearly explaining the programme when you arrive. Explaining when you need to fast, why they are taking urine samples, the order treatments are in etc. They need to provide more information in the room about how to use the technology in the room. And the food was fantastic but I would have liked to understand why I was being given particular dishes (it seemed fairly similar to what everyone was getting just on different days). There was so much information given at the end but it was hard to determine what I should implement at home as I can't address all the pieces in the reports.
Anonymous
As described, For me that is the best a thing can be.
Anonymous
This is simply the best spa we have ever been to. The staff, therapists and overall atmosphere were first rate. Every detail has been thought through to create a very special and healing atmosphere. We will certainly be going back as it was really first rate.
Daniel Mountain
Amazing spa retreat, everything was wonderful from friendliness of staff to quality of treatments
Anonymous
Beautiful resort. Great selection of activities. Fabulous food. It was exactly what I needed and lived up to expectations
Elaine Thomas
Magical holiday. Everything about the hotel and the facilities was perfect.
Anonymous
Superb resort. Great facilities, food and fun.
Anonymous
Have been to Kamalaya and really didn't think anywhere else could compare. Eurphoria did. There were a few issues around anonymity. I was left feeling that everyone at the spa knew my business and when I took a therapy session it was as if everyone knew which made me very uncomfortable. Privacy should be absolutely paramount.
Caroline Sassoon
---
Why Wellbeing Escapes?