San Lawrenz, Gozo, Gozo (Malta)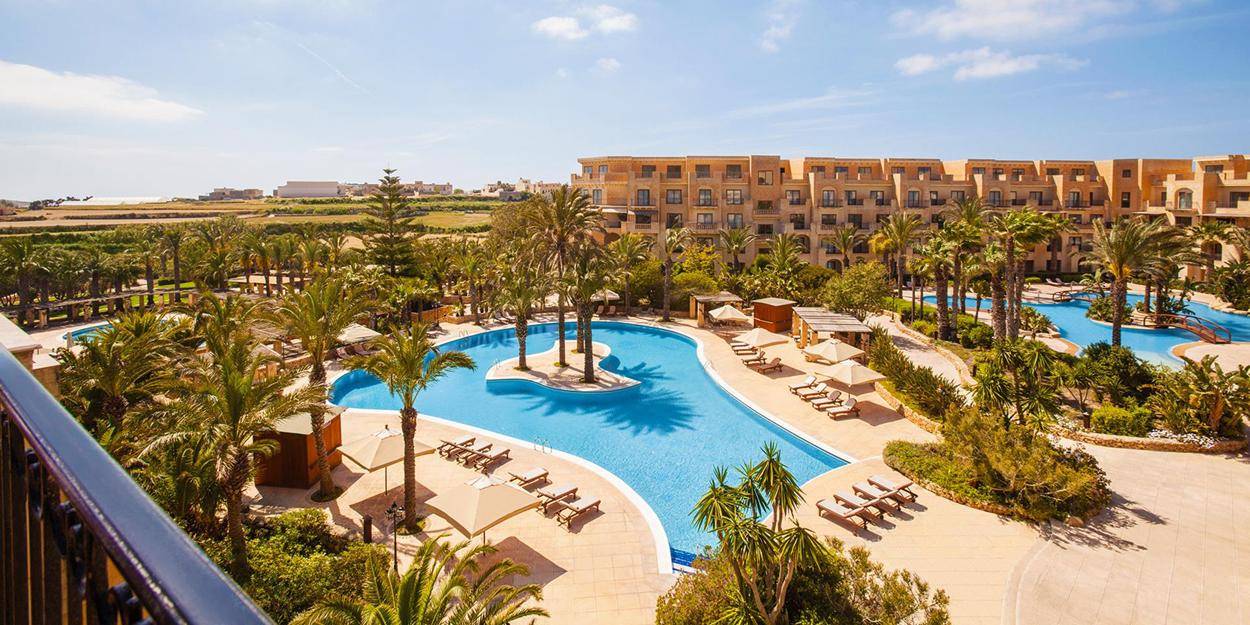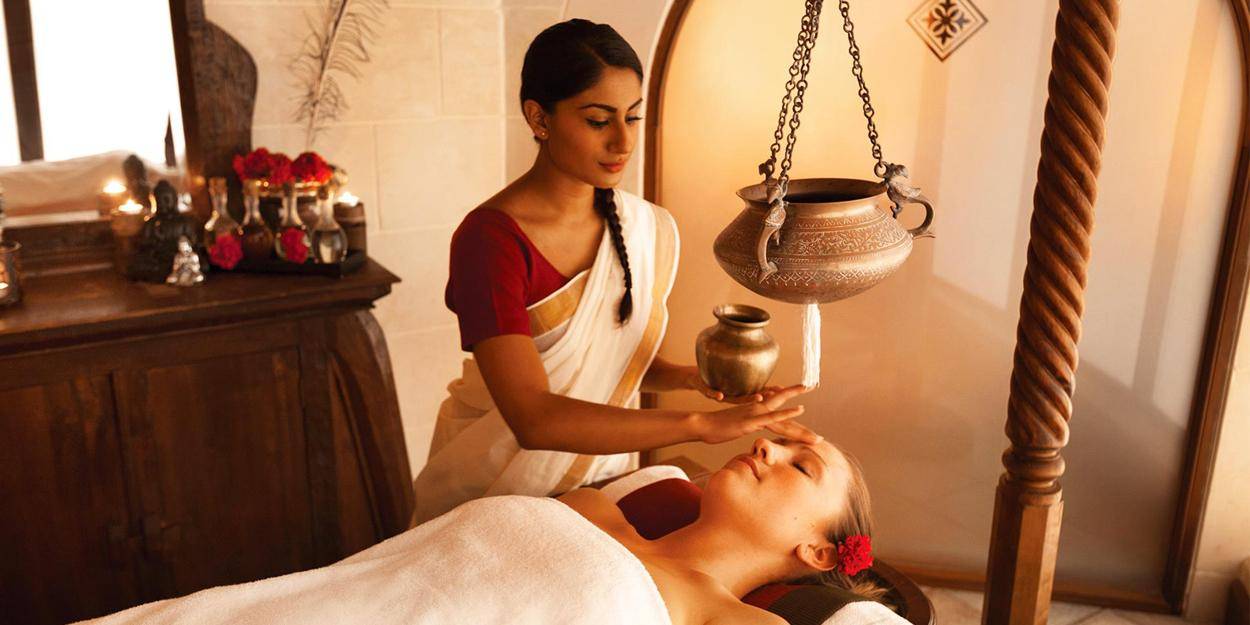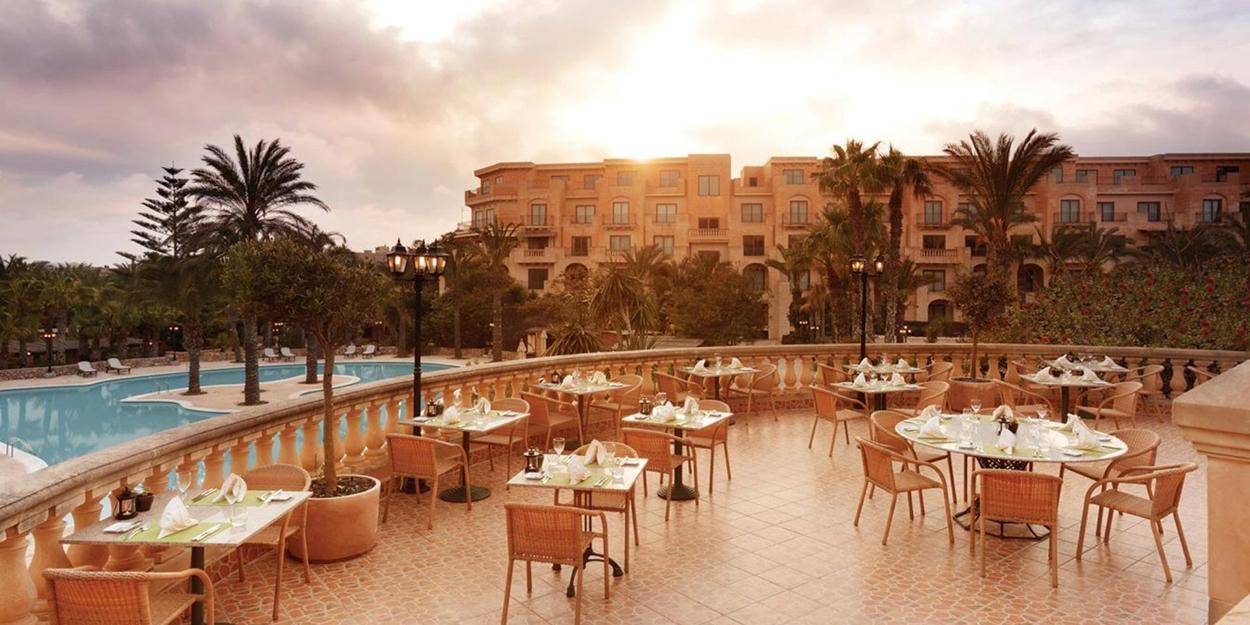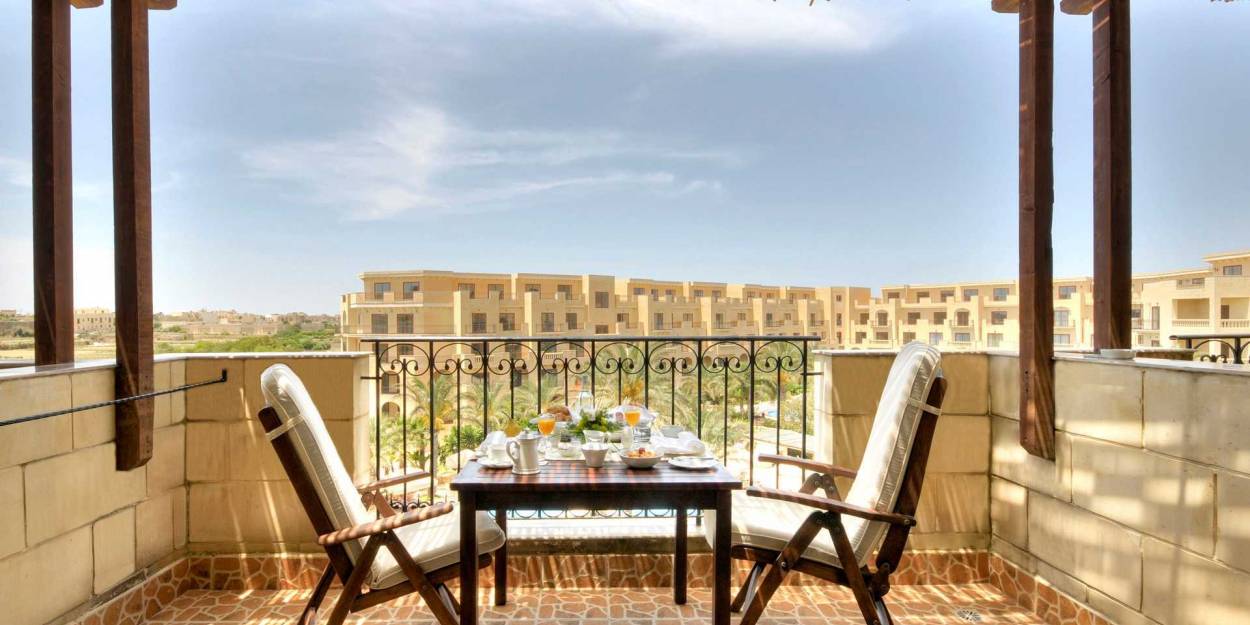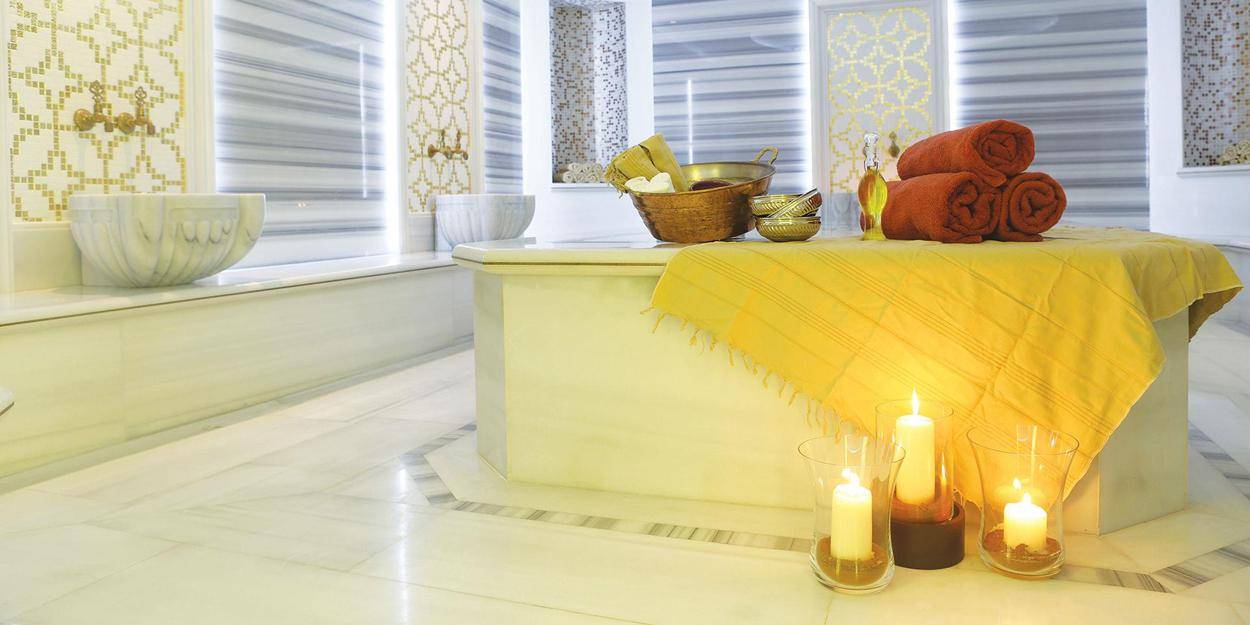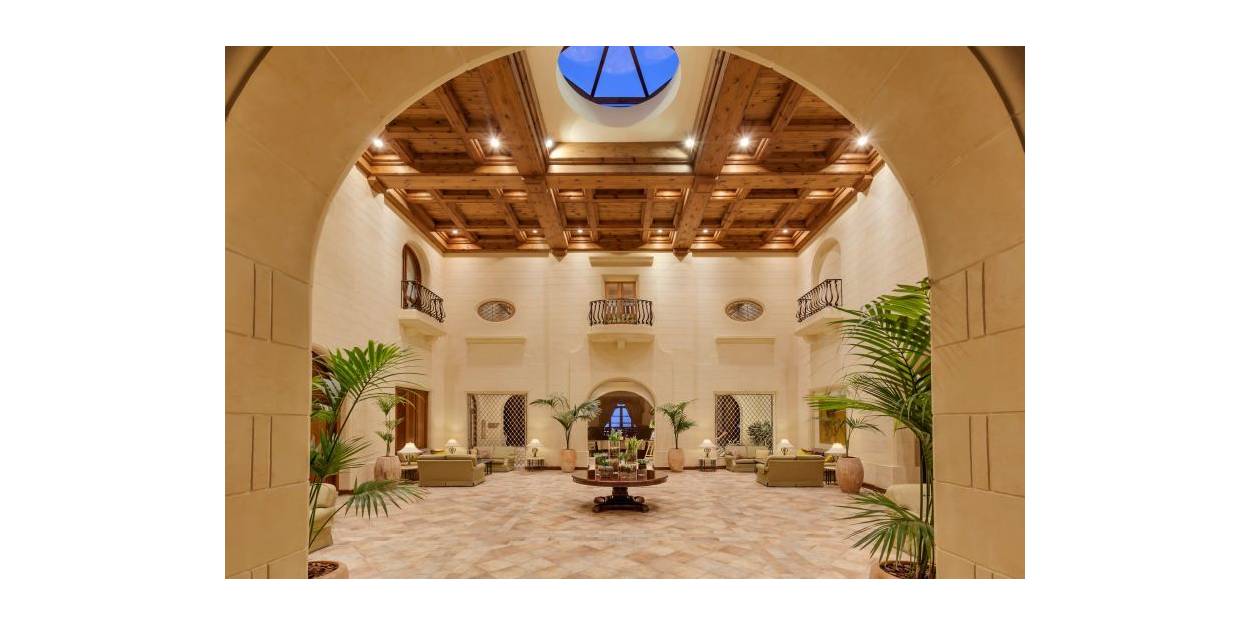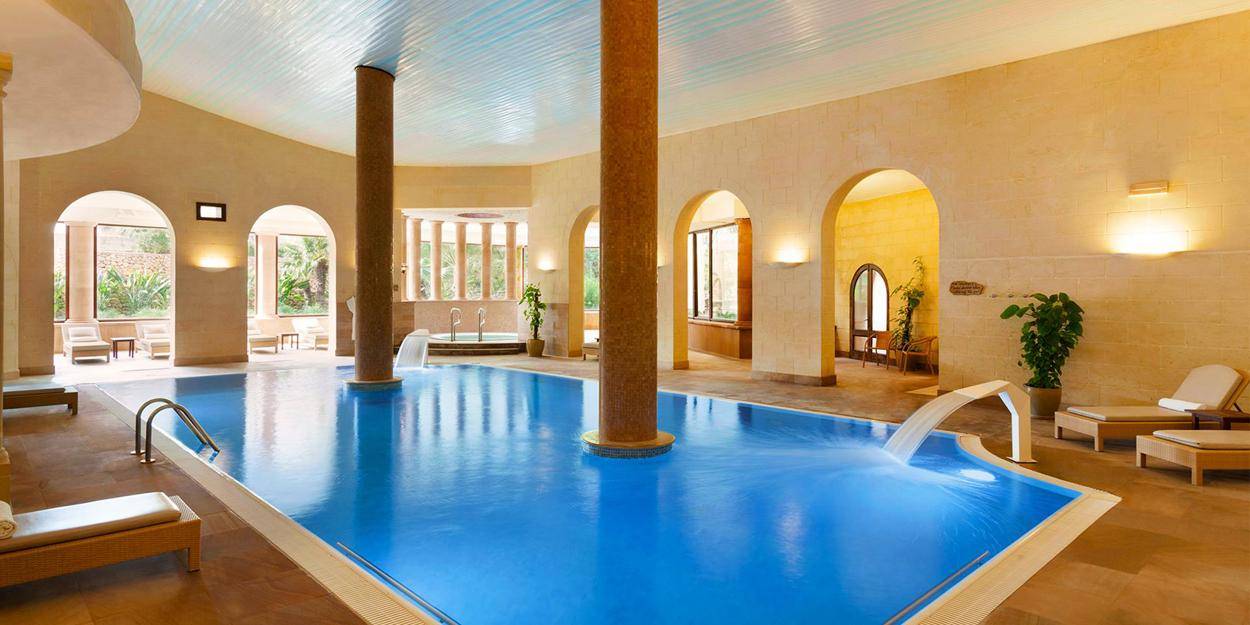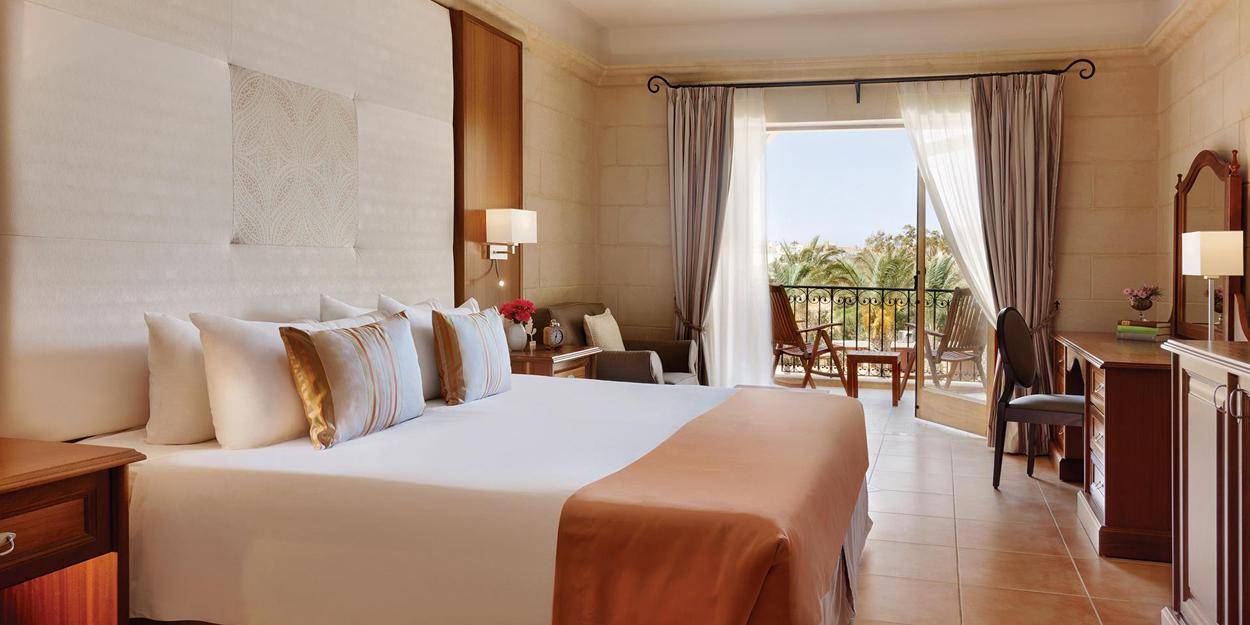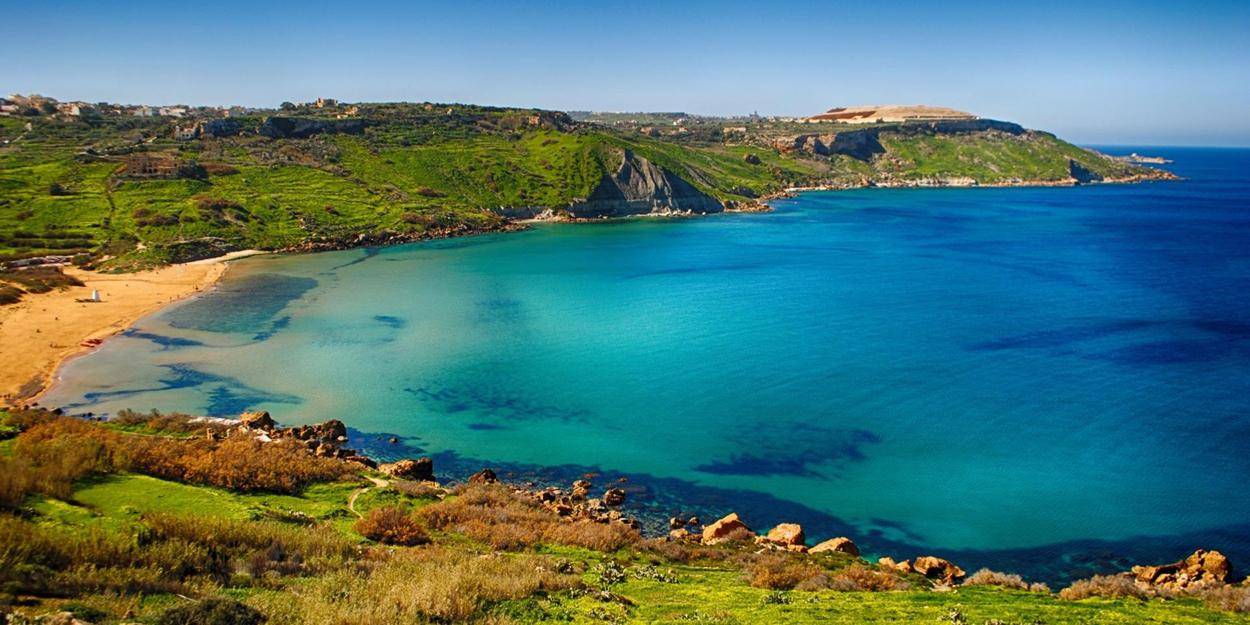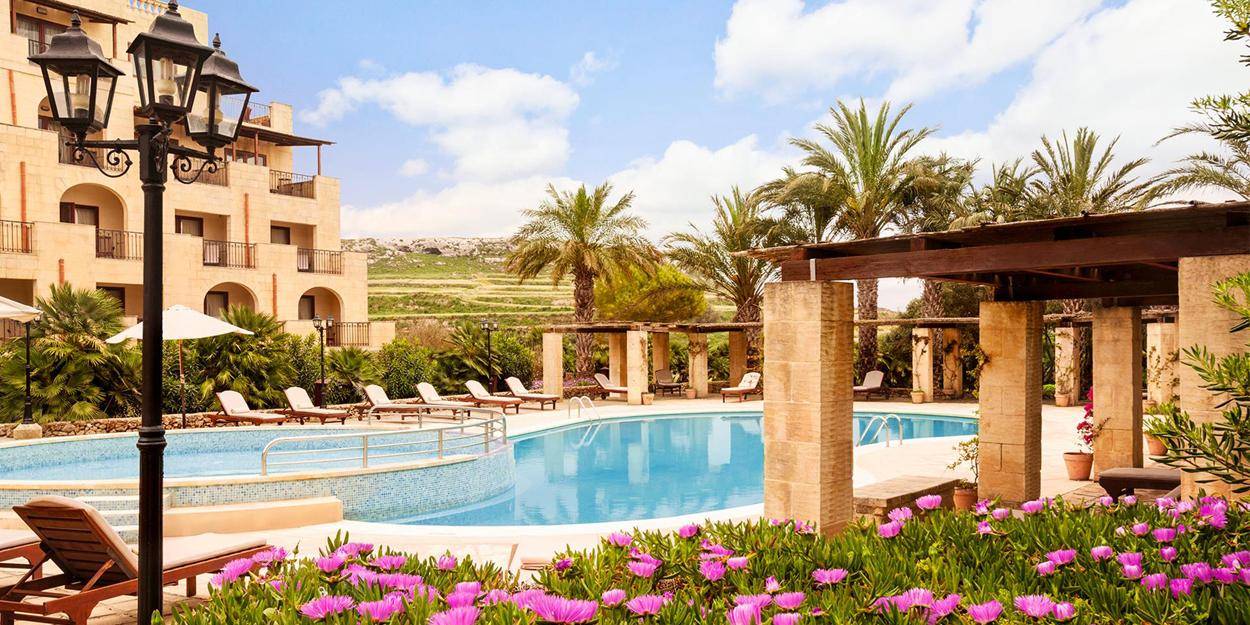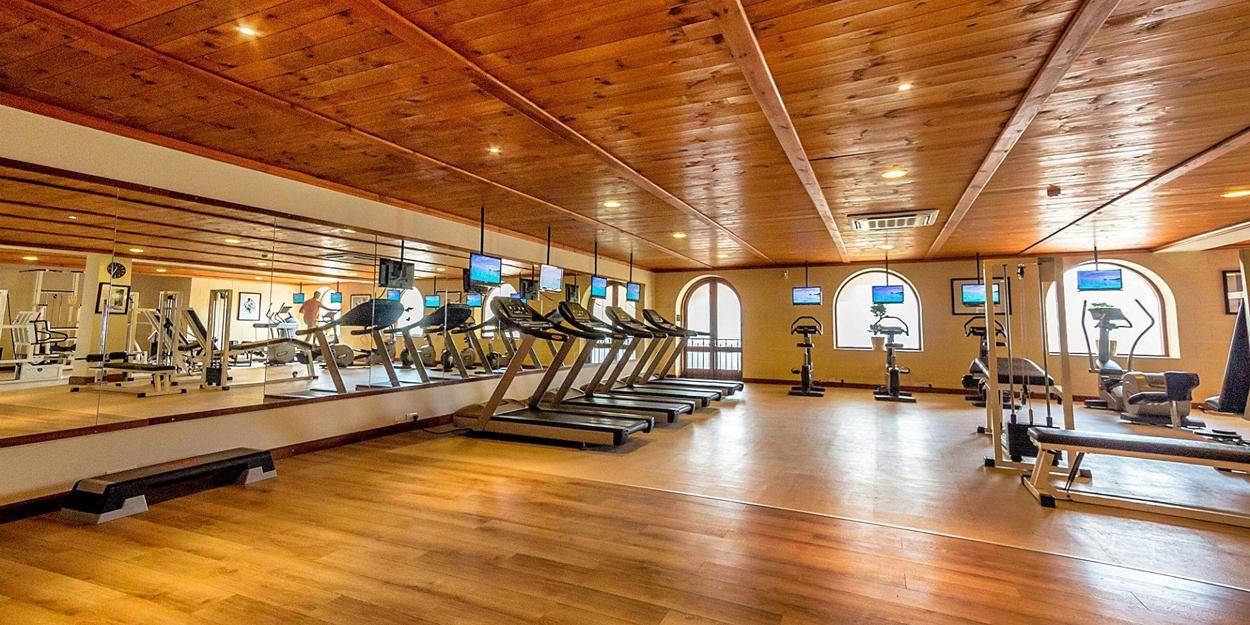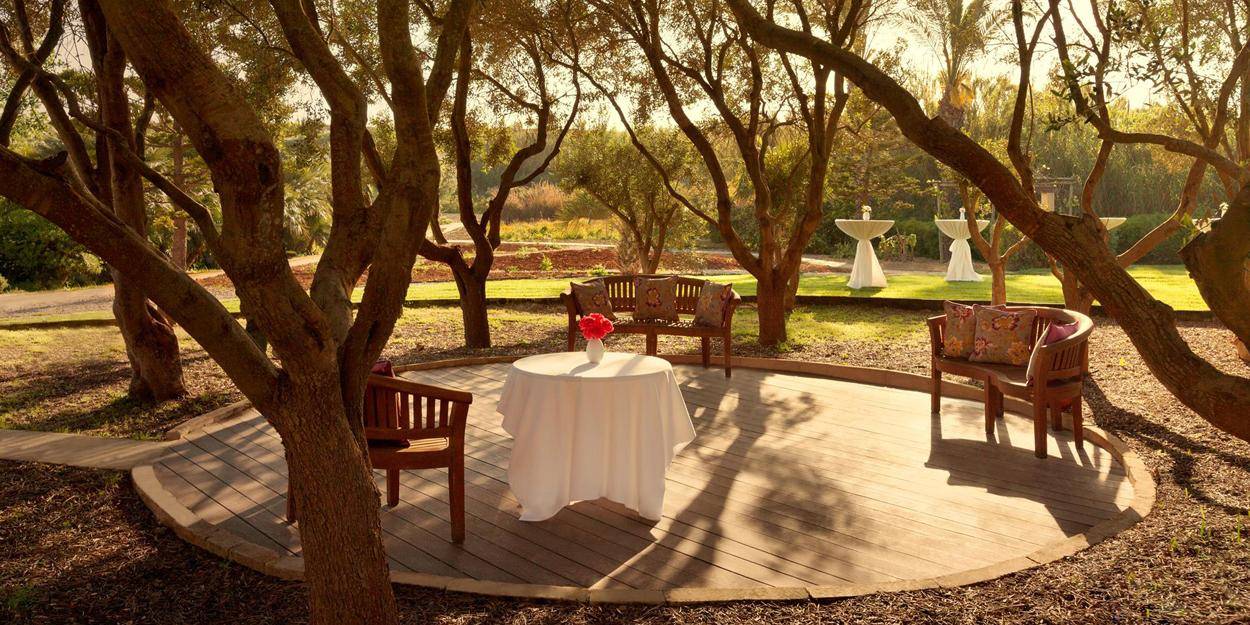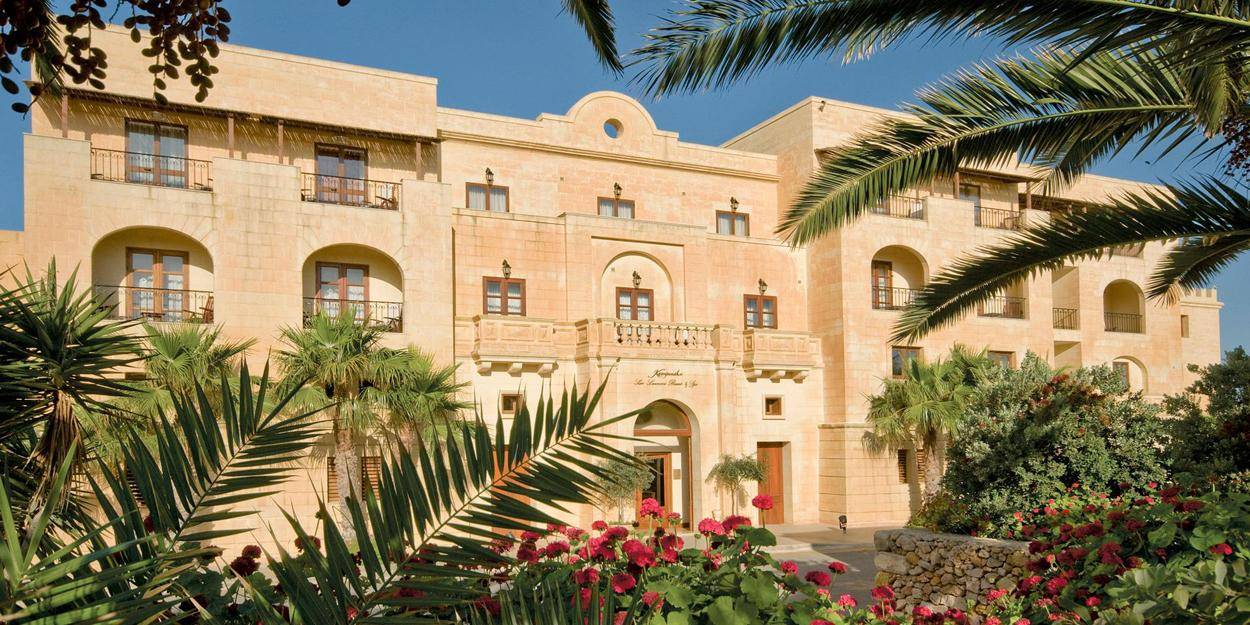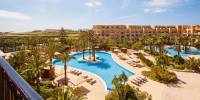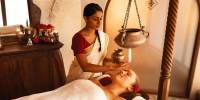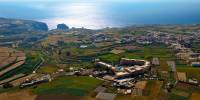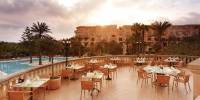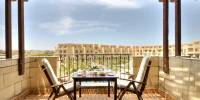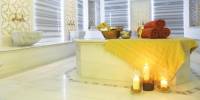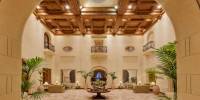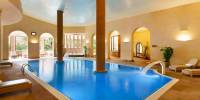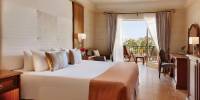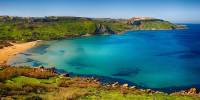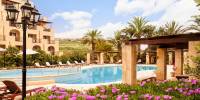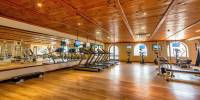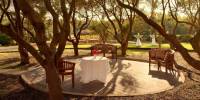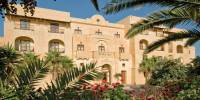 Overview
Kempinski San Lawrenz is located on the island of Gozo, a short ferry hop from Malta. This rugged little island is covered in lush vegetation with dramatic cliffs. The resort is situated in a valley on the West of the island, near the village of San Lawrenz. Set amidst 30,000 sqm of semi-tropical gardens, this five star hideaway provides the highest levels of service and comfort for travellers seeking privacy and recreation. It's close to the coast and beaches which is accessible accessible. Kempinski San Lawrenz is recognised as one of the most authentic Ayurvedic retreats in Europe with its spa staff trained in the birthplace of Ayuvreda, Kerala.
When to go
Gozo & Malta experience mild weather all year round. The hottest month is usually August with average temperatures at 27 degrees. The wettest month is usually December.
What we love
The Ayurveda Centre with individualised treatments to restore and balance through plant based products, ancient Indian techniques and nurturing treatments
Hotel is the only eco-certified hotel on Gozo, and takes great care to limit the impact on the environment
Travel to the even smaller island of Comino, only a few minutes by boat, and make your way to the picturesque and famous Blue Lagoon.
Who should go
Those who wish to immerse in Ayurveda but don't want to travel to India
Families and couples looking for a a relaxing holiday with some spa pampering
Independent singles who would like to stay in a nice environment, explore the local area and soak up some sun.
Offers
Single traveller discount on accommodation with pre-booked wellness package
Free upgrade for double occupancy rooms (with pre-booked wellness package, subject to availability at time of booking)
20% discount (if booked 90 days in advance for stays between 01 May - 31 October)
Bed & Breakfast Stay
Just the hotel, no programmes
Room price
Nights
Price per night
Package pp
Total
£192
1
£192
+
N/A
= £192 for 2 adults
Wellbeing Booster
Our signature wellbeing booster programme will deliver its promise - a pampering break. Package includes a body wrap, classic massage, relaxing facial and body exfoliation. You can stretch with 4 weekly yoga classes, use gym, tennis courts, spa facilities and their indoor or outdoor pools.
Room price
Nights
Price per night
Programme price pp
Total
£576
3
£192
+
£284
= £1,144 for 2 adults
Wellbeing Taster
Ideal package for those who wish to add a little pampering on top of B&B stay. This taster package will give you a choice for 2 spa treatments plus access to all activities and facilities. Minimum stay is 5 nights.
Room price
Nights
Price per night
Programme price pp
Total
£960
5
£192
+
£152
= £1,264 for 2 adults
Yoga, Pilates and Relaxation
Minimum 5 nights stay. Take advantage of one private yoga session (hatha style), one private Pilates class and 3 spa treatments (wrap with facial, full body massage and exfoliation).
Room price
Nights
Price per night
Programme price pp
Total
£960
5
£192
+
£343
= £1,646 for 2 adults
Ayurvedic rejuvenation
Kempinski San Lawrenz is recognised as one of the best and most authentic Ayurveda spas in Europe, All Ayurvedic staff is trained in Kerala so if you cannot make it to India, get your Ayurvedic top up here. Minimum stay is 4 nights.
Room price
Nights
Price per night
Programme price pp
Total
£768
4
£192
+
£544
= £1,856 for 2 adults
Discover and Unwind
Our Discover & Unwind programme is a great introduction to this beautiful island with wine tasting, bike hire and hop on/off bus ticket included. You will be also introduced to the world of Ayurveda with the private consultation, traditional spa treatments and presentation on this ancient healing system. Minimum stay is 5 nights.
Room price
Nights
Price per night
Programme price pp
Total
£960
5
£192
+
£449
= £1,858 for 2 adults
Wellness
Recognised as one of the best and most authentic Ayurveda spas in Europe, each guest on the specialised progarmme is first seen by an Ayurvedic Doctor and has a personalised programme prescribed which involves treatments, diets, herbals remedies and yoga. All Ayurvedic staff trained in Kerala, where this medical discipline was born some 4000 years ago. Also on offer is a host of marine therapies including hydrotherapy massage, balneo baths, Vichy showers and an all new Oriental Hammam area.
Wellbeing Escapes guests on an Ayurvedic programme will have daily yoga classes included in their package.
Facilities include 2 outdoor swimming pools (one is adults-only), indoor heated pool, hammam pool, jacuzzi, steam bath, relaxation area. Hotel also have 2 outdoor tennis courts and gym. Use is free of charge for hotel guests. Hotel is offering complimentary yoga classes held by their ayurveda doctor. Classes are everyday except Tuesday, Wednesday and Sunday.
Please note that outdoor pools are open from May to October, indoor pool is open all year round.
Example treatments at Kempinski San Lawrenz
Aromatherapy massage
Body wrap
Rejuvenating facial
Ayurvedic treatments
Activities
Activities available at resort
Tennis court
Courtesy bus service to Ramla, Marsalforn, Victoria (summer only)
Gym
---
Activities available at the surrounding area
Diving
Walking
Scuba diving
Visit the ruins of Azure window
Visit the capital city of Victoria
UNESCO Heritage Ġgantija to see the prehistoric temples
---
Rooms
There are 122 rooms, all of them very spacious and with private balconies. Decorated in a rustic Maltese style with cool limewashed walls.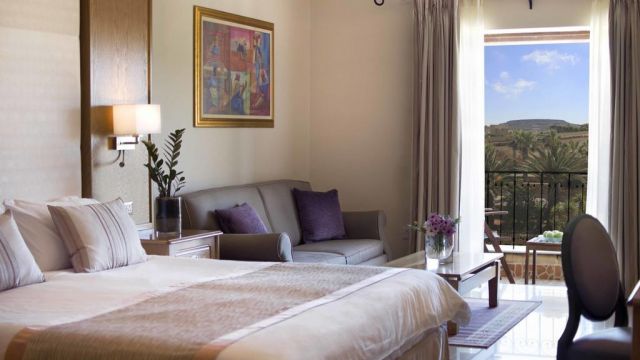 Standard Room
These rooms measure 35m2. Some standard rooms have a balcony with the views of the countryside or the hotel entrance.
All have bathroom with a combination bathtub and shower and twin or king-size beds. These rooms are located in the main building.
Facilities include flat screen TV, coffee making facilities, safe and complimentary Wi-Fi.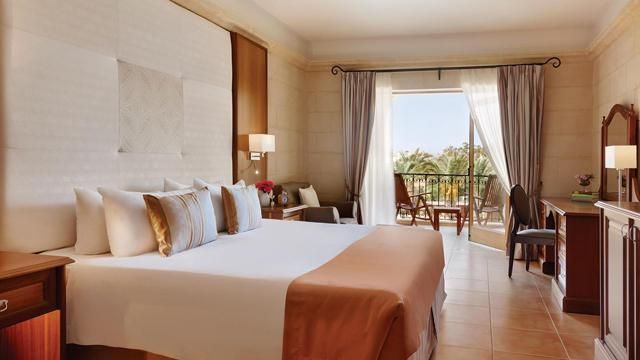 Deluxe Room Pool View
The Deluxe Pool View rooms are 40m2 and are located on the high floors with a private balcony overlooking the pool and gardens.
They have a double bed or twin beds.
En-suites have a bath and separate walk-in rain shower.
Facilities include flat screen TV, coffee making facilities, safe and complimentary Wi-Fi.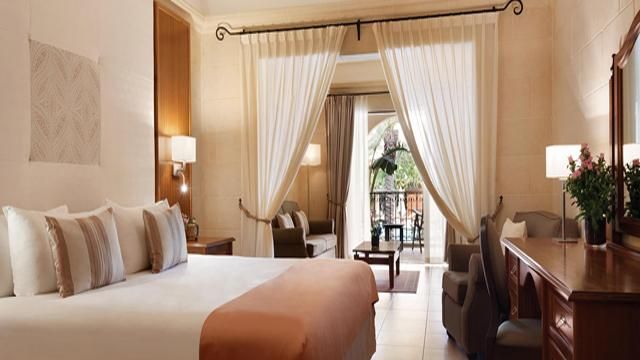 Junior Suite Pool View
The Junior Suites are 48 m2 and are located in the South wing of the hotel. They have a balcony overlooking the pool or gardens.
They have king-size or twin beds and a lounge area.
The en-suite has a bath and separate walk-in shower.
Facilities include flat screen TV, coffee making facilities, safe and complimentary Wi-Fi.
What's on the menu
Expect Mediterranean dishes with Italian twist using local ingredients, many from the hotel's own garden or a fresh fish of the day. If you're on an Ayurvedic programme, an Ayurvedic meal plan based on Mediterranean produce will be served, according to your 'dosha'. If you want lighter spa meals, let us know in advance and we can arrange for the chef to talk to you about the best options.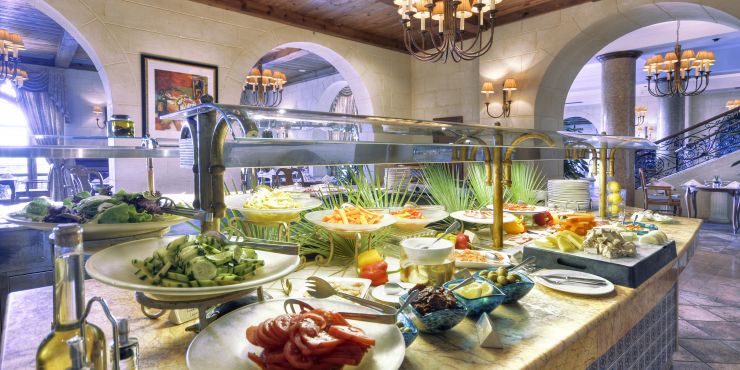 L'Ortolan Restaurant
Serves daily breakfast buffet as well as themed buffet dinners. In the summer, the restaurant extends out to the terrace so you can dine under starlit skies and illuminated pool area.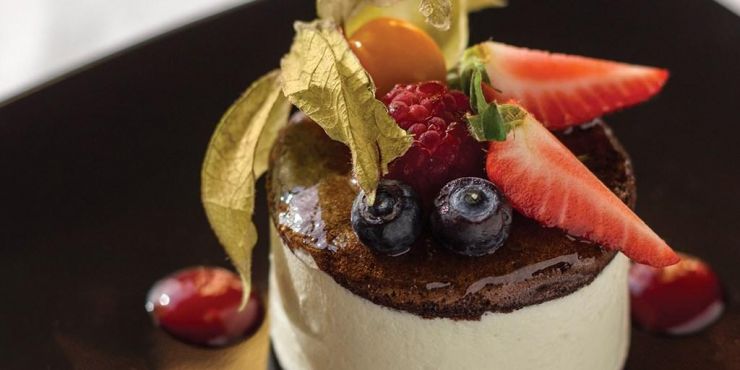 Gazebo
Fish and grill restaurant overlooking lush the gardens. This casual, open air restaurant is ideal for dining al fresco.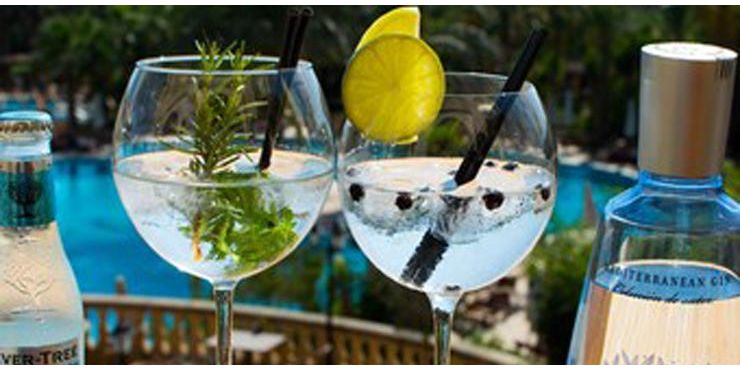 Pool Bar
Serves ice teas, drinks and cocktails. Only open during summer months.
Location
Kempinski hotel is located on Malta's sister island Gozo. Island is about 5 km northwest of Malta and is reachable by 25 minute ferry crossing. Hotel is on the outskirts of a sleepy village of San Lawrenz. Hotel offers a complimentary shuttle service to Victoria, Ramla and Marsalforn. This service is seasonal.
Nearest airport
The transfer time from Valetta airport is approx 1.5 hours by car. Please note that you will also have to take a ferry from Malta over to Gozo. If you book transfers, the driver will pick you up at the airport and take you to the ferry terminal. You will then take a ferry yourself. There will be another driver waiting for you from the harbour of Gozo who will drive you to the hotel.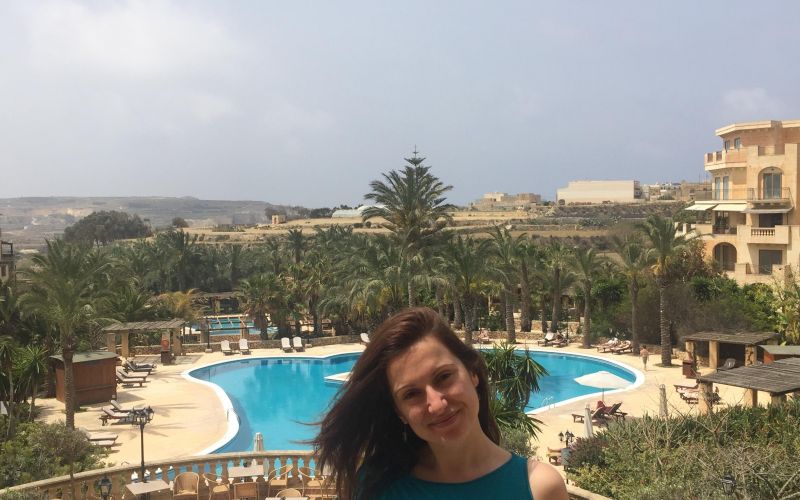 Our Travel Review of Kempinksi San Lawrenz in Malta
Read inside track on our visit to Kempinki hotel in Malta
Families, Children & Infants
Families with children are welcome. There is a family pool as well as children's paddling pool on site. Supervised kids club for 3 years old or older kids, baby sitting services available upon request (fees apply).


Reviews
Perfect weekend retreat Excellent service
Vivienne Griffin
it was a lovely hotel, drink prices were high and the pool was cold (it was May and hadn't warmed up) were the only two minor issues that lost the star
Angela Reid
The most relaxing, pampering and happy holiday experience I've ever had. I'll return again and again, and tell friends, colleagues and customers about it. If you want to dis-connect from work worries, pressures of day to day life and re-connect with the best parts of yourself - and relish life, this is the trip for you. My energy and happiness levels returned to a healthy balance, and it shows! Seeing the same Ayurvedic therapist for the past 5 years who now knows what works best for me, and picking up on previous conversations with her, in a great hotel providing every comfort - and great food - makes for a haven of peace an calm I treasure each year. Thank you!
Nova Ferguson
Absolutely superb! Excellent staff, surroundings and food. You know you're in a top notch hotel when your needs are anticipated and the staff are unobtrusively available should you need them. I'll go back again and again (please see my review on TripAdvisor).
Nova Ferguson
Needs some serious updates and modernisation. Not much choice of healthy/vegetarian food Very nice and helpful staff .
Anonymous
As above The massages were good it was a hotel with a spa had to go in search of everything in the package. no itinerary left out. Yoga class rubbish instructor picking his face and his nose only showed the first move then became disinterested. Would not recommend the spa package or in fact Wellbeing as they have not checked package out thoroughly enough. it was at lease £500 over priced and this is being kind. Would not book another break with Wellbeing. Hotel staff excellent Gozo very nice.
Christine Warren
The Discover and unwind package is really good. I thoroughly recommend it.
Anonymous
The hotel and its facilities were excellent, I could fault nothing except the weather. The staff treated everyone like royalty and went out of their way to make sure you were comfortable and had everything you wanted. I would definitely return to this particular establishment.
Anonymous
Fabulous hotel. Staff were very nice and attended to everything in a professional and helpful manner. Accommodation and food were first class.
Anonymous
Fabulous hotel and food the staff couldn't have been more friendly
Anonymous
Heating in room and spa area excellent-but rest of hotel - corridors, reception, restaurant rather chilly. I was on half board package,but had to order room service menu for breakfast in room. Expected to pay service charge (6 euros) but coffee, milk & croissants plus service cost me 24 euros/day. Don't think this was fair.
Anonymous
Excellent! I had a wonderful holiday and the hotel was perfect. The service from the staff in all areas was excellent. The food and restaurants were fantastic and the accommodation was excellent too. I would definitely recommend this hotel and I am already looking at my options to return next year.
Anonymous
Excellent room, well trained and very helpful staff. The cookery lesson with Claire Borg was outstanding and great fun - this should be promoted more. The morning walks with Robin provided invaluable knowledge and local colour - an absolute must. The Ayurvedic treatments provided by Maya Askon were superb and were the absolute core of a wonderful stay. I feel and look years younger thanks to her skill and enthusiasm for her job, I can't recommend her highly enough.
Anonymous
Amazing hotel, great for a spa break, fulfilled my every need. Extremely professional, polite and helpful staff. I went for the discover an ubwind package- all activities and treatments were great. Hoping to return asap
Anonymous
A thoroughly enjoyable and relaxing break x
Anonymous
Really good value for money. I would have given it excellent if there was more food choice and if the yoga teacher was be better (he was useless). The food was lovely but the two restaurants had pretty much the same food, seven days of it got a bit boring after a while.
Anonymous
Staff, service, food, spa-all excellent
Anonymous
---
Why Wellbeing Escapes?