Cyprus
Cyprus is known for its stunning natural beauty and climate – the island is bathed in sunshine and blue skies for most of the year. It's an ideal European spa break destination as it's easy to reach and there's a wide range of activities once you are there, whether you want to devote yourself to wellbeing or head out to explore. You may want to just kick-back and enjoy wall-to-wall wellness and our wellbeing destinations offer so many choices from rejuvenating spa treatments to energising fitness classes. You can also eat super healthily as Cypriot food is known to be one of the healthiest in the world with plentiful seasonal ingredients. Or you may want to soak up the history all around if you're fascinated by the past and take in ancient sites from Roman amphitheatres to Aphrodite's Rock – why not hire a bicycle and exercise as you discover them?


Almyra is a luxurious, ocean-front hotel located on the beautiful island of Cyprus. It's situated in the heart of Paphos with the buzz of the harbour on its doorstep. Almyra which means 'taste of the sea' is a contemporary and stylish hotel as you would expect from a member of Design Hotels. The focus here is on relaxation. This is especially true in the adults-only spa with its picture-perfect infinity swimming pool as well as the variety of spa treatments and therapies. If you're looking for a sophisticated getaway by the emerald ocean, Almyra is the best choice.
Paphos, Cyprus
Wellbeing Escapes Benefits
Single traveller discount (worth approx. £270 per week)*
10% early booking discount (min. 5 nights, valid for stays until 31 Mar 19)
Free upgrade to half board buffet (breakfast & dinner, min. 5 nights)*
Free access to group fitness classes (min. 5 nights)
*Offers are combinable. T&C applies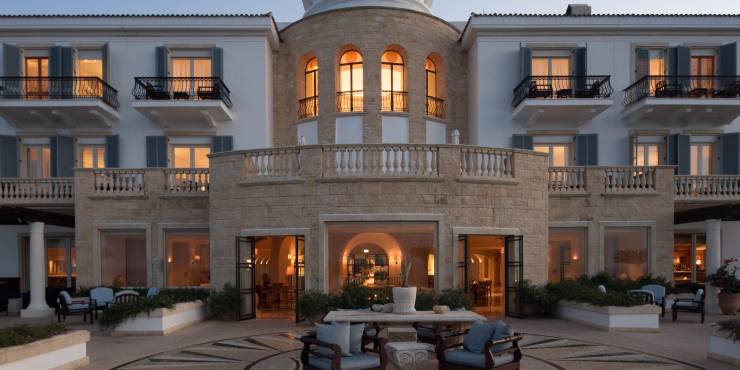 Anassa is a privately owned and family run hotel located in a quiet of Cyprus. Anassa means ''Queen" in ancient Greek and this name sums up the resort because it is simply stunning. Think exclusive escape and luxury spa retreat. Anassa makes an incredible first impression with its Cypriot design, beach location and a sense of private decadence. The resort offers lots of sport activities and has access to a championship golf course. Food is a real delight here with fine dining restaurants as well as a more casual buffet option. Their Thalassa Spa has been awarded 'No 1 Overseas Hotel Spa' and number 15 by Conde Nast Travellers Reader's Awards 2018.
Latchi, Cyprus
Wellbeing Escapes Benefits
No single supplement (saving approximately £840 per week)
Complimentary daily pass for a daily group fitness class (worth €20 per person, min. 5 nights)
15% discount on accommodation in twin/double room (must be booked by 31 Mar 19)

Not found what you were looking for? Please call +44 (0)20 3735 7555 for more info!