Lasko, Ljubljana, Slovenia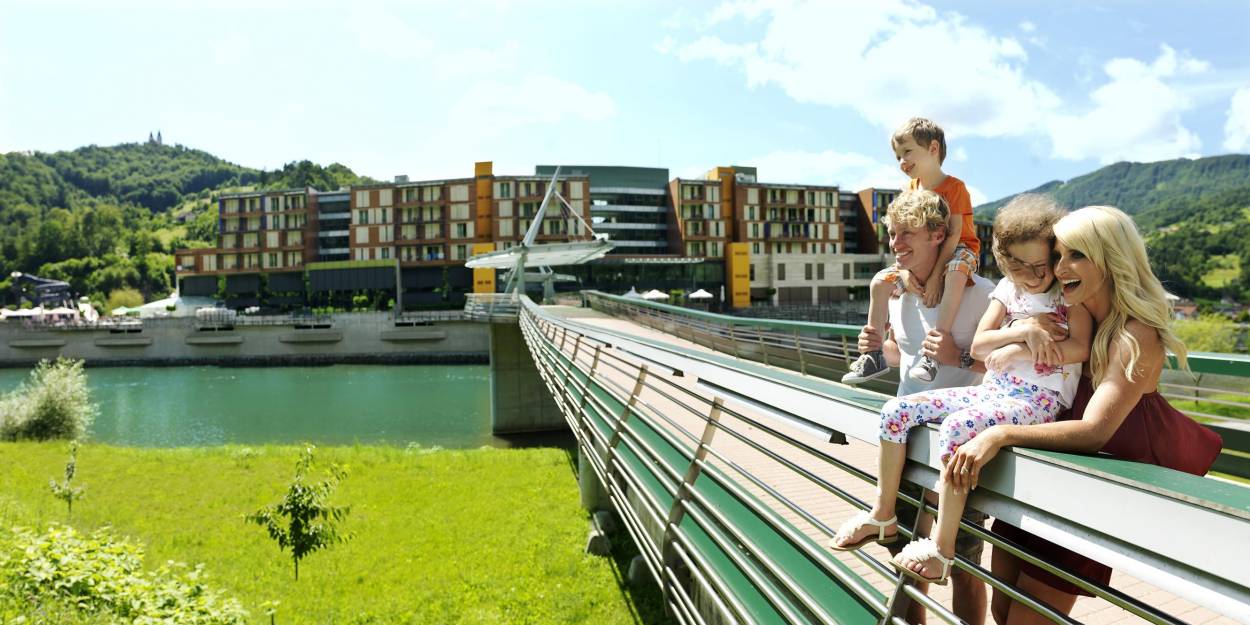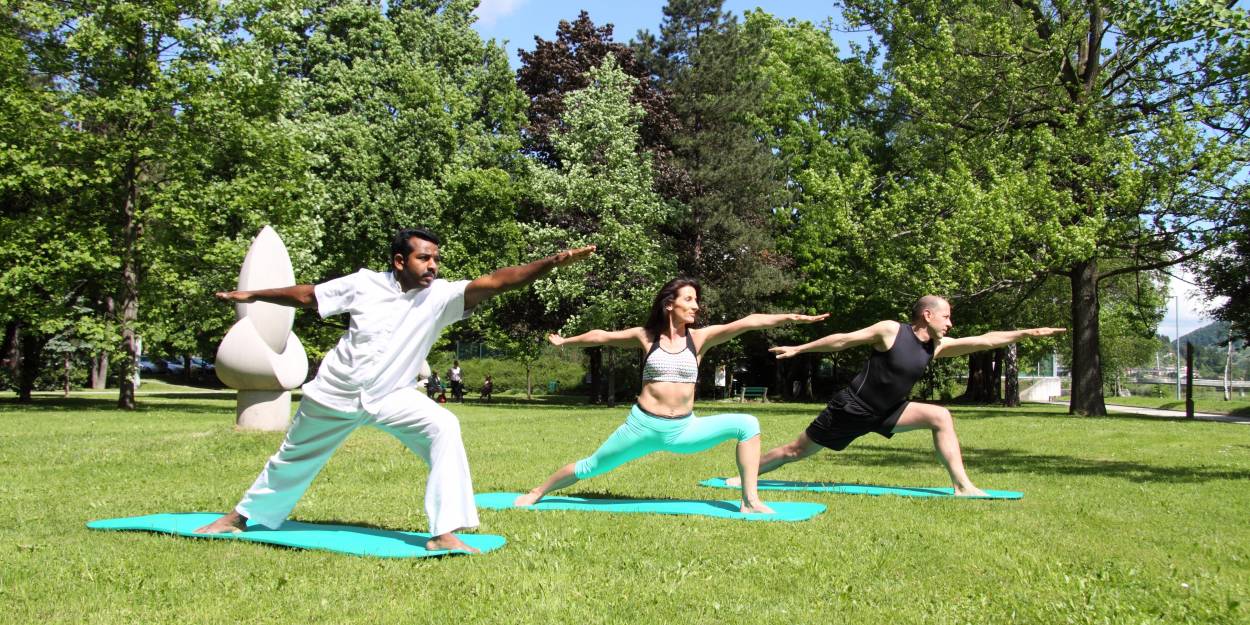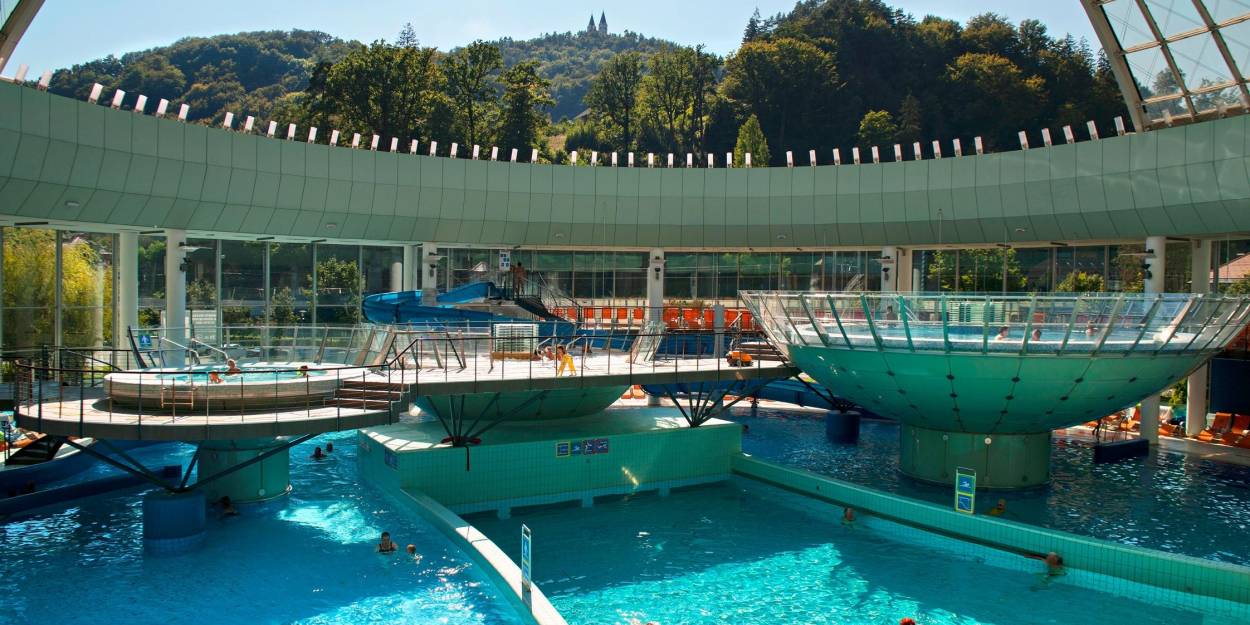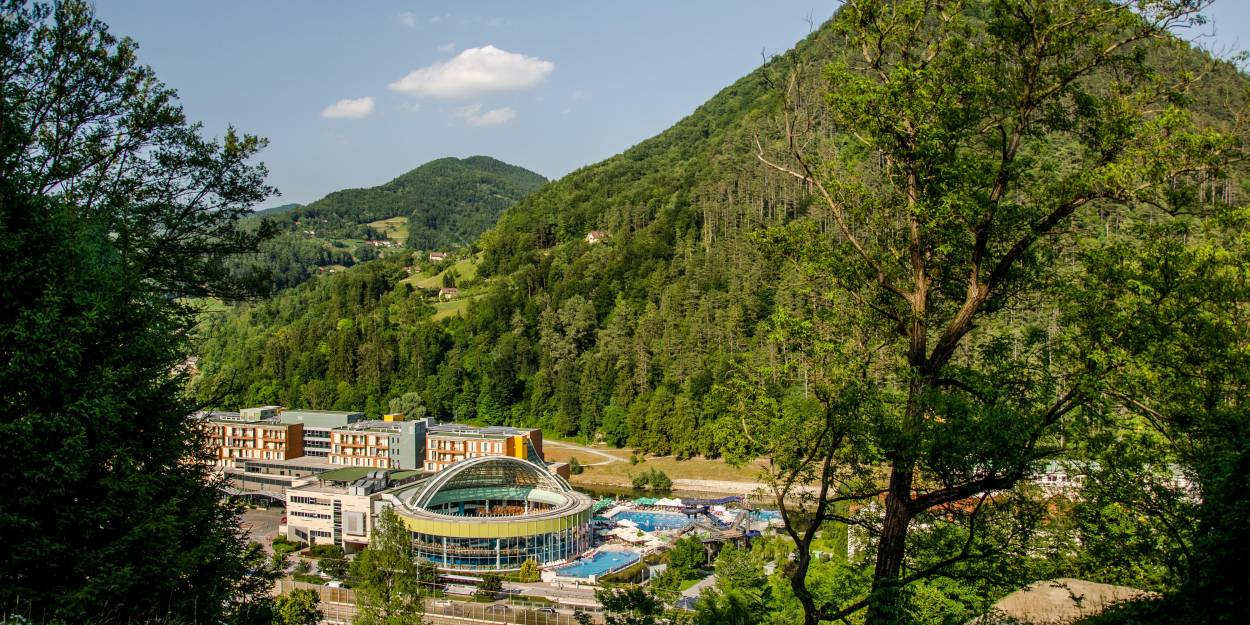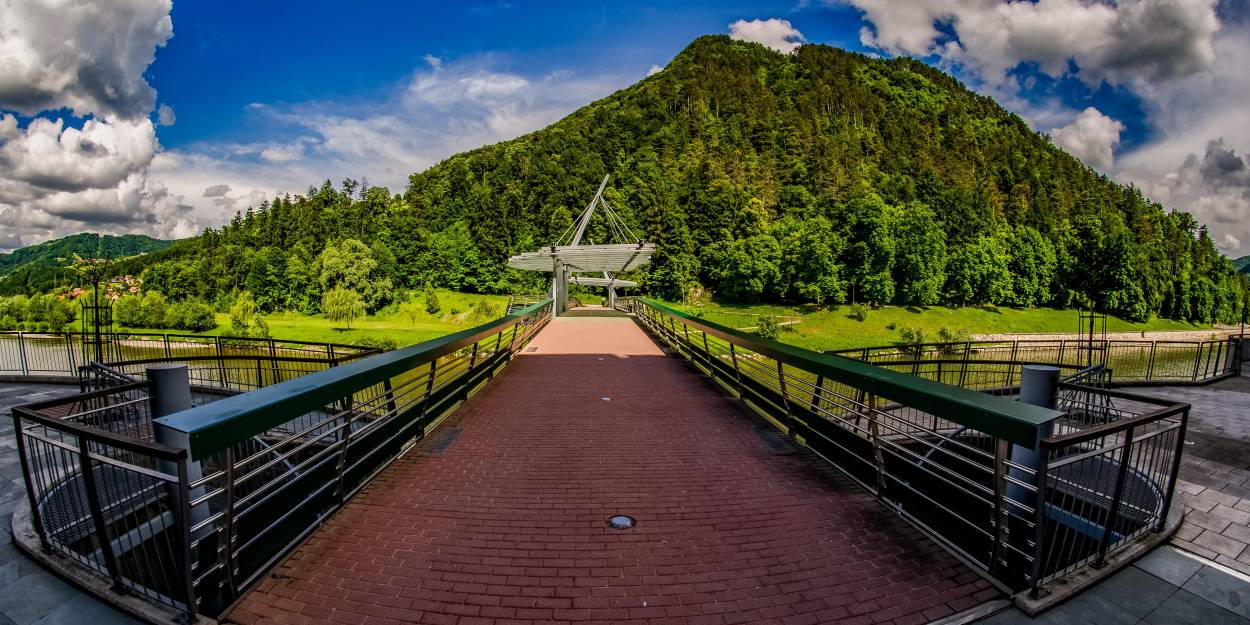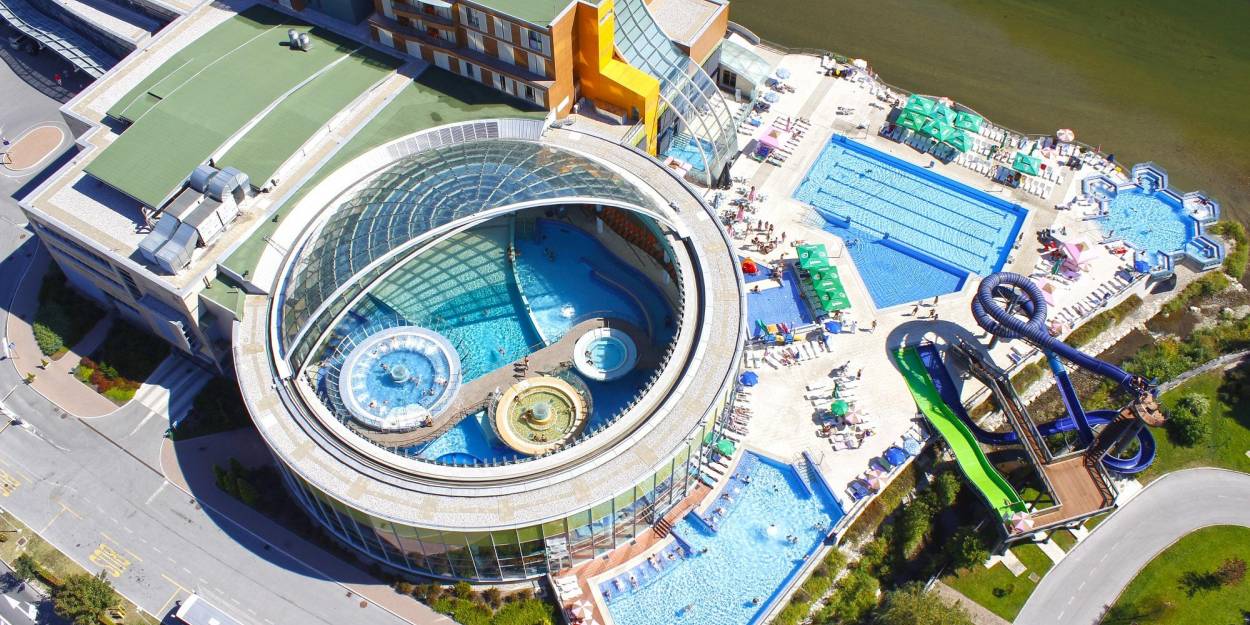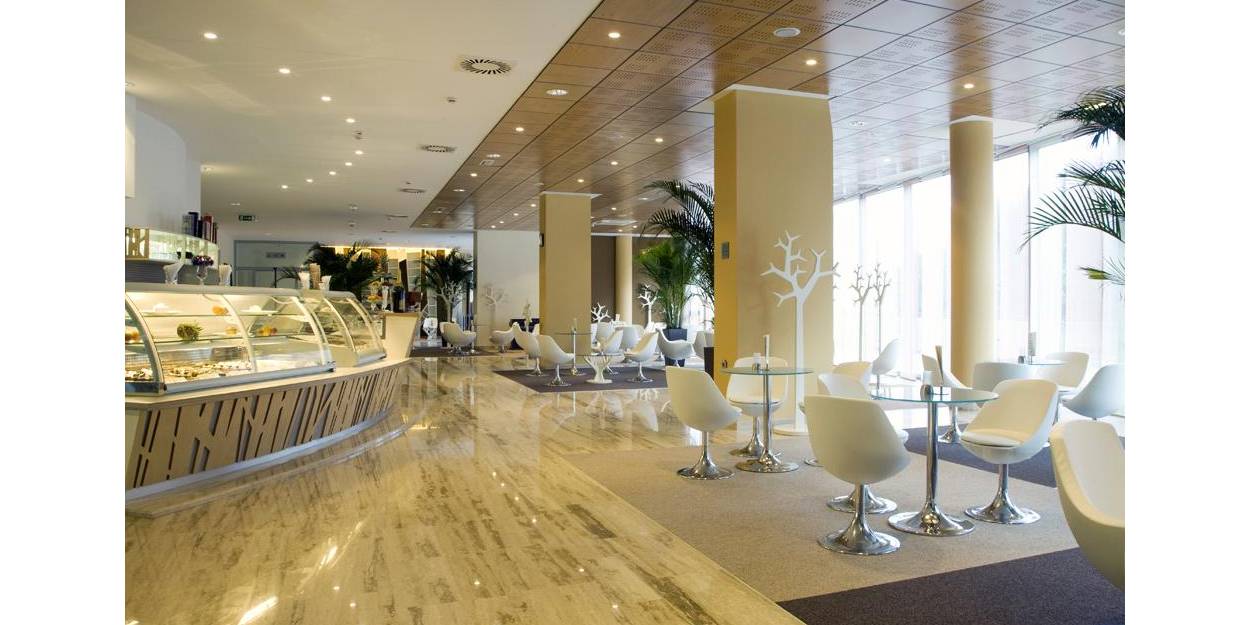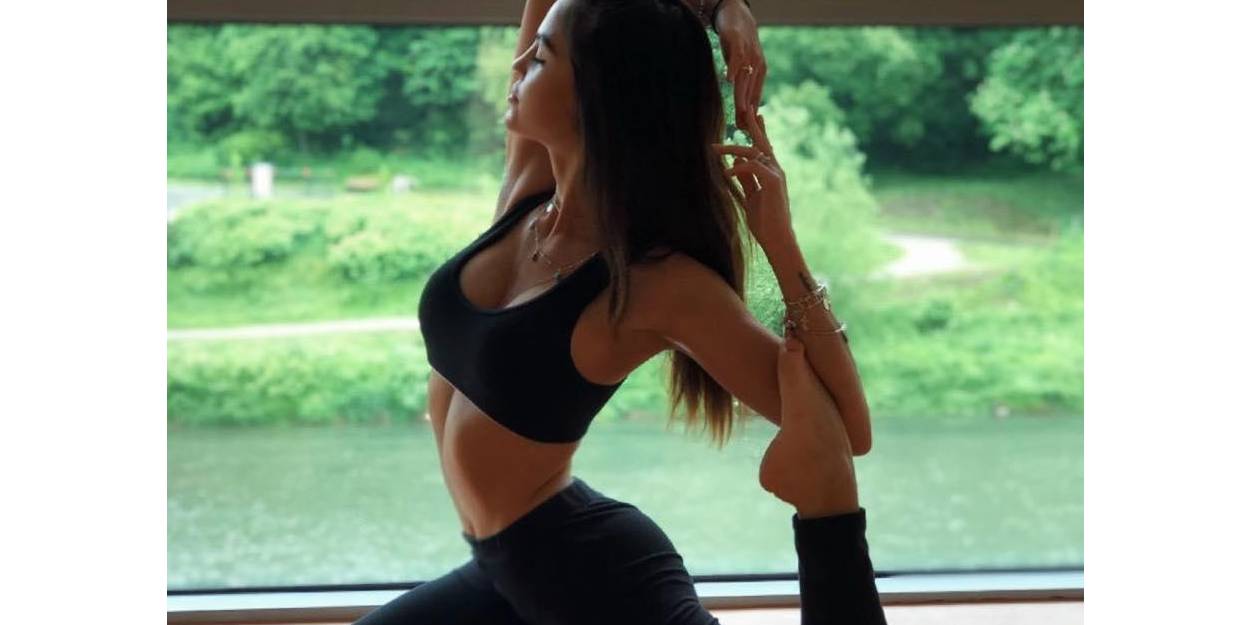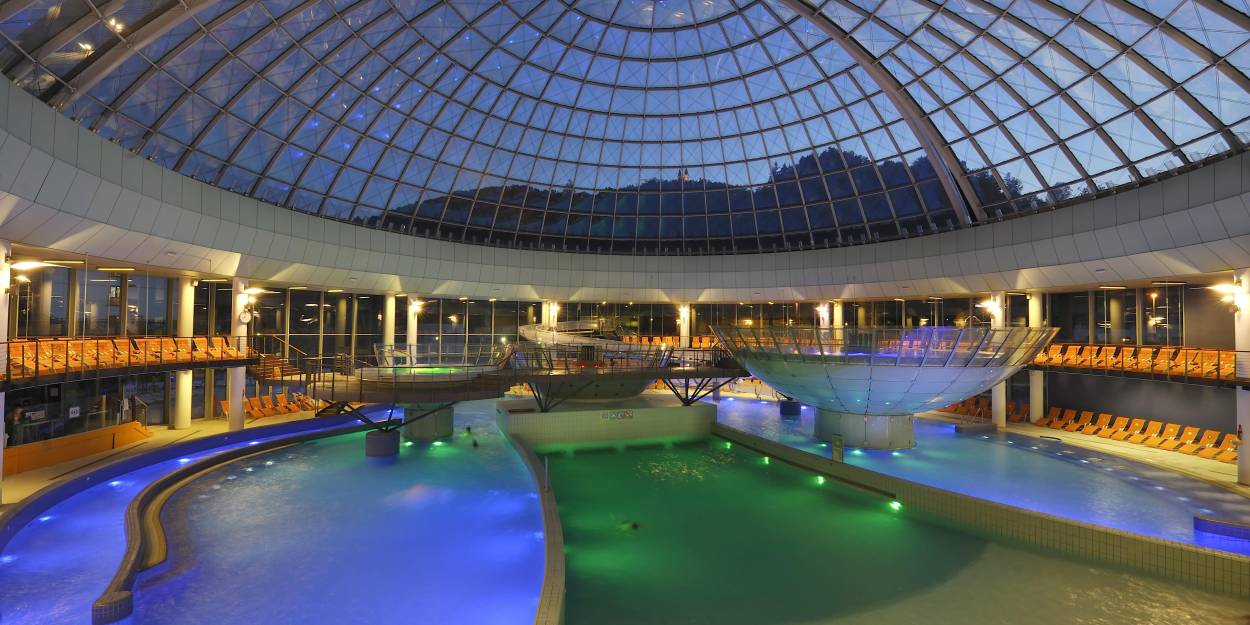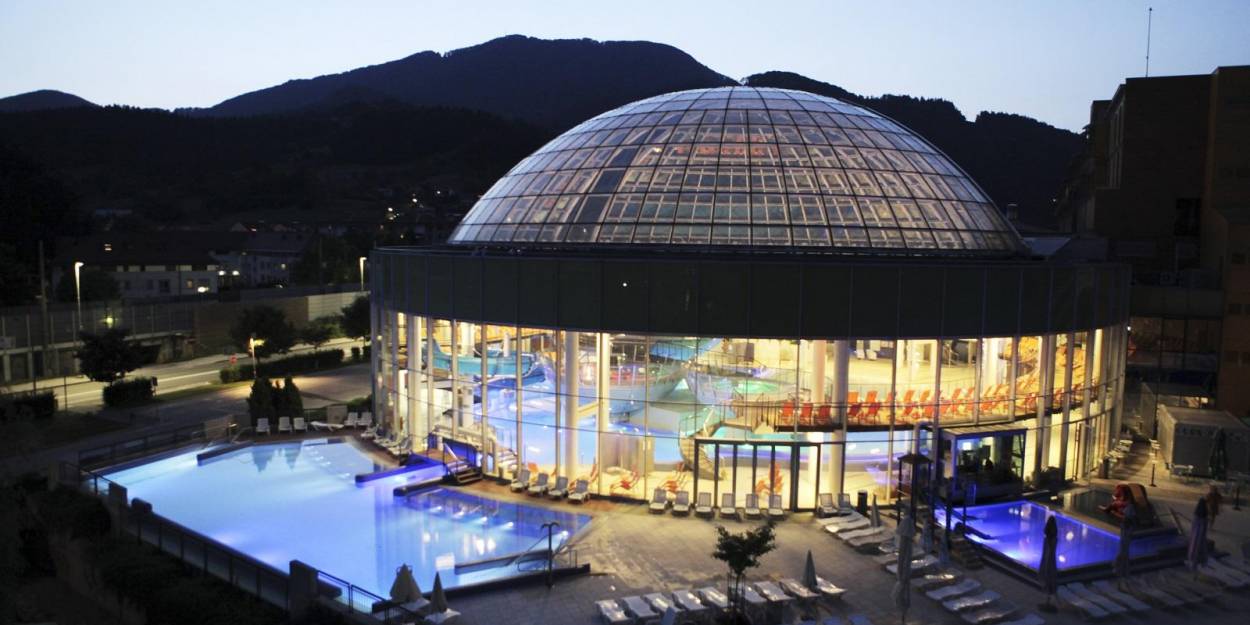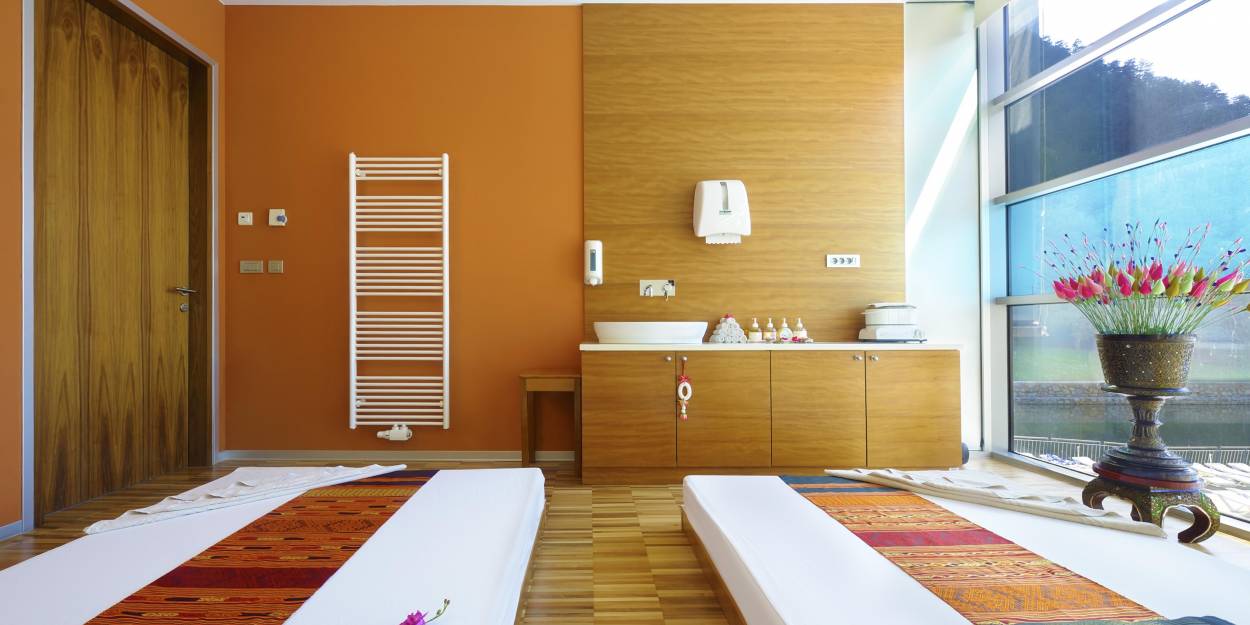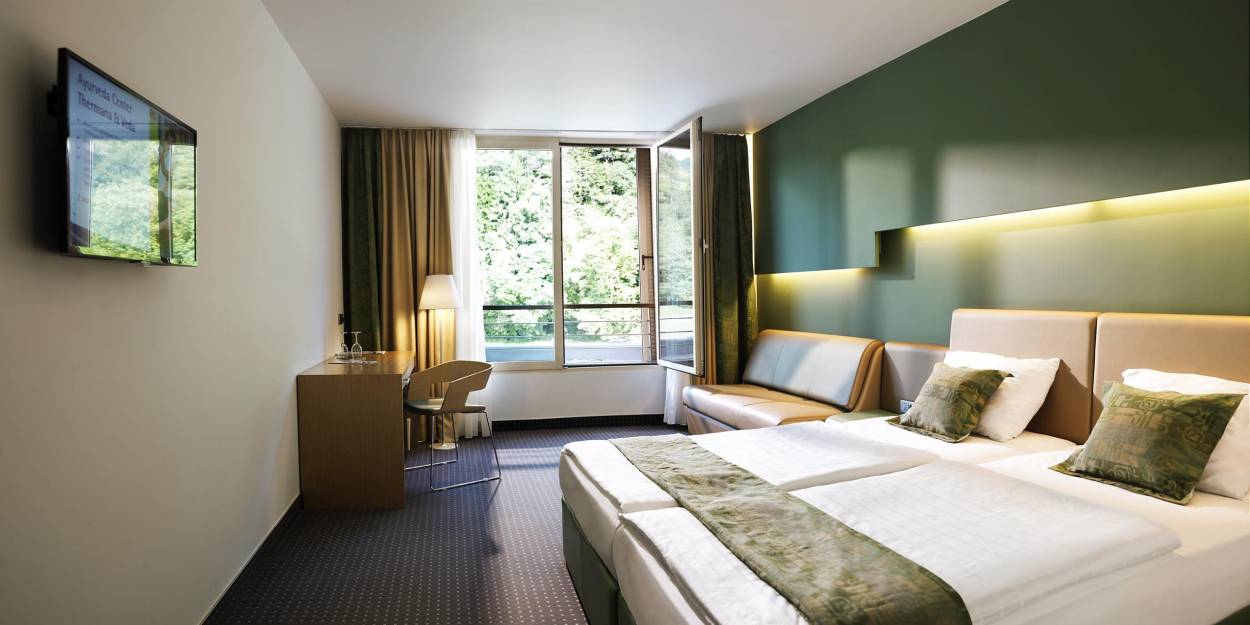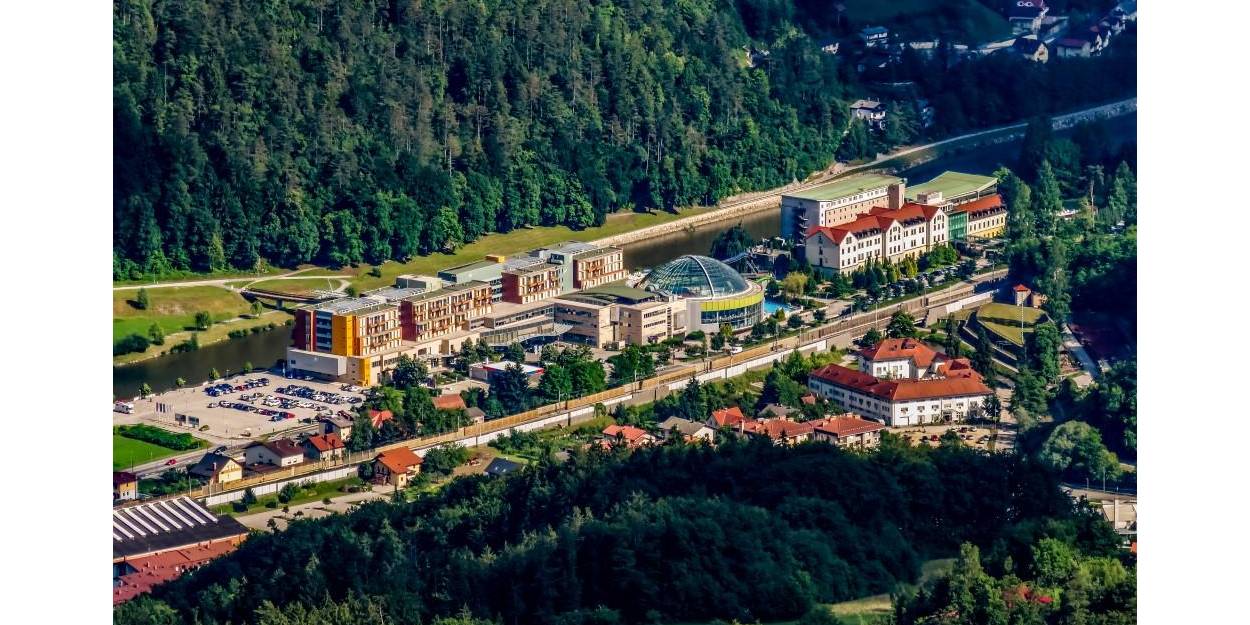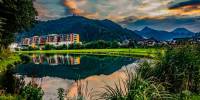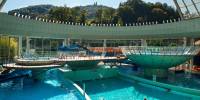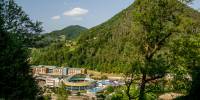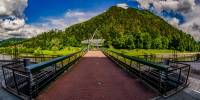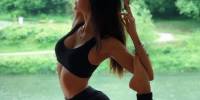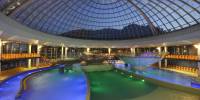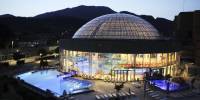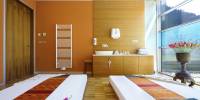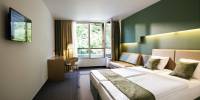 Overview
Perched on the banks of River Savinja and surrounded by the most beautiful nature, Thermana Park Laško in Slovenia is a truly unique hotel with so much to offer. There is a Ayurvedic Cure Centre overseen by the in-house Ayurvedic doctors who trained in Kerala, India. As well as this, there's medical focused programmes to improve your spine, thermal waters, fitness, yoga and general relaxation options for those who simply want to escape. Add in the standout water park (which has a retractable roof) and the many indoor and outdoor swimming pools, slides and thermal water, you certainly won't be bored here. Plus the location is absolutely breath-taking with loads to explore by foot, bike or horseback if you wish!
When to go
The summer months are usually warm, and the winters are usually very cold. The best time to visit is from mid-June to early September when you can expect high temperatures.
What we love
It's ideal if you want to try an authentic Ayurvedic programme but don't want to travel to far away
If you want to benefit from the healing power of thermal water
The beautiful surroundings which are excellent for walking – make sure you pack your walking boots!
Who should go
The hotel is family friendly with so many activities for everyone to enjoy including mini discos, creative workshops and of course the swimming pools
Those who want to invest in their health and wellbeing on a medical programme overseen by the in house specialists
If you want to escape to fresh country air for a health boost.
Offers
No Single Supplement
Hotel passport with various discounts
15% discount on Ayurveda programs and Medical programs (already included in price)
Early Bird: book 40 days prior to arrival and receive a 10% discount on Ayurveda and Medical programmes
Free room upgrade to a Comfort plus room with river view and balcony, when available at time of booking
For Twin/Doubles: book 1 massage and receive 2 (available for Ayurvedic, Beer body and detox with hemp massage and only at Spa reception desk)
7 Day Medical Wellbeing Programme
Min. 7 nights, half board, holistic programme with thermal waters
Room price
Nights
Price per night
Programme price pp
Total
£1,036
7
£148
+
£0
= £1,036 for 2 adults
7 Day Physical Therapy in Thermana Lasko
Min 7 nights, half board, physical therapy with thermal waters
Room price
Nights
Price per night
Programme price pp
Total
£1,036
7
£148
+
£8
= £1,052 for 2 adults
7 Day Healthy Spine Programme
Min. 7 nights, half board
Room price
Nights
Price per night
Programme price pp
Total
£1,036
7
£148
+
£140
= £1,316 for 2 adults
7 Day Revitalising Programme
Min. 7 nights, Half Board, Spa
Room price
Nights
Price per night
Programme price pp
Total
£1,036
7
£148
+
£226
= £1,488 for 2 adults
6 Days Wellness Bootcamp
Room price
Nights
Price per night
Programme price pp
Total
£888
6
£148
+
£936
= £2,760 for 2 adults
Wellness
The huge wellness centre is spread across 2,200m2 and it's at the heart of the hotel. The philosophy here is go back to nature and this is achieved through the dedicated wellness programmes designed to inspire you. The first thing you'll notice is the huge glass dome with retractable roof and this is where you'll find the swimming pools. There is a dedicated Ayurvedic centre overseen by the in house doctors as well as 'Beer Wellness' and 'Honey Wellness' for those looking to try something unique!
Facilities include a big swimming complex comprising of various indoor and outdoor swimming pools (heated to 31 degrees and filled with mineral water), Jacuzzis, hammam, Kneipp pools, hydro massage jets, Finnish sauna and infrared sauna, laconium, samarium, steam rooms and relaxation rooms. There is a fully equipped gym with cardio and weight training equipment, a Pilates centre and Ayurveda centre.
Example treatments at Thermana Park Lasko
Sports massage
Thai massages
Ayurvedic therapies
Beer Wellness - Bath
Head massage
Activities
Activities available at resort
Gym
Indoor and outdoor swimming pools
Workshops
Live music in the evenings
Water games
---
Activities available at the surrounding area
18-hole golf course nearby
Walking
Cycling
Horse riding
Fishing
Typical Group Classes
Pilates
Meditation
Yoga
Hot (a high intensity exercise class)
Guided hike
Sample Weekly Class Schedule
Please note - Classes are subject to change and seasonal adjustments
---
Rooms
The hotel has 181 rooms and 7 suites in total. The rooms follow the principles of Chromo Therapy so each floor is decorated in either orange, beige, blue or green. Each colour has different effects on your body, mind, emotion or spirit.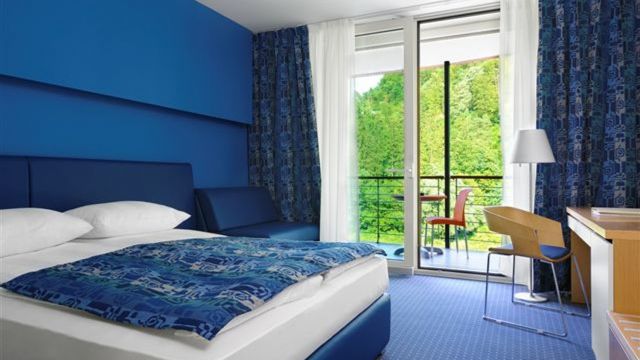 Comfort Room Plus
The Comfort Plus Room is 23m2 and has a private balcony with views of the river.
They have a private en-suite bathroom with bath or shower, hairdryer and bathrobe.
Facilities include flat screen TV, telephone, minibar, safe and air conditioning.
What's on the menu
The hotel serves healthy and nutritious dishes inspired by both traditional and modern cuisine. Fresh and local ingredients are used as much as possible. Head to the Riparian Café for coffee, teas and snacks throughout the day. For those following an Ayurvedic programme, you'll have a personal menu plan designed for you.
Buffet Restaurant
A large buffet restaurant serving breakfast and dinner. Breakfast is served from 7am – 10am and dinner from 6:30pm – 9pm.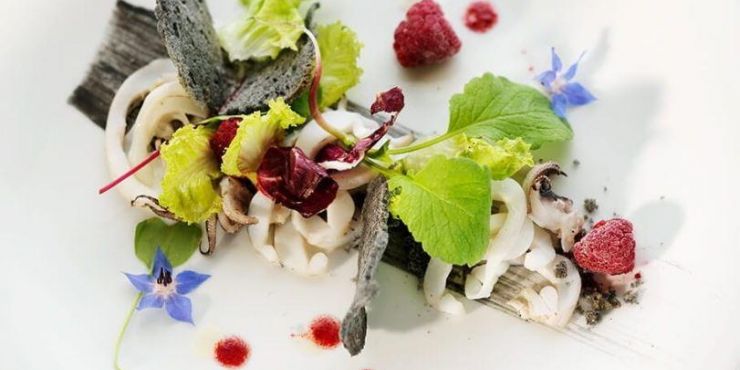 A La Carte Restaurant
Catering to all tastes, the a la carte restaurant overlooks the Savinja River. The restaurant is open for lunch and dinner between 11am – 11pm.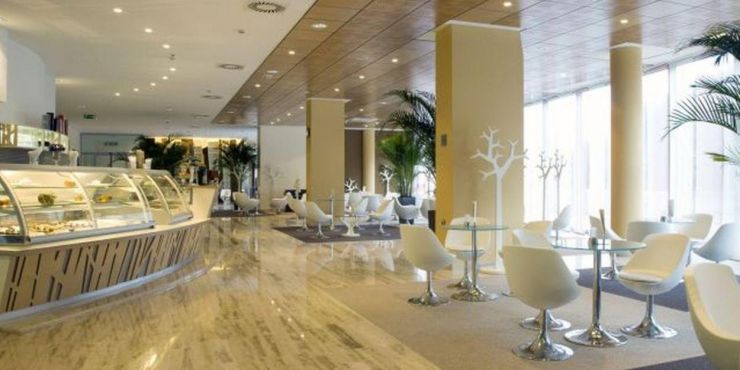 Spa Restaurant
Located on the first floor of the Thermal Centre, head here to enjoy snacks, lunches, salads and healthy drinks.
Location
Surrounded by green hills and beautiful scenery and overlooking the River Savinja, Thermana Park Laško lies at the heart of Slovenia. The hotel is in the town of Laško which is renowned for it's healing mineral springs. The town is a 15-minute walk away.
Nearest airport
Ljubljana Airport is approximately 1.5 hours drive. There are direct flights from London Gatwick or London Stansted with Easyjet which take approximately 2 hours.
Families, Children & Infants
Everyone is welcome at this hotel. There is a Mini Club with children's creative workshops, Mini Disco, children's theatre plays and playground. Children will love the swimming pool and various slides.


---
Why Wellbeing Escapes?